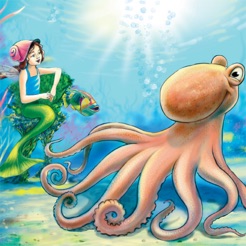 Description
See what excited the judging panel on the hit show Shark Tank!

Angry Octopus: A Children's Relaxation Story by Lori Lite brought to life as an interactive animated iPad book experience.

Check out highlight video on YouTube by clicking Angry Octopus Support link.

Children relate to the Angry Octopus in this story as the sea child shows him how to take a deep breath, calm down, and manage his anger. An effective stress and anger management technique known as progressive muscular relaxation focuses awareness on various muscle groups to create a complete resting of the mind and body. This engaging story quiets the mind and relaxes the body so your child can let go of anger and fall asleep peacefully.

-Building on an already great story and beautiful hand drawn illustrations, we have brought the story to life on iPad with great animations and effects.

Features
- Jump to any page from the index section
- Enjoy great animations and effects
- Two ways to move forward or back through the pages. Swipe with your finger, or click on the dolphins.
- Enjoy Bubble Bursts on touch (kids love this)
- High Quality original hand painted illustrations

Stay tuned for even more interactivity and animations!
Ratings and Reviews
Great Book to get sleep ready
This is a great app book. Already being familiar with "The Angry Octopus" as we also own the hardcover book, I specifically downloaded the app for the read to you option as well as just another take on the book. My 5 year old son is often wound up at bed time and Lori Lite's books have proven to be extremely helpful in calming him down and getting ready for sleep. After downloading the book to my ipad, he snuggled under the covers and I told him as we listened to the book, I wanted both of us to do what the octopus does. We tightened and relaxed each body part as described in the book. It was a lot of fun because on one page, the sea child would tell the octopus to "hold, hold, hold" a specific body part and it took a second or two to turn the page, we were both holding until told to relax that he was giggling but in a relaxed and fun way. He fell asleep within minutes of completing the book. The animation of the bubbles was fun, the colors brilliant - a great read for any age!
Magical
As an occupational therapist I work with many children who have sensory processing disorders, ADHD, and anxiety. On a whim, I bought the Angry Octopus thinking of the 5 and 6 years olds in my social pragmatics groups...kids who have a really tough time with self-regulation. This app was truly magical. Upon returning from the gym, the kiddos nestled into bean bag chairs and were mesmerized by the beautiful colors, illustrations, and wavy water. they were practically hypnotized as they tensed and released each part of their bodies. The simplicity of the story was perfect. I have since used this app with younger and older groups of children. It works every time! The book-app has been a great stimulus for my SLP co-leaders and I to talk with the kids about the fact that THEY are in control of their own bodies and emotions; not circumstances. My only regret is that I didnt find this book until my own kids were in their late teens. I dont know...maybe it's not too late :)
My thoughts
I am a mom of three very different kids. One ADHD, one with SPD and one adopted. Lots of different things. I am also a LCSW and and Reg Play Therapist who works with children ages 2 and up. I have used this app with some of my younger kids with anxiety and anger and they liked it a lot. They were able to relate to the techniques used in the story and were excited to visually see "something " else using them as well. It helps to see the story and see the octopus doing the techniques as well. They don't feel like they are so alone. They also love the pictures. My 3 yr Son who is nonverbal and has a lot of Autistic like behaviors also likes to watch it as well. It has gotten us through eye exams hair cuts and other things that kids with sensory problems do not do so well with. May not work for every kid but as I have learned and am reminded DAILY every child is unique and different.
Information
Seller

Red Piston

Size

70.5 MB

Category

Compatibility

Requires iOS 3.2 or later. Compatible with iPad.

Age Rating

Rated 4+

Copyright

© 2010 Lori Lite and Red Piston

Price

$7.99
Supports
Family Sharing

With Family Sharing set up, up to six family members can use this app.