Animated Knots by Grog
By Grog LLC
Open iTunes to buy and download apps.
Description
Named best knot-tying app by Outside Magazine! Learn to tie knots the fun and easy way from the creators of the web's #1 knot site. Animated Knots by Grog is simply the best, most comprehensive teaching and reference tool for boaters, climbers, fishermen, scouts and hobbyists. Watch knots tie themselves in simple step-by-step photo animations, or go frame-by-frame as you learn each knot. Tap the info button to get detailed descriptions about each knot's correct use, advantages and disadvantages, and other information.

["Insanely Great!" - Cult of Mac]

INCLUDED KNOTS: (Knots go by a variety of names with the most common shown here. App includes a complete, searchable list.): Albright Knot, Alpine Butterfly Bend, Alpine Butterfly Loop, Double Alpine Butterfly, Anchor Hitch, Arbor Knot, Ashley Bend, Ashley Stopper Knot, Australian Braid, Back Splice, Barrel Hitch, Bimini Twist, Blake's Hitch, Blood Knot, Bowline, Bowline on a Bight, One-Handed Bowline, Running Bowline, Water Bowline, Braid Single Rope, Locked Brummel Splice, Brummel Demo, McDonald Brummel Eye Splice, Buntline Hitch, Butcher's, Carrick Bend, Carrick Bend Mat, Celtic Knot Mat, Chain Sinnet, Chain Splice, Care & Cleaning, Cleat Hitch (Deck), Cleat Hitch (Halyard), Clove Hitch (Loops), Clove Hitch (End), Clove Hitch (Half Hitches), Cobra Lanyard Knot, Coil Attached Rope, Coil Unattached Rope, Common Whipping, Constrictor, Constrictor-Surgical, Cow Hitch (End), Cow Hitch (Loops), Crown, Crown Sinnet, Davy, Double Davy, Diamond Lanyard, Distel Hitch, Double Fisherman's, Double Overhand, Drapery Tie Back, Dropper Loop, Duncan (Uni) Knot, Figure 8, Egg Loop Knot, Directional Figure 8 loop, Figure 8 Flake, Figure 8 Follow Through, Figure 8 Bend, Double Figure 8 Loop, Figure 9 Loop, Flat Overhand Bend, Flemish Flake (Spiral), Girth (Strap) Hitch, Gnat Hitch, Half Hitch, Half Knot, Halyard Hitch, Handcuff Knot, Hasty Webbing Harness, Heaving Line, Highwayman's Hitch, Hunter's Bend, Icicle Hitch, Icicle Hitch (End), Improved Clinch, Klemheist, Lashing-Diagonal, Lashing-Round, Lashing-Shear, Lashing-Square, Lashing-Tripod, Ligature (Instrument), One Handed Ligature, Two Handed Ligature, Lighterman's Hitch, Long Bury Splice, Masthead Knot Mat, Double Matthew Walker, Midshipman's, Monkey's Fist, Mooring Hitch, Munter Hitch, Super Munter Hitch, Nail Knot, Non-Slip Mono, Noose, Ocean Plait Mat, Orvis Knot, Overhand Knot, Packer's Knot, Palomar Knot, Tying a Package, Perfection Loop, Pile Hitch, Poacher's Knot, Prusik Knot, Purcell Prusik System, Radium Release Hitch, Rapala Knot, Rat-Tail Stopper, Square (Reef), Rolling Hitch, Rope Ladder, Round Turn & Hitches, Sailmaker's Whipping, San Diego Jam Knot, Sheepshank, Sheet Bend, Shoelace Bow, ShoeLace Fieggen, Siberian, Grog's Sliding Splice, Slim Beauty, Slip Knot, Snell Knot, Spanish Bowline, Eye Splice, Short Splice, Stevedore, Strangle Knot, Surgeon's Knot, Surgeon's Loop, Surgical Tie, Two Handed Surgical Tie, Surgical Slip Tie, Child's Swing, Tensionless Hitch, Necktie (Bow Tie), Necktie (Four-in-Hand), Necktie (Half Windsor), Necktie (Pratt/Shelby), Necktie (Windsor), Theodore Knot, Thief Knot, Timber Hitch, Trilene Knot, Trucker's Hitch, Tumble Hitch, Turk's Head, Underwriter's Knot, Wall Knot, Wall & Crown, Water Knot, West Country Whipping, Zeppelin Bend

PREVIOUS VERSION REVIEWS:

5 stars - The Coolest Ever!
Easy to understand and use, very informative with clear instructions on how to makes hundreds of knots step by step, divided by categories for easy navigation, truly inspiring and beautiful knots. Enjoyable to just watch, practical and relevant to learn. This is the second App enticing enough for me to actually buy.

5 stars - New to knots
This is my first review. I would pay twice the amount for this app. I would give it ten stars if I could. It can be done step by step unlike others I've seem that you have replay a dozen times to get the same results. Thank you for you time and effort.
What's New in Version 4.0.3
Fixed a bug that prevented saving favorites on some iPhones running iOS 8.1.1 or newer.
Fixed typo in terminology to show 'bend' rather then 'bight'.
iPhone Screenshots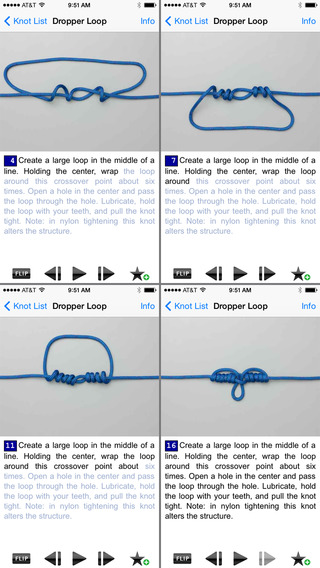 Customer Reviews
Suggestions for Additional Knots Discouraged
I purchased this app despite the fact there were a lot of other knot apps and many were free. I did so because of the comprehensive list of knots hinted if I upgraded. However, after upgrading, I noticed two rather common fishing knots (spider hitch and uni to uni) used on the west coast by fisherman wasn't there. I thought the makers of the app would be receptive to adding other knots in the future but apparently they discourage communication related to additional knot suggestions. Why I'm not sure. Anyway, it's a good app but unless you see the knot you're interested in, you may want to try looking to see if one of the other apps has it first.
Best Knot Tying App By Far
I bought a couple other knot apps before this one. They weren't very good because they didn't explain what the knot was used for or what better variations can be used instead. This app has all of the features that a knot app should. This app is far superior to any of the other knot apps I tried. It explains which knots are good for which purposes. I will definitely be using this as a reference for years to come.
Awesome app. Pedagogical and comprehensive
I'm so happy that I stumbled upon this app. Other reviewers will be more in depth with their reviews, but I just wanted to add my voice to the list of satisfied customers. I love the ability to flip the video sequences and the explanations and possible issues related to each not listed in the info section are invaluable. This is an essential app for the do-it-your-selfer.
View In iTunes
$4.99

Category:

Reference

Updated:

Dec 27, 2014

Version:

4.0.3

Size:

33.4 MB

Language:

English

Seller:

Grog LLC
Compatibility: Requires iOS 6.0 or later. Compatible with iPhone, iPad, and iPod touch.