Animated Rope Knots
By John Sherry
This app is only available on the App Store for iOS devices.
Description
49 Essential Rope Knots = the best rope knot value in the store.

Animations are a great way to learn to tie knots. The Animated Rope Knots App makes learning to tie knots easy and fun! Each of the rope knots has its own animation video, a picture of the finished knot and a text description of the knot's use.

The 49 carefully selected essential rope knots include: 26 Hitches (tie a rope to an object), 14 Bends (connect two ropes), and 9 Loop Knots:

Knots for tying rope to an object (Hitches):
• Anchor Bend
• Blake's Hitch
• Buntline Hitch
• Cleat Hitch
• Clove Hitch
• Constrictor Knot
• Cow Hitch
• Distal Hitch
• Girth Hitch
• Half Hitch
• Klemheist
• Marl
• Mooring Hitch
• Munter Hitch
• Pile Hitch
• Prusik Knot
• Rolling Bend
• Rolling Hitch
• Schwabisch Hitch
• Slip Knot
• Slipped Buntline
• Tautline Hitch
• Tautline tied to Rope
• Timber Hitch
• Transom Knot
• Trucker's Hitch
• Valdotain Tresse

Knots for tying two ropes together (Bends):
• Backup Knot
• Better Bow Knot
• Carrick Bend
• Common Whipping
• Double Fisherman's
• Double Overhand Stopper
• Heaving Line Knot
• Monkey's Fist
• Sheep Shank
• Sheet Bend (doubled version too)
• Square Knot
• Stopper Knot
• Water Knot
• Zeppelin Bend

Knots for tying loops in rope (Loops):
• Bowline
• Bowline on a Bight
• Butterfly Knot
• Figure Eight
• Honda Knot
• Running Bowline
• Slippery Eight Loop
• Yosemite Bowline

Features:
- 49 essential rope knots
- Knots are listed and searchable alphabetically by name or by category and use.
- Pause, and play the video with controls
- Info page shows completed knot and gives information about the knot and its use.

Email us your comments and suggestions. We would love to hear from you. info@jesherry.com
What's New in Version 1.5
Eleven new rope knots added in version 1.5! Anchor Bend, Distal Hitch, Marl, Schwabisch Hitch, Tautline tied to Rope, Zeppelin Bend, Slippery Eight Loop, Double Overhand Stopper, Transom Knot, Common Whipping, Monkey's Fist.
iPhone Screenshots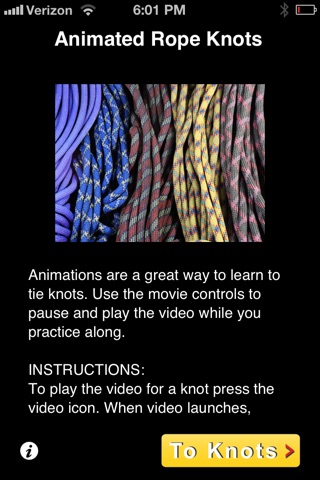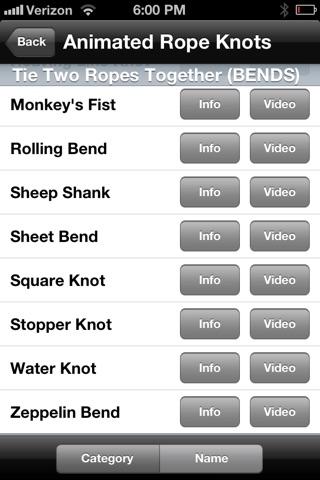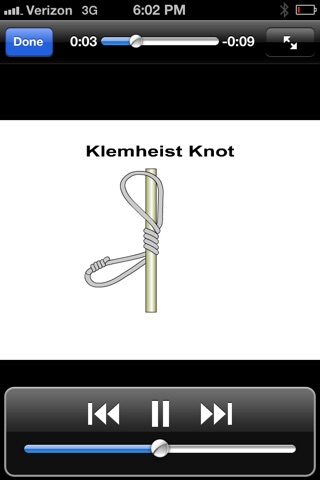 Customer Reviews
Animated knots review
Animated knots has a good dictionary of knots. However, the animations are not useful in that as soon as the animation is over, the app jumps back to the knot list. There is no way to compare the knot you have tied with the animated result. If you wanted to repeat the animation, you would need to reselect it from the list in order to run it again, with the same result; jumps back to the list rather than allowing you to view the tied knot. Would not recommend this app at this point.
View in iTunes
$0.99

Category:

Sports

Updated:

Mar 06, 2013

Version:

1.5

Size:

14.2 MB

Language:

English

Seller:

John Sherry
Compatibility: Requires iOS 4.3 or later. Compatible with iPhone, iPad, and iPod touch.
More iPhone Apps by John Sherry