Animation Creator HD
By miSoft
This app is only available on the App Store for iOS devices.
Description
What do you get when you combine the most popular iPad drawing apps and the #1 hottest animation app? - Animation Creator HD!

Easily Create Awesome Animations any time!
An "App Store Essential: Painting & Drawing"
Plus, Share Animations on Cineverse* for Free!

Animation Creator HD allows your creativity to come to life on your iPad or iPad Mini. Be the director! Simple, yet powerful drawing tools, color options, and easy frame management, limited only by your imagination! Create amazing, life-like animations with Retina quality and the high frame rate playback of Animation Creator HD!

The only Animation Brand to hit the Top 10!
Animation Creator's Amazing Honors:

App Store Essentials: Painting & Drawing!
#1 Paid Entertainment App!
#10 Top Overall Paid Apps!
Apple Staff Favorite!
Apple Retail Store Featured Display!
App Store 'What's Hot' in 50 Countries!

Animation Creator HD Features: 1.13.0

ACHD & Cineverse just got even better!

• Now full Portrait & Landscape
• More Resolution Options
• Share Projects between AC & ACHD

• Select upload Category for Cineverse!
*** Creative or Messages ***

• New Icon
• Fixed Video Export Bug
• Various improvements & fixes

• Ultra HD 4K, 1920x1080, 1280x720 & more!
• Browse Cineverse!
• Upload to Cineverse
• Retina ready - the new iPad
• No limits, Infinite frames and animations
• Post and view to Cineverse
• Export to Photo Library as video
• Email animation as video
• Email animation project
• Email projects between devices/friends
• Improved image sequence export
• Upload animations directly to YouTube*
• Share on Twitter! **
• Audio Manager tool
• Import background/layer from photo library
• Import background/layer from camera (iPad 2)
• Layers, highly configurable
• A new, beautiful, easy to use interface
• Superior frame management
• Animation scrub tool
• Smooth high-quality drawing experience
• Full screen editing, no annoying tools in the way
• Paint brush, with various stroke types
• Pencil
• Pen, with ink flow effect
• Spray can
• Eraser
• Line
• Rectangle
• Fill, with adjustable tolerance
• Undo/Redo - no limit!
• Import images from photo library
• Line width selection
• Circle
• Select/Cut/Copy/Paste/Scale
• Frame positioning
• Frame rotation
• Color selection palettes
• Color selection sliders, with transparencies
• Zooming and panning
• Add, delete and copy frames, easily
• On the fly frame rate adjustment
• 'Onion Skinning', overlay of previous/next frame

* Cineverse is a cloud-based photo & video social site where users freely share and enjoy creative content with others around the world. Right to access Cineverse is offered only to registered iTunes users who are of appropriate age under applicable law in their territory, please contact miSoft or iTunes support with questions.

See for yourself why Animation Creator is one of a kind! Take your animations to the next level with Audio and HD!


===================================
*Please rate this app!*
Your kind Ratings help keep the updates coming!
Thanks to everyone for your support!
===================================

New features are planned regularly, including more drawing tools, more animation sharing methods, photo importing, and much much more!

Thanks to everyone for their feedback, we listen!

* YouTube account required for YouTube uploading
** Twitter account required for Twitter sharing

Screenshots provided by the creators of Johnny Scribble ©.
The online animated series powered by Animation Creator!
www.johnnyscribble.com

All Data & Info ©, ™, ® 2008/2014 miSoft, LLC.
What's New in Version 1.14.3
- Overall Performance Improvements
- Selection Tool Fixes
- Photo Export Fixes
- iOS 10 Ready
- Various Fixes and Improvements
iPad Screenshots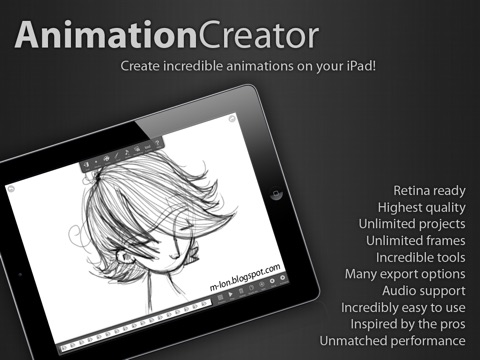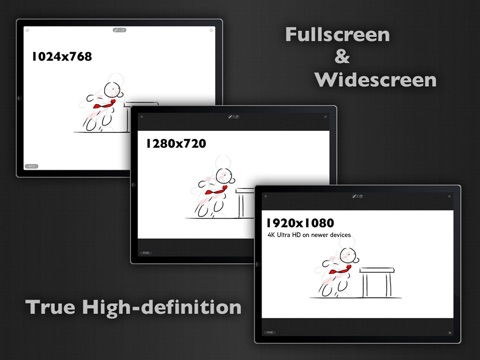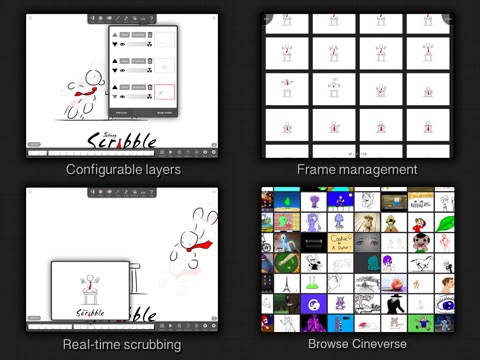 Customer Reviews
Perfectly Imperfect
I've always loved how easy and fun it is to use this app, and it's been a great substitute for costly computer programs.
I like how compatible it is with the Apple Pencil, although frequently the app has had trouble with it. Every five minutes or so, it would stop giving feedback from the pencil (or my finger, for that matter), so I would have to exit out of the app and try again. Fortunately, this app is amazing when it comes to auto saving, so you don't have to panic if the app crashes.
Now I want to talk about Cineverse. I think this idea is really cool, how it's more of an inspiration hub rather than social media. Lately though, I've been having problems uploading to Cineverse. Whenever I attempt to upload, it says that my work has been uploaded, but when I check "My Uploads", it displays either a black screen or nothing at all. I have an iPad Pro, so I don't think it has to do with my device being outdated. I have animations I want to share, so I'd really like this fixed!
Overall a great app. It's easy to use, fun, add free, and very useful. Looking forward to the next update!
My Review
I like it. Using new IPad Pro. Easy to use. When I use the upper left arrow to erase, the I pencil no longer draws or even my finger will not draw, so you have to exit app and restart. I try to add audio. It lets me record and save my recording but it will not let me add a name and add it to the sit, instead it uses the sample audio that came with the walking animation that is included. These are just a few issues that I am having and I am confident they will get addressed. There are tons of good things about the app and I would definitely recommend purchasing the app. I can tell that a lot of hard work went in to making this app. Many great features. I will have to see if there is a users manual included. Been having so much fun drawing that I really haven't checked out everything on the app yet. Still have new functions to explore.
This is my favorite app! Its ALMOST perfect
It's great for storyboards, animatics, and building up to actual final animations and projects. Great for practice. If you're an animator, the full version is worth it.

There are little peeves i have with it. One, when you rotate your ipad in the main menu, ALL of the animations rotate too. Why? Its cool that in the drawing tools, the drawings stay still, but the main menu needs to rotate. Sometimes i have my ipad plugged in and i have to rotate it in order to work but all of the animations are upside down for no apparent reason.

When you exit the app, it restarts upon reentering the app instead of leaving you where you left off. Sometimes i check messages and come back to it, and i have to navigate back to where i was before.

A scaling tool l would be nice. I love that you can move stuff around, but itd be even COOLER if you could scale them.

Navigating through layers could be easier by just dragging the layers instead of up/down buttons to move them. Also, when youre selected on a layer thats invisible, and you do stuff to it, it affects the layer thats invisible. Why would i want that?

Its a great app. Keep updating it! We love it and want more!

Edit: its been crashing lately. Once in the middle of when I was working. Please fix.
View in iTunes
$3.99

Category:

Entertainment

Updated:

Aug 02, 2016

Version:

1.14.3

Size:

32.1 MB

Language:

English

Seller:

miSoft, LLC
Compatibility: Requires iOS 6.0 or later. Compatible with iPad.