انجمن تخصصی
By Mehdi Abbasimehr
Open iTunes to buy and download apps.
Description
حدود ۹ سال از آغاز فعالیت انجمن تخصصی آیفون می‌گذرد و بالاخره بعد از چندین سال، اپلیکیشن رسمی ما برای iOS عرضه شد. در این اپلیکیشن آخرین اخبار منتشر شده در سایت و همچنین آخرین قیمت محصولات اپل در اختیار شما قرار می‌گیرد.

بخش اخبار، آخرین خبرها را به شما نمایش می‌دهد و در صورت انتشار خبر جدید از طریق نوتیفیکیشن شما را مطلع می‌کند.

بخش قیمت‌ها آخرین قیمت انواع محصولات اپل را در اختیار شما قرار می‌دهد و در چند بخش مجزا قابل مشاهده است. همچنین در بخش قیمت هر دستگاه، نمودار قیمت طی چند روز گذشته، مقایسه قیمت با قیمت روز دیجی‌کالا و بامیلو نیز قابل مشاهده است. در صورت دنبال کردن قیمت یک دستگاه، می‌توانید قیمت آن دستگاه را برروی اپل واچ، در ویجت بخش Today و به صورت نوتیفیکیشن در صورت تغییر قیمت دریافت کنید.

در نهایت بخش خدمات، خدماتی که در دفتر انجمن قابل ارائه است را به کاربران توضیح داده است.

اپلیکیشن ما از قابلیت 3D Touch در iPhone 6s نیز پشتیبانی می‌کند.

نظرات شما باعث بهبود اپلیکیشن در آپدیت‌های آینده خواهد بود.


The official i-Phone.ir app is the best Persian source for the latest Apple and technology news for Iranian users all over the world.

FEATURES:

● Read the Most Recent/Trending Apple News in Persian.
● Share Via Email, iMessage, SMS, Twitter, Google+, Telegram, Facebook.
● Track the Prices in Iran Local Market With Apple Watch Support.
● Get Updates Via Push Notification.
● Pull Down to Refresh Article List
● Full iOS Multitasking Support
● Automatically Loads New Articles When Opened
● Retina Display Support
● 3D Touch iPhone6s Support
● Universal Binary With iPad Support.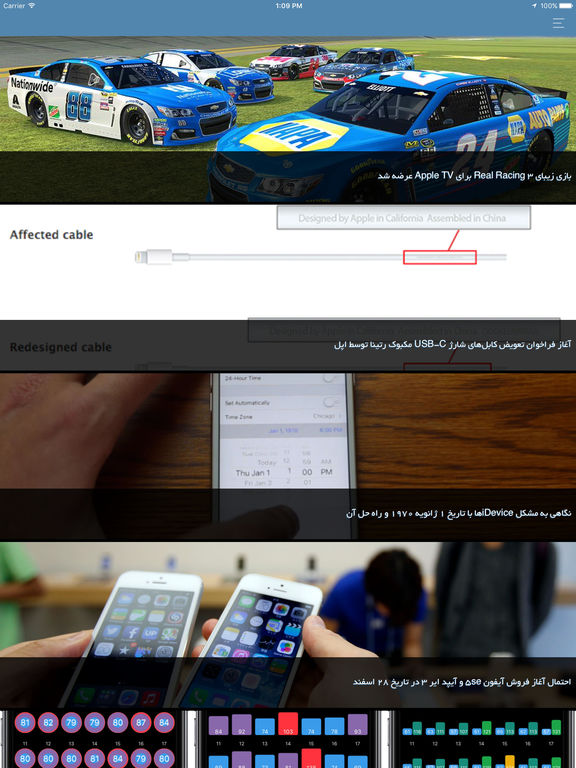 Customer Reviews
Great
واقعن ممنون بابت زحمتی که کشیدین...به عنوان یک مرجع پارسی اپل نیاز این اپ حس میشد
Not Good, Not Bad...
سلام. اپلیکیشن تقریبا خوبی هستش. اما رابط کاربری و گرافیک اپلیکیشن و همچنین آیکون اون٬ جای کار خیلی بیشتری داره

قسمت قیمت ها واسه من هیچی نشون نمیده و فقط آیکون لودینگ همینجوری میچرخه و هیچ اطلاعاتی نمیاد. حالا نمیدونم ارتباط این قسمت با سرور مشکل داره یا چیز دیگه ای هستش… امیدوارم این ایرادات برطرف بشه و اپلیکیشن روز به روز پیشرفت کنه
ويرانه
عاقبت انجمن تخصصى ايفون شبيهه عاقبت نوكيا شد....
علت رو خودتون ميتونيد حدس بزنيد...
View in iTunes
This app is designed for both iPhone and iPad
Offers Apple Watch App for iPhone
Free

Category:

Lifestyle

Released:

Apr 29, 2016

Version:

1.0

Size:

26.3 MB

Apple Watch:

Yes

Language:

English

Seller:

Mehdi Abbasimehr
Compatibility: Requires iOS 8.2 or later. Compatible with iPhone, iPad, and iPod touch.