Anova Culinary
By Anova Culinary
Open iTunes to buy and download apps.
Description
The Anova Culinary app is the companion app to the Anova Precision Cooker Bluetooth, and Anova Precision Cooker Bluetooth + WI-FI models. With the Anova Precision Cooker Bluetooth you can connect to your phone via Bluetooth to start, stop, monitor your food, and receive notifications when you're within Bluetooth range. With the Anova Precision Cooker Bluetooth + WI-FI model you can connect to the internet via WI-FI through your phone to start, stop, monitor your food, and receive notifications from anywhere. We'll be releasing exciting new features regularly, so look out for updates!

Key App Features:

• World's largest collection of sous vide recipes
• Guides created by James Beard Award-winning chef, J. Kenji López-Alt
• Visual doneness photos guide you to a perfectly cooked meal
• Operate your Anova Precision Cooker remotely (start, stop, change temperature, set timer, and monitor)
• Receive notifications about your cook

What is Precision Cooking?

Once limited to the world's best restaurants, precision cooking (commonly referred to as sous vide) is now the fastest growing kitchen appliance category. The Anova Precision Cooker Bluetooth, and Anova Precision Cooker Bluetooth + WI-FI represents the next evolution of precision cooking technology, making it easy and affordable for everyone to reap the benefits of this type of cooking. Precision cooking is extremely easy, it usually involves these three simple steps:

1. Attach the Anova Precision Cooker to a pot and set time and temp using the app, or the device interface. Using the app, simply find what you're cooking and hit "Start..."

2. Put food in a ziplock bag, and clip it to the side of the pot. The circulator moves water around the pot, ensuring a consistent temperature throughout.

3. Finish with a quick sear, broil, or even throw it on the grill for a nice, crispy finish.

Requirements:
• iOS 9.1 or later, and iPhone 5 or newer
• Anova Precision Cooker Bluetooth
• Anova Precision Cooker Bluetooth + WI-FI
What's New in Version 2.0.0
We've been busy fixing bugs. Please keep your feedback coming in to feedback@anovaculinary.com

-- New in 2.0.0 --

• New look and feel.
• Support for both Precision Cooker Bluetooth, and Precision Cooker Bluetooth + WI-FI models.
iPhone Screenshots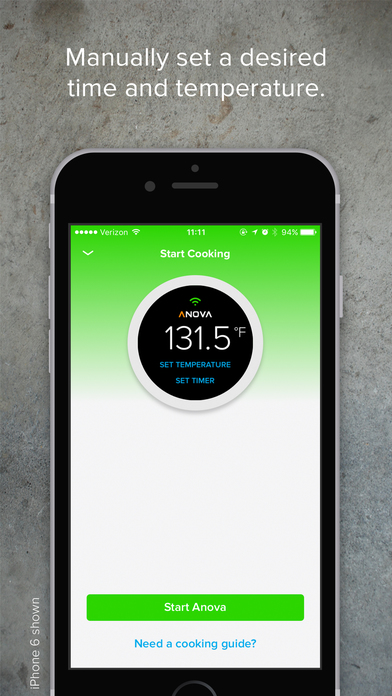 Customer Reviews
On the right track, but not quite there yet
I've had my Anova cooker for several months, and previous versions of this app have worked great. Since they've consolidated into a single app howerver, I've been less than impressed. My main complaint is that it's incredibly slow to connect and start cooking. To initially pair took forever...which in itself woudln't be a huge problem since you only need to do that once. Every time I want to use my cooker though, it takes the app forever for it to connect to the actual cooker. Long enough that I began to wonder if there's a problem. Previous versions of their wifi app would connect within 20 seconds usually, which I think is fine. This takes several minutes though...and once it does connect, clicking to start cooking, takes quite a while for the cooker to actually begin. If it weren't for it taking so long, I'd rate this 4 stars. I'll rate it 5 stars once a few other features are implemented, mainly the ability to schedule a cook, so that I can have it start cooking before I even wake up in the morning. This is only a two star rating for THIS VERSION.. All around, I think the device is fantastic, and I'd still recommend it...I'm sure they'll get the app working well soon enough.
Good Machine. Buggy App
This app is quite inadequate. It's paired with my home wifi, but unless I un-pair and then re- pair it with each use, it controls nothing and tells you nothing. And what it does control when it works is very basic and limited. A friend has a competing brand sous vide machine, purchased for about the same price, and from their app he can select the exact cut of meat he wants, select the temperature (fineness) he wants, select the thickness of the cut, and the machine sets the water temperature and the timer accordingly. Yours does none of that. Also, your menus are quite limited in number and you have to search for them by using exactly the terms you've chosen. For example, if you search for "Fillet Mignon" you get nothing. If you enter " tenderloin" you also draw a blank. It's not unless you try "beef tenderloin" that you get anything, and even then, there are no adjustments offered for thickness and preferred doneness levels (temperature). Like the machine. Hate the app and so can't recommend it to anyone.
People clearly can't figure it out
This app isn't perfect, it's somewhat lacking in user friendliness, but a lot of the complaints here are from people who can't figure it out. "Only one cut of beef and it's now brisket." No, you scroll down the list with literally a quarter-inch of thumbwork and steak (with 4 diff cuts) is right there. "All the recipes are in one big list." No, you click on the "guide" at the bottom left and they're neatly organized. "They only show you one cooking temperature." Again wrong. Still not a great app but people could take a second to learn basic functions before they start complaining.
View in iTunes
Free

Category:

Food & Drink

Updated:

Jan 09, 2017

Version:

2.0.0

Size:

84.6 MB

Language:

English

Seller:

Anova Culinary LLC
Compatibility: Requires iOS 9.0 or later. Compatible with iPhone, iPad, and iPod touch.
More iPhone Apps by Anova Culinary