AO Creator - Creator for Pokémon
By Celadon Software Ltd.
This app is only available on the App Store for iOS devices.
Description
Up to version 11.3 SUPPORTED NOW!

The secret they didn't want you to know about is BACK!

From the creators of the original cheat app: PokéBuilder!

You will need an SD Card Reader

As we are the original creators you can expect frequent updates and incredible features!

Create QR Codes!

Upload directly from your iOS device to your 3DS or 2DS game!

Alpha Omega Creator allows you to create any Pokémon from scratch!

Edit the following:

• Species
• Abilities
• Natures
• Held Items
• Moves
• Stats
• Poké Ball
• Everything else!

Monsters are for practice only, we cannot promise you will make it into tournaments with these monsters. However we can promise you will have a lot of fun with them!

Requirements:

3DS, 2DS, 3DS XL, New 3DS or New 3DS XL on System Software version 9.0-11.0
SD Card Reader
Mac or PC
___________________________________________________________________

LEGAL

This app is for iOS and works with our companion app 'AO Creator' for 3DS Homebrew, all mobile code is the property of Celadon Software. Homebrew Menu is a free, open platform for the community to develop their own apps for the 3DS, developed by Smealum. Check it out below:

http://smealum.github.io/3ds/

Browserhax was developed by Yellows8, this exploit is used to access the homebrew menu as intended.

Poké Builder is currently the intellectual property of Sprockit Apps, Celadon Software were the original content owners, created in November 2012
3DS AO Creator uses a modified code from PCHex, the original source can be found here: https://github.com/omikey/PCHex or here: https://github.com/celadonsoftware/PCHex. Modifications include but are not limited to: Replacing username & password login with IP address identification, direct Pokémon injection from our server and changing default from slot 930 to 0. Replaced app icon and description. AO Creator for 3DS source code can be downloaded here: http://aocreator.com/files/source/aoc3DSsource.zip This app is not endorsed or supported by The Pokémon Company, it is 100% UNOFFICIAL. Pokémon is a trademark of the The Pokémon Company, a subsidiary of Nintendo
What's New in Version 1.4.1
Pokémon creation is BACK!

Now works with all 3DS models up to version 11.3
iPhone Screenshots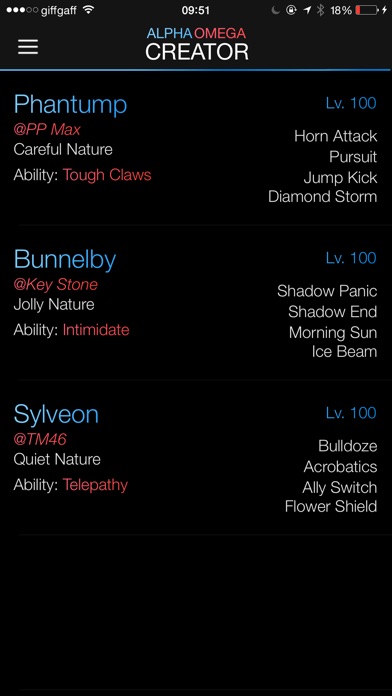 Customer Reviews
So Close, But Yet So Far
I downloaded this app quite some time ago. Seeing as this is the same producer of the Pokebuilder app which I used loyally for a super long time, I was pumped when I saw this existed, and bought it immediately. I haven't been able to use it until just recently, and I have to say, it works! I've already gotten a few Pokemon, and the non-legendaries are actually legit... However, despite this, the sheer amount of money needed to actually get the quality I expected is monstrous. 3 dollars for every generation, as well as a dollar for every. Single. Event Pokemon. That is ridiculous. I understand you need to raise money, but putting a fee on everything there is only builds resentment in your users. At the very least, lower the prices. I'm a 17 year old guy who just wants to get some Pokemon. I don't want to spend 40 dollars to get some real use out of this app, y'know? Please reconsider the prices and also the fact that there's a charge for every feature of the app. I paid 5 dollars for the ability to get 1 generation (the smallest at that) of Pokemon, and I'd expect a bit more, especially since that's quite expensive for a Pokemon tool. The layout is beautiful, and the tutorial is thorough. Just the prices and lack of content otherwise without making mant extra purchases is far too much. Improve on that and this rating will most definitely get a 5 star, because if that one thing gets fixed, that what this app deserves.
Expensive & Unreliable
[-1 star]
In app purchases are way too expensive. $0.99 for EACH event Pokémon? $2.99 to unlock each additional generation?? Uh... I've supported this app so far, but that's kinda ridiculous.
I've bought most of the separate regions (yes, you have to buy IAP to access Pokémon other than gen 6) and it's just turning into a money grab at this point.

[-1 star]
It took the entire summer to make this app comparable with update 11.0. There'll be another 3DS update soon. Then what? I don't like wasting my money.
Also:
Support hasn't been on for days.
Works decently after the initial setup (that takes forever) but I find myself having to repeat the setup every so often because it stops working.

[-1 star]
PLEASE BRING THE FOLLOWING FEATURE BACK.
Would be nice if we could have the option to max the EVs when legal mode is off like in the previous version. I HATE that we can't do that now, at all, even without legal mode off.

Other than all those negatives, it does work. Sorta. Sometimes. And the developers can be helpful when they feel like it.

All-in-all, not really worth it, but a nice try nevertheless.
11.0 is NOT the latest version. Think I will love it later on.
As a fan of the previous PokéBuilder app, I immediately downloaded this one. Sadly, 11.1 is the latest 3ds update and stops the app from working with the 3ds. The interface is easy to understand and use (though I've yet to see how transferring to the actual game works as I have to wait for the update). There are A LOT of in app purchases for accessing other region's Pokémon and some other extra features. It's annoying, but for an app that needs to be constantly updated to work at all, I can understand. Also, make sure you have a micro sd card reader on hand as it will be necessary to setup the app on the 3ds.
View in iTunes
$6.99

Category:

Utilities

Updated:

Aug 12, 2016

Version:

1.4.1

Size:

87.6 MB

Language:

English

Seller:

Celadon Software Ltd.
Compatibility: Requires iOS 7.0 or later. Compatible with iPhone, iPad, and iPod touch.
Top In-App Purchases
Kanto Monsters$2.99
Hoenn Monsters$2.99
Sinnoh Monsters$2.99
Johto Monsters$2.99
Unova Monsters$2.99
Multi Upload$2.99
Smogon Importer$2.99
Freya's Dex$1.99
Super Lucky Box$1.99
20th anniversary Mew$0.99
More iPhone Apps by Celadon Software Ltd.