APCC by ASPCA
By ASPCA
This app is only available on the App Store for iOS devices.
Description
Products that may seem safe in your home and garden can actually be toxic for pets, and all too often pets are poisoned as a result of their natural curiosity. That's why the American Society for the Prevention of Cruelty to Animals – the country's first animal welfare organization and a leading voice for animals -- has launched the APCC by ASPCA App.
Focusing on dogs, cats, horses, and birds, the free app helps owners quickly and accurately identify and understand common household hazards, toxic and non-toxic plants, potentially harmful medications, as well as warm or cold weather hazards. It also provides crucial information about the severity of the problem and critical next steps.
Information in the app comes from expert toxicologists at the ASPCA's Animal Poison Control Center, which handles more than 180,000 cases each year of pets exposed to potentially toxic substances.
APCC by ASPCA Features
- A searchable database of hundreds of plants, household hazards, medications, warm weather toxins and cold weather toxins commonly found in or around homes
- Details for each toxin including: scientific name, alternate names, example images, severity of exposure, and potential symptoms for at-risk dogs, cats, horses, and birds
- Color-coding to help you identify the toxins of most concern
- Dogs and chocolate poison meter
- Built-in rodent poison calculator
- One-touch speed-dialing to the ASPCA Animal Poison Control Center
As the weather improves, this app is a vital tool for pet owners shopping for new houseplants or garden additions. But all pet parents should download the APCC by ASPCA app to keep their animals safe and far from harm.
Please note that the information is not meant to be all-inclusive, but rather a compilation of the most frequently encountered toxins. As always, if you suspect your pet may have ingested a poisonous substance, contact your local veterinarian or the ASPCA Animal Poison Control Center immediately.
iPhone Screenshots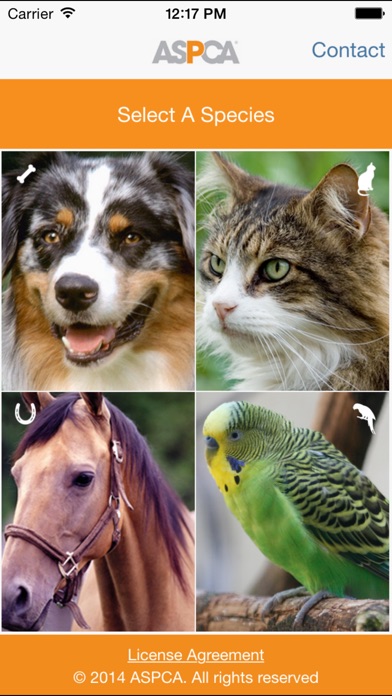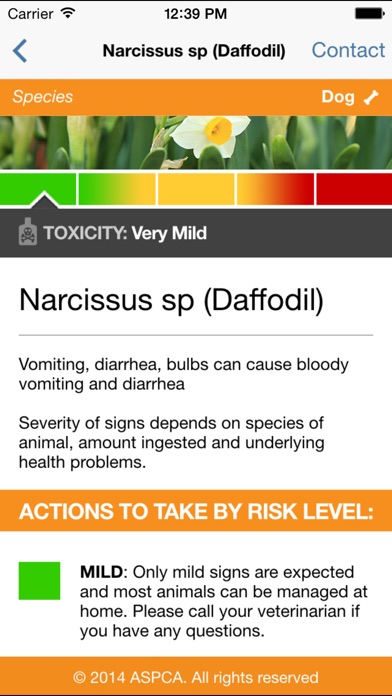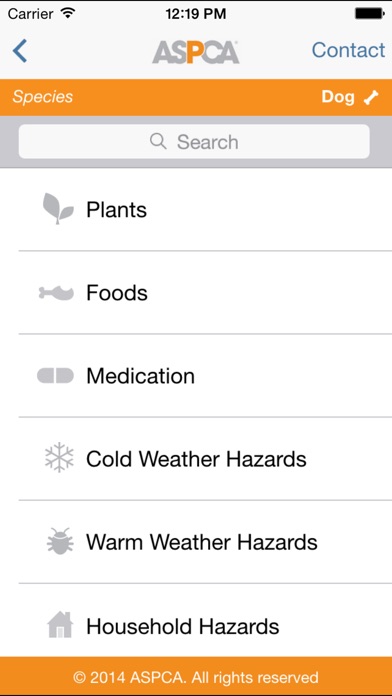 Customer Reviews
Not designed for quick access
As others have pointed out, most everything is classified by scientific names. It would be helpful to have an index of common names.

More importantly, there's no ability to search by symptom rather than specific poisons. Pet owners are likely to know there's a problem in advance of knowing what caused the problem, so why not have the option to start here? There should at least be enough to help establish a possible triage priority, or the app should urge pet owners to call the vet immediately if they don't know the source of the problem and the symptom may point to a severe problem.

The app is a promising resource. I'm eager to see how it develops, and I'll gladly raise my rating as it does!
Very Beautiful App BUT
I'm let down with the search tool on items that may or may not be toxic to your pet. Common names and any other common products regardless how harmless it actually is, would help quell our concerns and not waste our time googling elsewhere for answers. I'm aware there's a poison control hotline for pet owners, but not everyone has access to speaking on the phone like deaf or mute owners or after hours. This app has so much potential and if they need volunteers to help input and verify common items (kind of like Wikipedia) please offer the open access as we would like to help along with ASPCA improve pet ownership, especially the first timers.
Very good reference.
There are some odd complaints in these reviews. The fellow who couldn't manage to figure out Clorox could have simply looked for "bleach." Those who want to search by symptom are being unrealistic as almost no one or two symptoms are specific for anything. (That is, "vomiting" search would return the whole database.) As it is, it's a quick and handy reference I'm glad to have at my fingertips. If you don't know the generic names of your meds, that's on you as a pet owner, not the fault of the app.
View in iTunes
Free

Category:

Reference

Released:

Jan 14, 2015

Version:

1.0

Size:

48.5 MB

Language:

English

Seller:

American Society for the Prevention of Cruelty to Animals
Compatibility: Requires iOS 7.0 or later. Compatible with iPhone, iPad, and iPod touch.