AppButler - App Organizer
By WUNDERWERK
This app is only available on the App Store for iOS devices.
Description
ORGANIZE YOUR SCREEN WITH APPBUTLER
Mark your pages with page numbers for a better orientation. Categorize your apps screen by screen. Put an index directly on your screen to organize your apps like a register. Design your iPhone springboard as individual as you are by making index icons of your own..

OPENING OFFER -67% OFF
Regular Price: $ 2,99 / € 2,39

CELEBRATED IN THE US-PRESS:
GIZMODO: "Top 10 iPhone App of the week!"
iPHONELIFE: "An amazingly simple, yet clever solution."
THE APPCAST: "AppButler is one of the most useful thing I've seen!"


1 - PAGE NUMBERS: Number your screens consecutively with page numbers for a quick orientation.

2 - APP INDEXES: Categorize your apps screen by screen with register icons (no folders) and entitle the screens by category.

3 - GAME INDEXES: Put game icons directly between grouped game-apps to organize them like a index.

4 - CREATE YOUR OWN: Take a pic of your camera roll and scale it to make your own icons and to organize your screen as individual as you are.

5 - iTUNES COMPATIBLE: All page numbers and register-icons are visible in iTunes and can be organized direct on your computer screen.


INFOS, FAQs und UPDATES:
Visit blog.appbutler.com

Watch our video demo:
http://www.fonicons.com/instructions.mp4

Watch our video gallery:
http://www.fonicons.com/examples.mp4
What's New in Version 1.2
iOS 4 compatibility
iPhone Screenshots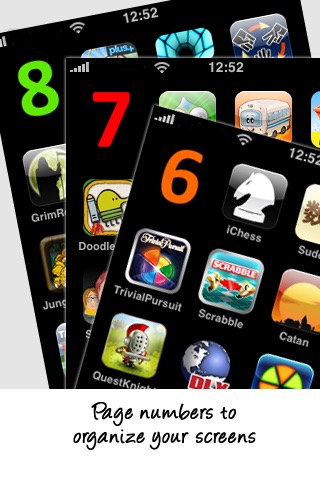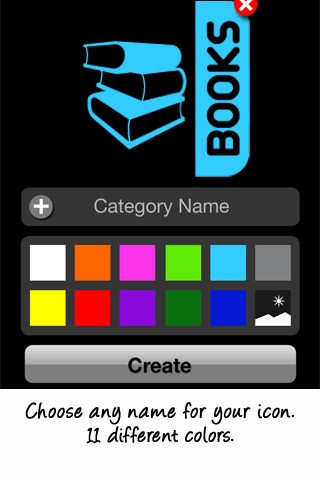 Customer Reviews
Fantastic! It works PERFECTLY!
I am tired of Apps everywhere! AppButler did just what I needed! Provided a way to organize all my Apps! Wonderful!
Many of the reviewers below didn't understand how to use it. Too bad they gave it 1-star when it's their own "operator error."

My layout "formula" for four Apps per Row:
AppButler Label on LEFT side + my 2 most used apps + Folder with extra apps.
Example:
(BOOKS) + iBooks App + Kindle App + Folder with extra Apps about books.

For the places I don't have extra Apps in a folder I simply made a placeholder. *NOTE: AppButler's placeholders are black, which looked ugly against my Wallpaper. So I created a pretty placeholder (pix of flower) from a picture in my Photos -- which is much nicer over my Wallpaper.

I also needed a Label for "Church" which AppButler didn't have. I simply created the label with a picture I wanted to use in PowerPoint, saved it as a jpg, imported it to iPhoto, then synced to iPhone. Voila! Now I have a label "Church"!

Yes, when you Create the icon it takes you to a website. You quickly hit 2 buttons (the button the arrow points to on the iPhone menu that looks like a box with forward arrow or on the ipad ABOVE where the arrow points that looks like a box with an arrow, then "Add to Home Screen"). It takes 2 seconds and you've created an app icon that immediately downloads to your iPhone or iPad. So simple and easy to use--on both devices!!
If only the iPod screens would act more professionally ...
Summary: This app tries to make up for a lack in organizing apps through the UI of the iPod, but unfortunately only succeeds in offering a possibly clumsy option, likely through no fault of its own.

I wish every day for a better way to organize apps systematically on iPod screens. In this respect, the iPod currently behaves like a children's toy rather than a serious business device.

Enter this app to try to fill the gap. While the method it takes is good in principle, in practice, no amount of creating "blank" icons for apps is going to substitute for a hard core "snap to grid" or an "arrange manually" option. The method of having "blank" icons also fails when you add a new app to your device ... the other icons still get shuffled around and require you to reorder them ... possibly in a completely new way.

Four points for effort minus one for flaws in its own implementation and ease of use. You'll probably like this if you want to organize on a screen or two of core apps that will never be changed and are willing to put up with the initial tedium of setting up those screens. Be wary if you are in the habit of adding new apps that could fall in place on those screens ... you will go through the shuffle process all over again (more the limit of the Apple iOS than this app I imagine).
Works great
I'm assuming that this app has been newly revamped. The reviews made me hesitant to buy this, but my fiancé has this app and loves it. The steps are simple and straightforward. The only thing I was highly disappointed about was the fact that my picture icons weren't displayed on my home screen. I'd prefer to see one picture representing my cluster of apps instead of a box showing all these apps. I feel like my iPhone home screen has turned into an awful fridge with see thru doors. Hopefully, the makers of this app are working on fixing this problem. I look forward to seeing this fixed in an upcoming update.
On the hole, App Butler works great for me though.
View in iTunes
$0.99

Category:

Utilities

Updated:

Aug 25, 2010

Version:

1.2

Size:

0.4 MB

Language:

English

Seller:

Wunderwerk GmbH
Compatibility: Requires iOS 3.0 or later. Compatible with iPhone, iPad, and iPod touch.