Archangel: Fate of the Galactic Commonwealth
By Raphael Salgado
This app is only available on the App Store for iOS devices.
Description
Prepare yourself for the first space combat/tactical simulator for the iPhone and iPod touch!

"I can play this game over and over again. It's a buy!" -TouchOfGaming.com

Captain on the bridge! In a desperate bid for survival of the human race, the Galactic Commonwealth has appointed you to command their latest prototype battlecruiser, the UGS Archangel.

After devastating nearly all of the Commonwealth's fleet, the Makuzi Ascendancy has unleashed one last armada to destroy the remaining Terran homeworlds.

With the UGS Archangel, warp to various sectors of the quadrant to fight off Makuzi warships with phasers and torpedoes. Send damage control crews to various parts of your ship. Divert power to balance the terms of engagement. Coordinate with navigation, tactical, engineering, and communications, as you carry out your orders. It's a battle to the finish, and you're in total control from the captain's chair!

Archangel: Fate of the Galactic Commonwealth features intense arcade action, stereo sound effects, dozens of quality voiceover phrases, and an epic orchestral soundtrack. If you're a fan of sci-fi TV shows and movies such as Star Trek, Battlestar Galactica, Babylon 5, StarGate, and Firefly/Serenity, you'll love the feel of this game!

Featuring the voice of actor Michael Wehrhahn!

NOTE: Enhance your gameplay on the iPhone 3GS! If you're experiencing slowness or if the application quits unexpectedly, try rebooting your device first or disabling voiceovers.

Watch the official game trailer on YouTube: http://www.youtube.com/watch?v=__k7X2X6Fyk or http://tinyurl.com/archvideo
iPhone Screenshots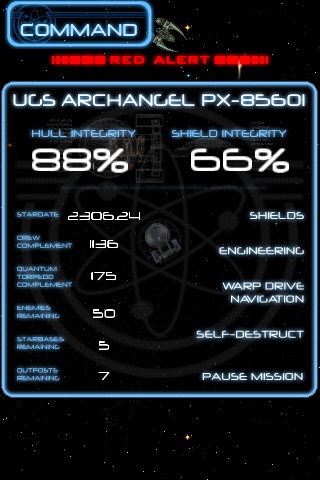 Customer Reviews
 Great Starship Tactical Simulator 
Granted I'm a huge Star Trek and Starfleet Battles fan but I totally LOVE this game. I've been hoping for a sequel forever. Many good suggestions here in reviews too. People it is NOT too hard. Here are some important tips:

Adjusting your power distribution from the stock set up immediately. I prefer boosting phasers and torpedoes as far as I can manage initially.

Rescuing ships (green dots on the galactic map) is your first and most important priority. They are the games ONLY way to boost your weapons, shields, etc. Periodically readjust your power distribution after boosts from rescuing ships.

While there is no difficulty setting, you can adjust the max number of ships (in settings) you can face in any one battle. Set it low until you get the hang of things. I play on the max [5] and I'm fine. I've played like 60 games and lost only 10-15 (mainly as I learned to play).
Needs update
Please update this game.

Does any game really deserve 5 stars in the iPhone space shooter category?

Yes. This one. Because it is the ONLY game that gives you command of a starship. Key word: command.

Other games are nice (Galaxy on Fire, Flatspace) and have great depth. This one does something different. It doesn't just allow you to shoot baddies or upgrade your ship... It lets you regulate power distribution and damage control.

And that makes it more of a commander game than a shooter.

I love it. I hope the developer expands on the concept.

SPOILER ALERT: HOW I PLAY

***

Full impulse power. Always. More opportunities to blow up enemies if enemy is on screen. Also it allows you to rescue bases and ships better.
Amazing Game, It's a Total Buy! Part 2, Please :)
After playing the game on my iPhone 5C, I conclude that this game is a MUST BUY. Absolutely worth it's price. Great graphics, amazing game play, perfect set up. Although it has one or maybe 2 bugs with some devices, you can't expect every app to be 100% perfect. C'mon, make a part 2!!
View in iTunes
$0.99

Category:

Games

Released:

Aug 03, 2009

Version:

1.0

Size:

37.4 MB

Language:

English

Seller:

Raphael Salgado
Compatibility: Requires iOS 2.2.1 or later. Compatible with iPhone, iPad, and iPod touch.
More iPhone Apps by Raphael Salgado