Assassin's Creed II
By Ubisoft
Open the Mac App Store to buy and download apps.
Description
*Please note that the supported OS are Mac OS X 10.5 Leopard or 10.6 Snow Leopard.
MacBook Air and MacBook Pro 13'' are not compatible with this game.*

Assassin's Creed II is the sequel to the renowned historical fantasy 3'rd person action/adventure video game Assassin's Creed.
The game is set in the 21st century, with player-controlled protagonist Desmond Miles escaping from Abstergo Industries with an employee, Lucy Stillman, after being forced to relive the genetic memories of ancestral assassin Altaïr ibn La-Ahad through a machine known as the "Animus". After escaping from Abstergo, Desmond enters a device which is more advanced than the original Animus, the Animus 2.0, and relives the genetic memories of ancestral nobleman Ezio Auditore da Firenze, who lived during the Renaissance period of the late 15th century in Italy. The player controls Ezio, who becomes an Assassin after his father and brothers are murdered by a traitor to the Auditore family. While controlling Ezio, the player can explore game renditions of Italian cities, regions and landmarks in open world gameplay.

The player may now swim in water, and eagle vision —the ability to identify specific people and landmarks— can now be used in third-person view and while moving. A young Leonardo da Vinci is present in the game, aiding the player by creating new weapons from translated "codex pages" that Altaïr, the original game's main character, left behind for future assassins' analysis and insight. Within the game, the player will be able to use Leonardo's flying machine (based on real-life plans by Leonardo) while on one mission. The player also has the ability to control a carriage on one level, but can row gondolas, as well as ride horses at any point in the game where they are readily available between towns and cities.

Features

- New weapons to choose from including an axe, a hammer, a mace, a spear, 2 different sword types, a spear axe, and 2 smaller blades
- Swimming
- Da Vincis workshop is in the game
- Locations include Saint Marks Basilica, The Grand Canal, The Little Canal, and the Rialto Bridge.
- The game opens in 1476, Altair is from 1191
- You play as a new ancestor of Altair / Desmond
- Big characters are in the game including Machiavelli, Caterina Sofrza, and Lorenzo de Medici
- You will pilot the Da Vinci's flying machine.
- Game will feature a new notoriety system that governs how enemy soldiers and people will treat you.
- You can disarm enemies and use their own weapons against them this time.
- Each weapon has a special move.
- 16 unique mission types.
- Hidden objects (like flags in the first one) are there to uncover but this time if you track them down you will get in-game bonuses that make it worth your time.
- New enemy types with unique attitudes and weaknesses are present in the game. Archers, as well as elite enemies, dagger wielders, "Brutish" armored troops with heavy armor and 2 handed swords and axes, and an intelligent halberd enemy will probe hiding places with their weapons if they think you're nearby.
- While hiding in a hay bale you can assassinate people this time, but it may expose your position.
- You can still climb towers and ride horses
- The Lorendo de Medici assassination attempt is in the game.
- There is now a night and day sequence in the game.

System Requirements
--
* SUPPORTED OS: Mac OS X 10.5 minimum
* Processor: Intel Core® 2 Duo 1.8 GHZ
* RAM: 2 GB
* Video Card: 256 MB OpenGL 2.1 compliant card with Shader Model 3.0 or higher (see supported list)
* HDD: 8 GB

* This product does not support Macs based on PowerPC CPU

Recommended Configuration
--
* Processor: Intel Core® 2 Duo 2.3 GHz
* RAM: 4 GB
* Video Card: GeForce® 8800 GT or ATI Radeon® HD 4850 or better

Supported Video Cards at Time of Release:
- ATI® RADEON® X1950, HD 2000/3000/4000/5000 series
- NVIDIA GeForce® 7/8/9/100/200 series
What's New in Version 1.0.1
Bug fixes
Screenshots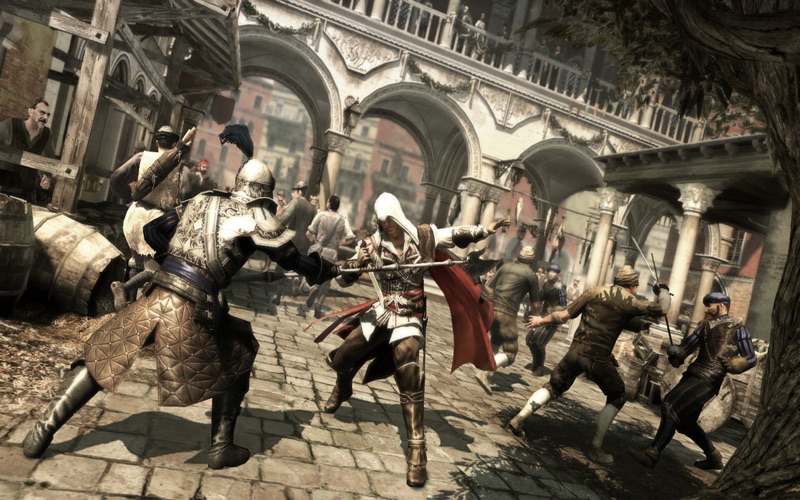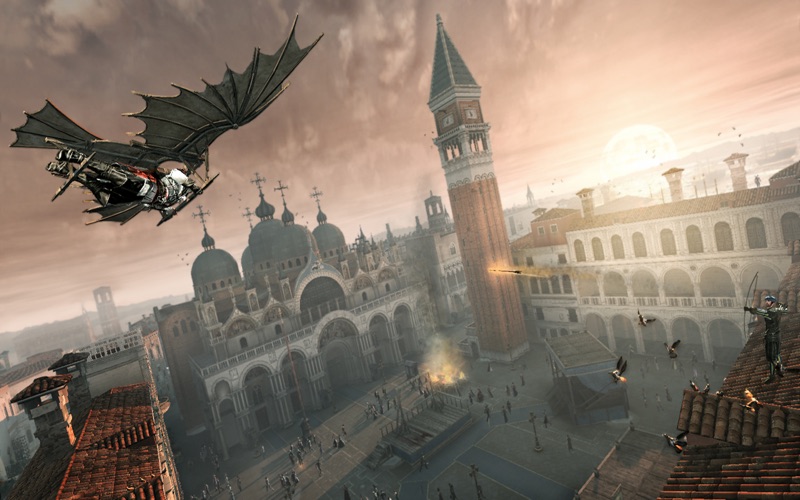 Customer Reviews
Stunning graphics and storyline, hardly any lag.
To me, this game is the most classic one of all the Assassin's Creed series (no wonder why this is the first AC game to be avaliable on Mac). The stunning graphics take you on a journey through renassaince Italy. If you do a little research, you'll find that this game is mostly historical accurate. The storyline is also touching and exciting. It seems as if Ezio had been a real historical figure, a true hero. The game runs smoothly on my MBP 2011, 4GB, intel i7-4 core, only sometimes it gets a little laggy after playing too long. For those who say this game lags, I have a quite good solution: whenever you feel your Mac getting too hot, simply move your Mac off the "hot spot" to lower the temperature. Everytime I try that, the game runs smoothly again. The only con of this game is the game pace--especially during combat, where you can't execute enemies as often as you can on other AC series. But other than that, this will always be the most classic game on Mac.
Very cool and works on my macbook pro 13 inch
I was very skeptical about buying this game because the description said it did not support MBP 13s. However I just recently bought a samsung 830 ssd with 256 gb capacity for my new 2012 MBP (base model) and it greatly improved my gaming as far as lagging and things of that nature. I have been playing this game for about 6 days on advanced graphics settings and have had no problems whatsoever thus far. No lags, no freezing, and no out of the blue shut downs. I am very pleased with the story of this game and the graphics and i highly recommend it to any of you are thinking about buying it. My computer only has 4 gbs of RAM but i have a very speedy and reliable hard drive so I am not sure if that plays into the quality of gaming I am getting out of this. I would like to think that the new MBP 13's are more than capable of handling an older game such as this and would urge anyone else to give it a shot like I did because it is worth it.
Fun but not without its flaws
I'm too lazy to buy a mouse/gamepad so every game i play on my laptop i play with my keyboard and trackpad. this was the first game i felt was too much for me in terms of my equipment. i played the entire game and still by the end felt like i had no mastery over skilled fighting, luckily i could squeak by with a constant slashing-away technique. I was also CONSTANTLY FRUSTRATED with the fact that this is the first game that wouldn't allow me to Command Tab it out of the way so i could do other things and not have to completely shut the program down. Maybe I haven't played every game out there, but the 15 or so games that i've bought since getting this laptop this was the first that i couldn't do that.

All that being said, this is a very beautiful game, which taps into a very rich historically beautiful time. i appreciate the attention to detail they put into this game. the multi-level story that went on with the game was very interesting and makes me want to play more from the A.C. series.
View in Mac App Store
$24.99

Category:

Games

Updated:

Jun 05, 2012

Version:

1.0.1

Size:

7.93 GB

Language:

English

Seller:

Ubisoft
Compatibility: OS X 10.6.6 or later