AstroImager
By CloudMakers, s. r. o.
Open the Mac App Store to buy and download apps.
Description
AstroImager is a powerful, but easy to use image capture application for the astrophotography.

In this version the built-in drivers support the following hardware:

- ATIK Titan Mono & Colour
- ATIK 3xx/4xx family CCDs
- ATIK 11000/4000
- ATIK One 6 & 9 (and its internal filter wheel)
- ATIK VS/Infinity
- ATIK GP Mono (1280x960 and 640x480 8-bit modes only)
- ATIK EFW2 filter wheel
- Starlight Xpress CCDs (all USB 2.0 cameras)
- Starlight Xpress filter wheel
- Shoestring FC USB controller
- ZWO ASI USB 3.0 cameras (ASI SDK 2)
- ZWO EFW filterwheel
- QSI 5xx/6xx CCDs (QSI API 7.2)
- FLI CCDs and filterwheels

but it can be used as a client to any remote or local INDI server with any supported CCD, filter wheel or focuser as well.

AstroImager also controls the set point cooling and the mechanical shutter of the attached camera (if available). It can preview or capture and save images with any count, duration and time lapse, browse captured images, zoom and stretch them automatically or manually, measure FWHM and the drift of a selected star and plate-solve image using public astrometry.net service or local Astrometry for OS X application.

AstroImager has simple sequencer to capture sequences of images with configurable duration, time lapse, count, base file name, binning and filter.

Images are stored in FITS format using CFITSIO library with user defined keywords and can be debayered during preview. Two separate filter name sets can be used for easier change of carousels.

AstroImager is a member of our astrophotography tools family including AstroTelescope, AstroGuider and FITS Preview. Please note that INDI Server, Astrometry and INDI Control Panel are a separate application and can be found at xINDI project page.
What's New in Version 2.7
- Many bugfixes
- Automatic INDIGO servers lookup
- ASI SDK updated to version 0.5.1215.
- ATIK 16200 support added.
Screenshots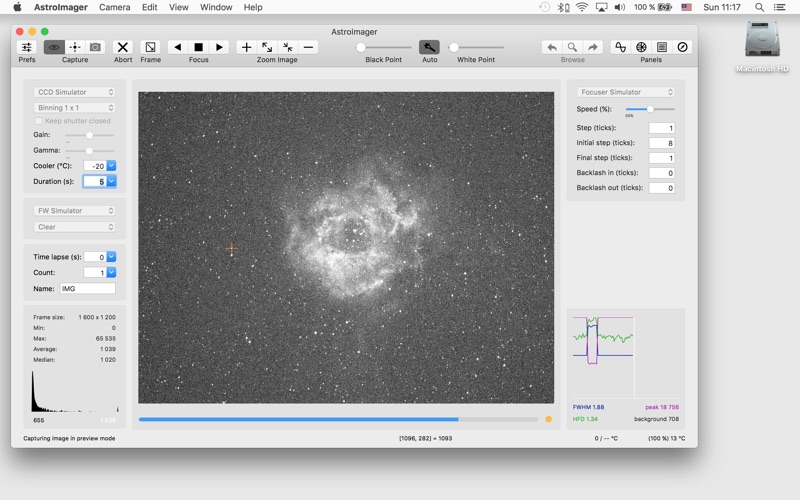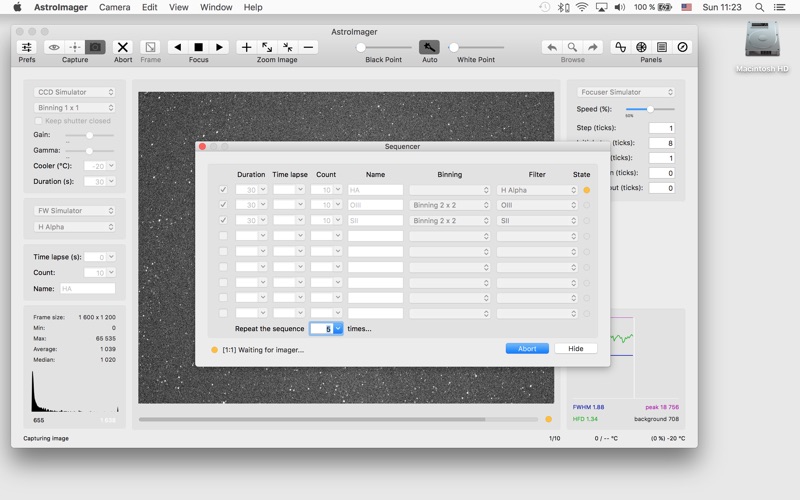 Customer Reviews
Beta quality app at best
The exposure times are input using a quirky combo box that also allows you, sometimes, to type in a value. The defaults are weird choices, and don't go low enough. RAW mode simply locks up this program. It only captures FITS format images, which are next to useless outside of NASA or ESA. It might be adequate for dark-sky images, but I simply couldn't get it to work well enough to even focus my telescope when using it to capture solar images.

It *looks* like it ought to be a good program, easy to use, etc, but it hasn't been my experience on it, or any other Mac-based astro-imaging software. This was a waste of my $15…can I get a refund?
View in Mac App Store
$14.99

Category:

Photography

Updated:

Mar 21, 2017

Version:

2.7

Size:

15.0 MB

Language:

English

Seller:

CloudMakers, s. r. o.
Compatibility: OS X 10.9 or later, 64-bit processor
More by CloudMakers, s. r. o.