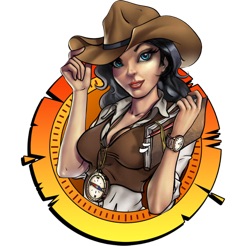 Atlantis: Mysteries of Ancient Inventors
4+
Description
New price, you save up to 30% now!

Ancient civilizations and their ruins hold many secrets and mysteries.

A young ambitious archeologist suddenly discovers a fragment of the lost map to the treasures of the most mysterious land – Atlantis! Leading her to its remnant which protrudes from the dark waters; a remnant which surely holds hidden secrets, carefully concealed by priests for future generations.

Without a moment's hesitation, Anna starts her journey, taking everything she needs.

As part of her search, she will visit ancient cities and deserted caves as well as the sea bottom and ice deserts.

Many comical and entertaining moments await her. And amazing discoveries of course.

Features:
- 8 types of hidden object games;
- Free search mode which lets you choose any completed level to play;
- Various awards and achievements;
- Beautiful graphics;
- Discover ancient treasures.
Improved "Get hint" button. It highlights both parts of comby-object now.

Ratings and Reviews
What a waste
What a waste of my money, a pretty face and big boobs are not going to cut it for this game, and the price of $4.99 was not worth it. There are a lot of better hidden object games than this one. This game did not hold my interest, it got boring after a while. Another problem I found was using the magnifying glass to find the objects, they appeared blurry under the magnifying glass, I have a 30" monitor with a 2560x1600 resolution, I would expect the objects to be a little clearer using the magnifying glass. Half way through the game a white square appeared on the lower right side of the screen, next to the menu/pause area and some objects barely showed, I knew the object was there, but I had to use the hint button to expose the whole object in order to select it. The arrow pointer was doing fine and then unexpectedly a smaller black arrow appeares on top of the main arrow.
buy buy buy?
I have bought the full version and played it all the way through. (By the way people you have to drag the battery which is on the lower right desk over to the flashlight to make level one work) Now when I try to go back in and let my son play it will only let me go through the first couple levels and then it asks me to buy the game again. I loved playing the game but this getting a little ridiculous. If its not fixed I want my money back. I didn't pay 6.99 to only play this game once.
Rip Off
I played the trial and it wanted me to purchase the full version to continue to the next level. I purchased the full version and the game let me play the same level again and then wanted me to purchase the the full version again. I went to the App Store and it says it is already installed. Now I can't go any further. I think it was a complete rip off but there is probably nothing I can do about it. I think the App Store has seen the last of me.
Information
Seller

Lexalgorithm - Unipessoal Lda

Size

173.1 MB

Category

Compatibility

OS X 10.4 or later

Age Rating

Rated 4+

Copyright

© (c) First Games Interactive

Price

$1.99
Supports
Family Sharing

With Family Sharing set up, up to six family members can use this app.