Atoms In Motion
By Atoms In Motion
This app is only available on the App Store for iOS devices.
Description
Discover the fundamental nature of matter; everything is made of atoms. The atomic theory is brought to life in "Atoms in Motion" -- a fully interactive atomistic simulation that uses sophisticated Molecular Dynamics (MD) algorithms to perform computational chemistry calculations right on your iPad. Such computations reveal the motions of atoms as they attract, repel, and collide with one another.

Fun for all ages -- in this simulation you control the atoms! With the tap of the finger you can add, delete, or highlight atoms within the simulation. With a gentle touch you can move, place, or throw atoms. With the swipe of a finger you can control the temperature and explore the states-of-matter (solids, liquids, and gases). Discover the physics behind the ideal gas laws, and perform your own experiments by changing the volume, the number of atoms in the simulation, or the temperature.

This Molecular Dynamics (MD) simulation includes realistic interatomic potentials of four noble gas elements: Helium, Neon, Argon, and Krypton (the van der Waals forces are computed using a Lennard-Jones 6-12 potential). The MD simulation continuously computes the pressure, and dynamically plots the pressure versus temperature, volume, or the number of atoms. Users can vary the temperature from near absolute zero to over 500K, and add up to 1,000 atoms to the simulation.

Enjoy the Atoms!
What's New in Version 2.0
Xenon!

Version 2.0 adds xenon to complete the suite of the most common noble gas atoms: helium (He), neon (Ne), argon (Ar), krypton (Kr), and xenon (Xe).

Build and organize your own collection of experiments. Within the simulation you can now save and name unique states and give them your own descriptive titles. Additionally, you can recall, rename, and delete saved states individually, and the article also includes hyperlinks to saved experiments.

Even faster computations with carefully tuned performance for each of the various generations of iPads.

Thank you all for the thoughtful reviews, feedback, and suggestions.

Enjoy the atoms!

iPad Screenshots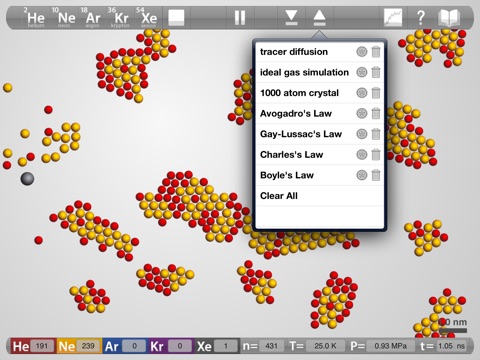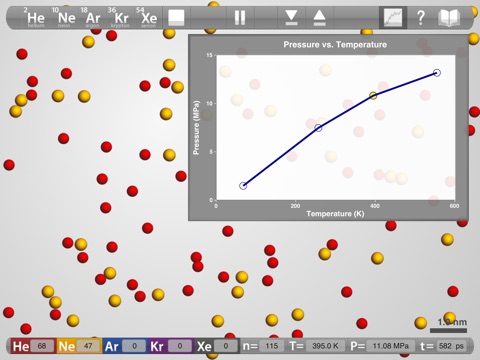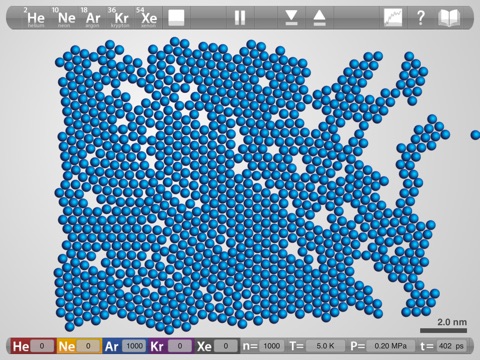 Customer Reviews
Great for kids, too
With a PhD in physics, I immediately appreciated the value of 'Atoms' as a tool for understanding energy and motion. I was surprised how my grandkids, from 5 and up, enjoyed playing with the screen, making more and more balls collide, raising the temperature and watching the chaos. There ability to control numbers and temperatures also made the 'game' an effective teaching tool (I believe). They saw relations between speed and size, speed and temperature, and even saw that the 'inert' atoms can bond at lowest temperatures. Terrific teaching tool and fun for kids.
An atomic microscope
This is a truly brilliant app...who would have thought that molecular dynamics simulations, even in two dimensions, could run so well on the iPad?

As a teaching tool, one can learn a lot about the relationship between temperature, pressure, and atomic motion through this app. As a toy, it's tremendous fun just to play god by pushing atoms around and watching how they interact. I highly recommend this app to anyone who has even a passing interest in chemistry, solid-state physics, or materials science.

A few minor quibbles: The UI for controlling temperature is a little dicey; it's easy to accidentally change the temperature when trying to move an atom, and it's very hard to change the temperature if the screen is nearly full of atoms.

Second, it would be nice to have the ability to run a simulation with periodic boundaries (think old-style video games where you go off the side of the screen and come back on the opposite side) instead of a rigid box.

Finally, it would be great to have a way to move groups of atoms together....this could be used to simulate indentation of a material by a round or sharp tip.

But all of these are just suggestions for ways to make this app even more fun. As it stands, it's already excellent and well worth the small investment.
Excellent for visualizing gas laws
Exceptional teaching tool for chemistry and physics.
View in iTunes
$2.99

Category:

Education

Updated:

May 05, 2012

Version:

2.0

Size:

9.2 MB

Language:

English

Seller:

Atoms In Motion LLC
Compatibility: Requires iOS 4.0 or later. Compatible with iPad.
More iPad Apps by Atoms In Motion