Autodesk SketchBook
By Autodesk Inc.
Editors' Choice
Open the Mac App Store to buy and download apps.
Description
Everyone, including professional illustrators, concept designers, comic artists, manga lovers, and the everyday doodler, will enjoy using Autodesk® SketchBook® - the digital drawing app made for everyone who loves to draw. An easy-to-use and customizable interface makes tools easily accessible, so artists always have convenient access to the power and flexibility of a digital tool while maintaining a natural drawing experience. Install the app to discover the power of SketchBook and start unlocking your creativity today.

JUST ADDED:
There has been a complete overhaul of the brushes, starting with a whole new redesign of the Brush Library, which includes:
◆ New Natural Blend and Colorless brushes
o Pinning brush sets to the Brush Palette
o Redesigned Brush Properties window, which includes:
- Brush types
- Flow and Opacity control
- Stylus tilt and stamp scaling
- Improved texture capture workflow
- Import an image as a stamp texture
o Loading custom and purchased brushes
◆ Newly designed Color Editor
◆ Support for saving and exporting the SketchBook .skbrushes brush format
◆ Updated the textures for two of the Pastel brushes

The full power of SketchBook is unlocked with Pro membership, available right here in the Mac App Store. Pro members get exclusive access to all features across desktop and mobile versions of SketchBook, including:

• A comprehensive brush library with over 100 preset pencil, pens, markers, and brushes
• Customizable brushes for complete control over your artistic toolset
• SketchBook Motion - named iPad App of the Year for 2016 - is fully unlocked as a free app for SketchBook subscribers. Available as a separate download from iTunes.
• Full layer controls, including layer grouping, multiple layer transform, and layer blending modes
• Perspective Guides with 1 point, 2 point, 3 point, and fisheye modes
• FlipBook with an animation timeline to bring your creations to life
• Selection and distort transform tools to freely and easily manipulate your image
• Dynamic flood fills with solid, linear, and radial gradients for complete control
• Dynamic X and Y axis symmetry tools with movable symmetry lines
• Steady Stroke for smooth line art
• The exclusive digital edition of the full Copic® Color Library

SketchBook offers the following features to users without a Pro membership:

• A clean and unobtrusive interface
• Layer Editor that supports up to 3 layers for increased control over your drawings and sketches
• Full color spectrum control that includes swatches from the Copic Color Library
• Other workflow improvements, including selection, automatic save, and more

Unique to the Mac App Store version:

• Save files directly to iCloud, so you can access canvases from iOS versions of SketchBook
• Purchase and manage your SketchBook membership within the Mac App Store.

System requirements:
-Mac OS X 10.8, 10.9, 10.10, 10.11

Visit www.sketchbook.com for tips, tutorials, the SketchBook blog, and support.
What's New in Version 8.5
Bug fixes and improvements.
Screenshots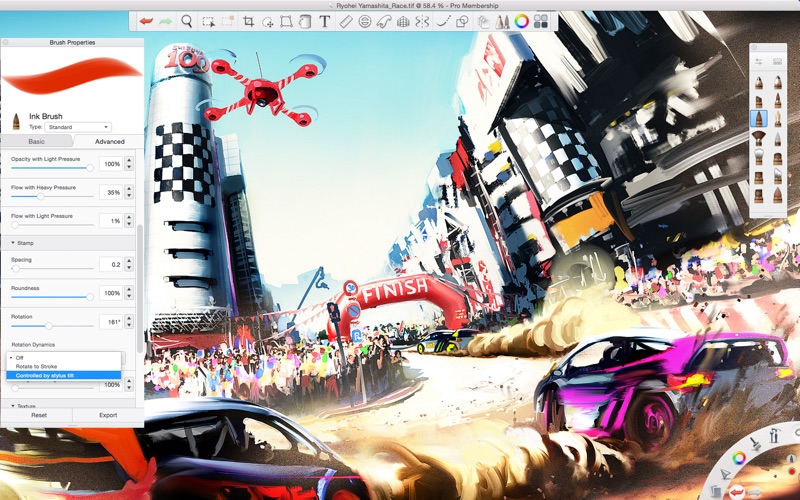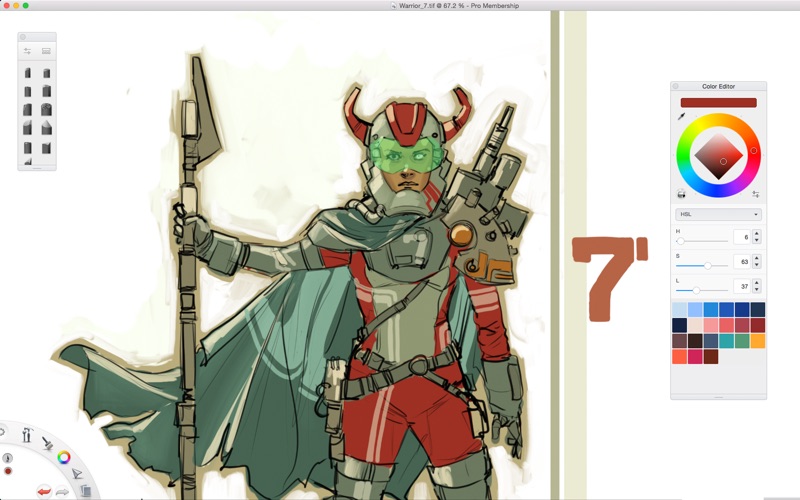 Customer Reviews
So disappointed
I have been using this program since September on 2016 and to be honest it was really great at first, but between all of the crashes happeneing while I drew and with certain tools not working or not letting me undo my mistakes, I just can't. To top it off I renewed my yearly supsription and payed LAST month ( I have a reciept from paypal and apple ) somehow I lost my membership. I paid $30 for the entire year and Autodesk took away my subscription for some reason, and I didn't notice it untill I tried opening the drawings I was working on only to realize all of the layers I had were merged together into one and read "Free Trail".

I am so angry, I even contacted them though their webite and the guy who emailed me back obviously didn't care and just cancled my subscription for Septemebr of 2018 and didn't comment as to why my membership that I paid for this year wasn't working. Thank god for apple's coustumer service though, honeslty.
Never again.
bugs fixes
After the new update there are still some bugs to be fixed. The color editor as well as the layer editor are unresponsive. When clicked on they dont pop up like they used to, so i cant choose or change colors. A side from that i love sketchbook.
WILL u fix this 2DAY?if not GOOD BYE,$$ back and YOU REFUSE TO MAKE IT WORK! IM NOT SIGNING A NEW AC
WHAT WAS the purpose of your UPDATE?
to drive me crazy? WHY DO I NOT SEE my subscription
IM gonna change software if I cannot have my subscription / and have with the correct attributes
then
IM DONE
IF IT IS NOT FIXED BY TOday 10-7-2017 IM OUTTA HERE..
I cant waste my efforts on a dead horse!

PLEASE claify what your app situation is
what you are doing!

I thought it was all done THEN I see myself remained signed in the APP?
I believed APPLE gives a random non personal ID to yous.
and NOT to enable a constant access to me!
IS IT DEVIAT ART Wacom?!?
WHO! please explain I ALLWAYS HAve a delima with the app
AND I have been complyant
does apple know about this continal
I cannot keep gi Where do you tell every one they need to SIGN IN Over and OVER or do YOU WANT people to STAY SIGNED IN?
I feel very uncomfortable seeing my self SIGNED IN TO A "outof apple area 3rd PARTY!
plus my WACOM TABLET has some weird situation/ that shows "Logs was not there before@

WHere is my FULL VERSION PLEASE
why does it say "free again" DO YOU Possibly need Blood?
WHAT is the true situation this should be first and formost ON YOUR APP description
IM NOT SIGNING in again
I registered as well as PAID the subscription costsubscription if PAID IN FULL and I
AND by the way
ANDROID ALSO asking me the same thing!
NO WAY id rather go with out it on the PHONE- than put up with any inkling of having the APP connect MAC-PHONE-and win!
PLEASE make it work and
not keep wasting my time attempts to remedy myself!
thank you
linda a
View in Mac App Store
Free

Category:

Graphics & Design

Updated:

Oct 02, 2017

Version:

8.5

Size:

75.6 MB

Languages:

English, French, German, Italian, Japanese, Korean, Portuguese, Russian, Simplified Chinese, Spanish, Traditional Chinese

Seller:

Autodesk
Compatibility: OS X 10.8.0 or later, 64-bit processor
Top In-App Purchases
Autodesk SketchBook Pro Membership$4.99
Autodesk SketchBook Pro Membership$2.99
Autodesk SketchBook Pro Membership$24.99
Autodesk SketchBook Pro Membership$29.99