AutoSleep. Track Sleep from Watch Automatically
By Tantsissa
Open iTunes to buy and download apps.
Description
Automatically track your sleep from your Apple Watch*. No buttons to press. No Watch app to load. Just sleep!

About AutoSleep
-----------------
Using Advanced Heuristics AutoSleep works out how long you've slept so you don't have to.

If you DO wear your Watch to bed, you don't need to do a single thing. AutoSleep will track your sleep & quality and send you a notification in the morning once you unlock your iPhone.

Even if you don't wear your Watch to bed, AutoSleep can track your time in bed. It's extremely simple.

If you DON'T wear your Watch to bed, then simply put your Watch on charge just before you go to sleep. As soon as you touch your iPhone or put your Watch back on in the morning then AutoSleep will know that you have finished sleeping.

A handy Today Widget lets you see how your own "batteries" are charged for last night and the previous seven days. A second (entirely optional) widget lets you also track the time you have taken to fall asleep.

As everyone is a little bit different. AutoSleep provides a simple setup wizard and an option to tweak if you are a very restless sleeper.

If you wear your Apple Watch to bed*, AutoSleep will also analyse your sleep quality. By using time asleep, restlessness, time awake and heart rate it can score the quality of your sleep and provide you with a comprehensive nightly analysis.
*Note. If you do not wear your Watch to bed, AutoSleep simply captures the amount of time sleeping.

AutoSleep also works with HeartWatch our premier heart & activity monitoring app and writes your Sleep information to Apple Health.

*Requires Apple Watch running Watch OS 3 or higher.
What's New in Version 3.1
Here is AutoSleep 3.1.
- New history calendar.
- Added a very simple watch app. You do NOT need to install this on your Watch. It simply mirrors the features of the widgets. By showing recharge and letting you use the lights off feature via your Watch. It is entirely optional.
- Support for Japanese & Brazilian Portuguese.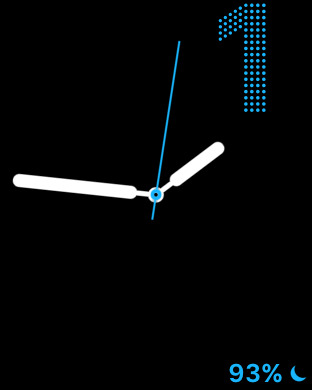 Customer Reviews
DO. NOT. BUY.
Hey y'all. I, like many others, wanted to have a sleep tracker that, of course, the tracked my sleep. I decided to buy this one because it says that all you have to do is simply fall asleep and it will read your data and tell how bad you tossed and tuned, your deep sleep, and so on. Also, my major buy was made because it had the best ratings out of them all. This is not the case AT ALL. My Apple Watch is brand new. I've only had it one month. (Let's get that straight 😂.) When I went to bed the first night, I put my watch on and went to sleep. When I got up, I checked my phone and the app and NOTHING had been read in the night. NOTHING. I email acquiring about how to get the app to work right and why it wasn't showing data. The person blamed my watch and gave me some instructions to follow "as many others have had to do and many have been helped." So why make the app saying you can fall asleep and wake up to data when really a help rep has to help you out?! Then of course they already got your money so it doesn't matter. Now I am writing this to tell others, "DO NOT BUY AND MAKE THE SAME MISTAKE." It looks like a fabulous app, but it is really a piece of junk. BUY SOMETHING ELSE.
Owns them all
If you're a former Fitbit or Microsoft Band owner, you know how good sleep can be monitored. I came from both of those platforms to the Apple Watch. With the Apple Watch I have paid for several Sleep monitoring apps. None of the prior Apple Watch sleep apps could check all the boxes that I wanted when it came to sleep monitoring such as auto detect (which is huge), in depth sleep analysis w deep sleep vs restless, and sleep goal settings. I had come to the conclusion that none of these 3rd party app developers had the time or resources to make a sleep app compete w the likes of Fitbit or Microsoft. Well, here we are today and I've changed my tune. Auto Sleep is a COMPLETE and COMPREHENSIVE sleep monitoring app. I'm completely satisfied without compromise on the sleep resolution that this app provides. Really the Apple Watch should have come w a built in sleep app by Apple but that is fixed w this app. GET THIS APP if you want the best sleep available on the AW.

Note to Dev- You started out strong. Please don't forget this app and continue to support and refine it. Thank you.
Change your sleep patterns, not just track them
Lots of apps track sleep. This one has helped me change my horrible insomniac sleep patterns, and as a consequence I'm less and less afraid of bedtime and all the tossing and turning associated with it. I switched from Fitbit to an Apple Watch several months ago and have been hunting for an app that auto-detects sleep. This does that and more. Years of insomnia had me in a napping pattern that made the insomnia worse. The "recharge" and "quality" ratings let me actually time those naps to keep me sane but mostly on a nighttime schedule. Three months (and a great update) later, I'm mostly done with the long 3-hour chunks of nighttime awakeness that only add fuel to the sleep-anxiety-nap feedback loop. I'll never sleep 8 hours straight but I'm closer than ever before even with sleep meds. (For context, I tried sleep++ & SleepCycle but this is all-around better in tracking, display and battery-life terms).
View in iTunes
Offers Apple Watch App for iPhone
$2.99

Category:

Health & Fitness

Updated:

Feb 16, 2017

Version:

3.1

Size:

7.0 MB

Apple Watch:

Yes

Languages:

English, Dutch, French, German, Italian, Japanese, Portuguese, Simplified Chinese, Spanish

Seller:

TANTSISSA HOLDINGS PTY LTD
Compatibility: Requires iOS 10.0 or later. Compatible with iPhone and iPod touch.