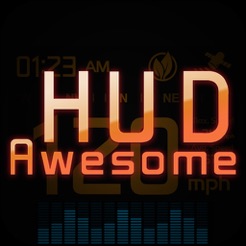 Awesome HUD
4+
Free
Offers In-App Purchases
Description
Awesome HUD is a great and simple-to-use speedometer for your iPhone!

* Only for iPhone 3G,3Gs and iPhone 4 Due to GPS utilization

Features
- Shows a awesome speedometers that runs off of GPS
- Supports a HUD mode: Place your phone on the dashboard to see the speedometer on your windshield!
- Supports both km/h and MPH

- variety of themes - whenever possible to easily change the theme to suit my taste
- variety of colors - the same themes you wants, even changing the color is nicely decorate.
- Accessories - clock, progress direction (like a compass to scroll) displays
- iPod Music mode - that makes music control very easy while driving
- Show driving record - the highest speed / average velocity / elapsed time / distance display
- Supports speed alert notification

Support:
If you have any technical problems please email us at support@mustbegames.com

Visit http://www.mustbegames.com for more information.
v1.03
- Minor bug fix

v1.02
- Orientation Bug fix

v1.01
- Landscape Orientation Unlock
(But when HUD Mode Enable - Landscape Orientation Lock)
Ratings and Reviews
Will be buying!!
This is exceptional! For those complaining, I can only advise:

This is not some multi thousand dollar government app. Read the description.

As for calculation of speed: see my previous statement. Further more, speeds are calculated FINE in turns and straight always. The Haversine formula to compensate for Earths curvature is not needed as we are gravity bound: point to point divided by time = speed... Even with curves.

There will always be a lag because as an Apple Developer, yes, calculations can run every freaking fraction of a second, but expect your battery to die in 30 minutes.

Don't like it: write your own app.

Enough said to the haters and speeders who depend on a phone app like it was a cardiac tool. Geesh.

Keep up the good work on this app!!!
It comes in pink
I bought a similar app for $.99 but this app is far greater because I don't have to turn my iPhone 6 Plus upside down to be able to read what is being shown on the screen in the HUD mode. Also like it because it comes in pink, my favorite color. Thank you for this Great app. What more could one want for something that is free and nothing in this world is free
Gps not appropriate for speed
GPS measures your speed as an average of samples, and does not take into account altitude changes.
Like this, you drive around a curve, GPS samples your position at two points on that curve and returns your speed as a function of time between points... Rather than actual distance traversed... The result? HUD shows a speed SLOWER than your actual speed.... Your " as the crow flys" speed between two points... Not the speed you actually had to have on the longer path of the curve.

So... Do not rely on this as an accurate speed indicator... Your car's speedometer on the dash is always going to be more accurate as it samples speed continuously.

GPS only produces an average speed across the surface of the earth... Not absolute speed at any moment.
Information
Seller

JUNG CHUL MOON

Size

2.9 MB

Category

Compatibility

Requires iOS 3.0 or later. Compatible with iPhone 3G, iPhone 3GS, iPhone 4, iPhone 4s, iPhone 5, iPhone 5c, iPhone 5s, iPhone 6, iPhone 6 Plus, iPhone 6s, iPhone 6s Plus, iPhone SE, iPhone 7, iPhone 7 Plus, iPhone 8, iPhone 8 Plus, and iPhone X.

Age Rating

Rated 4+

Copyright

© MustbeGames

Price

Free

In-App Purchases

Theme06

$0.99

Theme05

$0.99

Theme04

$0.99
Supports
Family Sharing

With Family Sharing set up, up to six family members can use this app.