Bałtów i okolice
By Amistad sp. z o.o.
This app is only available on the App Store for iOS devices.
Description
Aplikacja mobilna "Bałtów i okolice" przybliża północno-wschodnie tereny województwa świętokrzyskiego tam, gdzie styka się ono z Mazowszem i Lubelszczyzną. Różnorodność przyrody oraz wielka historia, która stale towarzyszyła tutejszym miastom i wsiom spowodowały, że są to niezwykle atrakcyjne, choć wciąż tylko częściowo odkryte tereny. Aplikacja prowadzi zarówno szlakiem powszechnie znanych atrakcji turystycznych, jak i w miejsca, których próżno szukać w wielkich przewodnikach. Z aplikacją odwiedzisz m.in. kompleks rozrywkowy w Bałtowie, z Juraparkiem, safari, stokami narciarskimi, ale też zapomniany pałac dawnych właścicieli tych ziem – dziś idealną scenerię do kręcenia horrorów. Poznasz znane na całym świecie neolityczne kopalnie krzemienia pasiastego w Krzemionkach, ale też odwiedzisz drewniany zakopiański kościół w hutniczej dzielnicy Ostrowca Świętokrzyskiego. Poznasz prastare zabytki Solca nad Wisłą, odwiedzisz jedyne w Polsce miejsce, gdzie na wolności żyją żółwie i zachwycisz się nadwiślańską przyrodą, gdzie twój smartfon pokaże Ci miejsce, w którym Bolesław Krzywousty wydał wyrok na św. Stanisława.
Znajdziesz tu również wiele porad praktycznych: gdzie dobrze zjeść, gdzie znaleźć nocleg, gdzie zatankować auto i gdzie wypocząć. Aplikacja pomoże Ci znaleźć najbliższy punkt informacji turystycznej i przybliży cykliczne imprezy w regionie. Prezentuje także najciekawsze trasy turystyczne regionu polecane przez użytkowników portalu społecznościowego Traseo.pl.
Aplikacja obejmuje swym zasięgiem 10 gmin należących do "LGD Krzemienny Krąg". (Sadowie, Bodzechów, Ćmielów, Kunów, Rzeczniów, Sienno, Bałtów, Lipsko Chotczę i Solec nad Wisłą).
Aplikacja wykorzystuje technologię GPS, pokazując pozycję użytkownika i lokalizacje obiektów. Działa w trybie online i offline.
Aplikacja została opracowana przez Amistad Group w oparciu o autorską technologie Treespot
we współpracy z Stowarzyszeniem "Delta" oraz Stowarzyszeniem " Bałtów".

Aplikacja współfinansowana ze środków Unii Europejskiej, oś IV LEADER w ramach działania 413 " Wdrażanie lokalnych strategii rozwoju" objętego PROW na 2007-2013
Instytucja Zarządzająca programem Rozwoju Obszarów Wiejskich na lata 2007-2013
Ministerstwo Rolnictwa i Rozwoju Wsi. Europejski Fundusz Rolny na Rzecz rozwoju Obszarów Wiejskich: Europa inwestująca w obszary wiejskie
iPhone Screenshots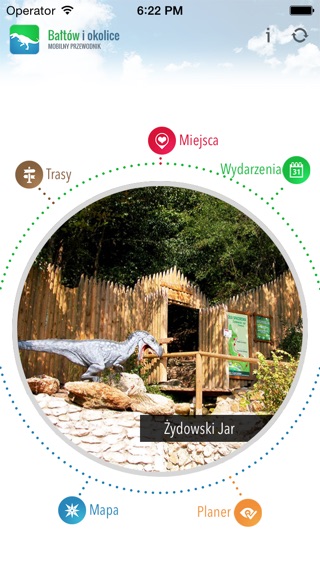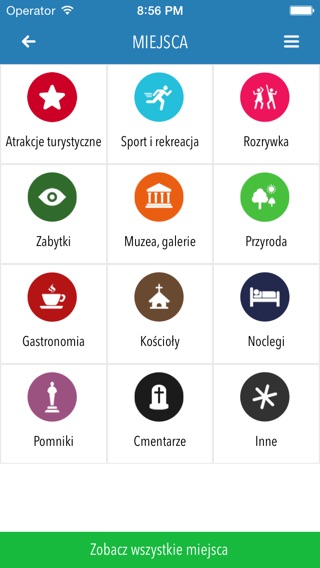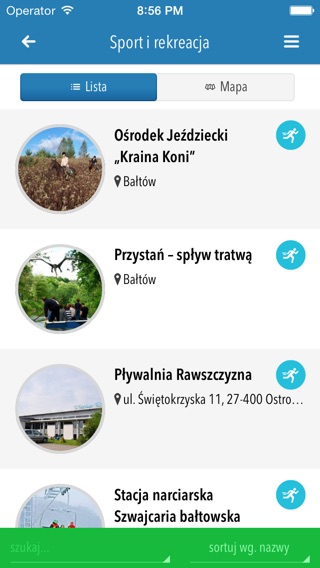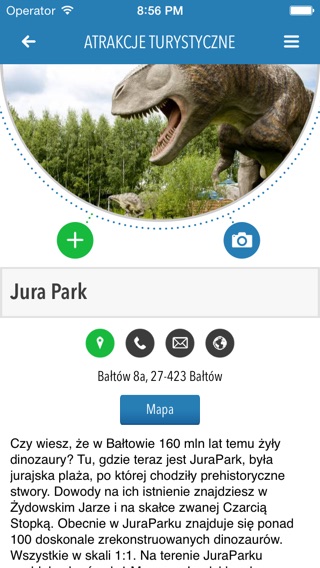 View in iTunes
Free

Category:

Travel

Released:

Oct 12, 2014

Version:

1.0

Size:

17.4 MB

Languages:

English, Polish

Seller:

Amistad Spolka Z Ograniczonia Odpowiedzialnoscia
Compatibility: Requires iOS 6.0 or later. Compatible with iPhone, iPad, and iPod touch.