Bank of America - Mobile Banking
De Bank of America
Esta app solo está disponible en App Store para dispositivos iOS.
Descripción
Realice operaciones bancarias con comodidad y de forma segura con la app de Banca Móvil de Bank of America® para cuentas en EE. UU.

Administre sus ctas. bancarias y finanzas
• Revise la actividad y saldos en ctas. de cheques/ahorros y tarjetas de crédito
• Vea los saldos de su cta. hipotecaria, préstamo para automóvil y otras ctas.
• Active o reemplace tarjetas de crédito/débito
• Configure o edite avisos de viaje para tarjetas que califican
• Solicite copias de cheques
• Configure alertas en la app para que le notifiquen sobre información importante de la cta. y de seguridad

Transferencia de dinero vía móvil
• Envíe y reciba dinero de forma segura usando un número de móvil o dirección de correo electrónico (lo que incluye desde y hacia ctas. en EE. UU. fuera de Bank of America)¹
• Transfiera fondos entre sus ctas. de Bank of America

Pago de ctas. en la Banca Móvil²
• Programe/edite/cancele pagos
• Pague facturas
• Agregue/Edite cntas. Pagar A

Depósito de cheque vía móvil
• Tome fotos de los cheques para depositarlos
• Vea el depósito en proceso en su cta. en forma inmediata³

Contáctenos fácilmente
• Acceda de forma rápida a un representante para obtener ayuda o hacer preguntas sobre sus ctas.
• Programe una cita para hablar con un especialista
• Encuentre cajeros ATM y centros financieros

Ofertas y reembolsos
• Reciba reembolsos de efectivo con BankAmeriDeals® al usar sus tarjetas de crédito/débito de Bank of America que califican
• Reciba ofertas de tarjetas de crédito exclusivas

Ayude a estar protegido
• Cambie la Identificación en línea o Contraseña
• Configure Touch ID® para entrar en la app de forma segura en vez de usar su Contraseña⁴
• Si se sospecha fraude en su tarjeta de débito/crédito, le notificaremos para que pueda verificar sus transacciones y desbloquear su tarjeta
• Con nuestra Garantía de Seguridad de la Banca Móvil, usted no es responsable por transacciones fraudulentas cuando se reportan con prontitud⁵

Apple Watch®
• Vea actividad y saldos de ctas.
• Reciba alertas

Términos y Condiciones de Apple Watch: Desde su iPhone®, inicie la app BofA, vaya a Perfil y configuraciones > Apple Watch

Consulte el Acuerdo de Servicio de Banca en Línea en bankofamerica.com/serviceagreement para obtener más información sobre estas características para realizar operaciones bancarias. Su proveedor de servicio puede aplicar cargos por mensajes y datos.

¹ Es necesario inscribirse en el servicio y la inscripción debe ser realizada desde una cta. personal de cheques o de ahorros de Bank of America. Los beneficiarios tienen 14 días para registrarse y recibir el dinero o la transferencia será cancelada. Aplican límites de dólares y frecuencia.
² Para usar Pago de ctas., primero debe inscribirse en el servicio a través de la Banca en Línea.
³ Los depósitos están sujetos a verificación y no están disponibles para retiro inmediato. Aplican otras restricciones.
⁴ Ciertos dispositivos califican para la inscripción en Touch ID.
⁵ Usted no será responsable de las transacciones fraudulentas en la Banca Móvil si notifica al banco dentro de los 60 días siguientes a la primera vez que aparece la transacción en su estado de cta. y cumple con las responsabilidades de seguridad.

Zelle y las marcas relacionadas con Zelle son propiedad absoluta de Early Warning Services, LLC y se usan aquí bajo licencia.

iPhone, Touch ID y Apple Watch son marcas comerciales registradas de Apple Inc.

Bank of America y las marcas comerciales relacionadas son marcas comerciales de Bank of America Corporation
Bank of America, N.A. Member FDIC
© 2017 Bank of America Corporation
Novedades de la versión 7.5.0
Con la última actualización puede:
• Crear un panel de control personalizado para ver la información que más usa
• Iniciar un retiro de dinero en efectivo en la app y retirarlo después en el cajero automático (ATM)

¿Cómo lo estamos haciendo? Evalúe la aplicación BofA y háganos saber si le está facilitando hacer sus transacciones bancarias.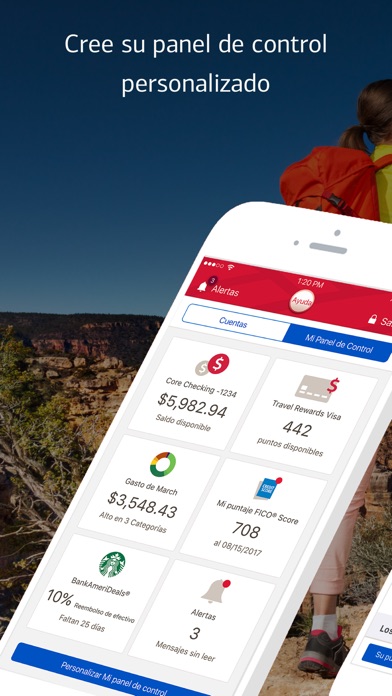 Reseñas de usuarios
Update for the Update
I like the new dashboard feature but it would be nice if we had the choice to make dashboard the default when opening the app.
For business checking. Employee debit cards it would be nice to have the feature on the app rather than having to go into the website each time to change the daily ATM and debit card spending limits. It's a lot easier to use the app than the website especially when your out of the office.
Also being able to set up reoccurring payments in bill pay on the app would be nice.
I'm hoping BoA will soon be offering a prepaid debit card (like Chase Liquid) it would be a very nice product for customers to separate household and personal spending.
At The Brink Of Perfection 💫
I love Bank of America and this app gets better with each update, year after year. The current version of features and newly added bells & whistles are awesome. (September 2017)

I log into online banking maybe once a month but I use this mobile app on average twice a day, seven days a week. My favorite and most frequently used features hands down are: 1. Debit Card Lock 2. Budget & Spending Tool 3. View FICO Score (for free!!) 4. The recently added Dashboard View. 5. Bill Pay. They are each excellent features that I rely on to maintain my accounts. Never get rid of these features, BofA, or I will definitely close my accounts.

Still, I am keeping my rating at four
stars for one particular reason. I want the option to lock my BofA credit cards, just as I do my debit card. I don't use my credit cards often and I'd feel more secure if I had the ability to lock and unlock them myself. I appreciate the credit card monitoring BofA, but locking credit cards is 100% fail safe. Get to it.

All in all though, this is an excellent app, very convenient and reliable; I love it!
Don't trust it to be accurate
I set up alerts to notify me of activity in regards to my account and I never get them in a timely manner. Sometimes I get alerts until the next day which defeats the purpose of helping you stay on top of your account. When I called about it, the girl with no customer service experience claimed that it was not their issue or concern because alerts are only a courtesy and I need to be more responsible like her, but it had nothing to do with responsibility, it was about being notified as a back up to prevent unwanted access into my account. If such a thing would occur, it's beneficial to get the alerts right away. Chase sends me a notification before I even get my receipt back. Definitely don't trust it if you've had fraudulent activity in the past, it's pointless.
Ver en iTunes
Ofrece la app para Apple Watch para iPhone
Gratis

Categoría:

Finanzas

Actualizado :

15/09/2017

Versión:

7.5.0

Tamaño:

166 MB

Apple Watch:

Sí

Idiomas:

Español, Inglés

Vendedor:

Bank of America
Compatibilidad: Requiere iOS 9.0 o posterior. Compatible con iPhone, iPad y iPod touch.
Más Apps para iPhone de Bank of America