Bank of America - Mobile Banking
De Bank of America
Abre iTunes para comprar y descargar Apps.
Descripción
Bank conveniently and securely with Bank of America® Mobile Banking. Our redesigned app makes it easier than ever.

Manage Your Accounts*
• Check activity and balances in checking, savings and credit card accounts
• View routing and account numbers easily
• Edit transaction descriptions in checking and savings accounts
• Order replacement debit or credit cards±
• Order check copies±
• View Merrill Edge and Merrill Lynch investment accounts
• Set app Alerts to be notified of important account and security info

Send Money to Virtually Anyone*
• Securely send and receive money using a mobile number or email address (including to and from U.S. accounts outside of Bank of America)1
• Add recipients for email/mobile number transfers using your device's contacts or enter the data manually2
• Manage transfers between your Bank of America accounts (including mortgages and loans)
• Visit www.bankofamerica.com/easymoneytransfer to learn more

Pay Bills*
• Schedule, edit or cancel payments
• Pay eBills
• Add or edit Pay To accounts

Deposit Checks
• Use our app to snap photos of checks and deposit them from your mobile device3
• View processing deposits in account details in the app

Enjoy BankAmeriDeals®
• Choose Deals, shop as you normally do with your credit/debit cards and receive cash back
• Get cash back into your eligible Bank of America account4

Stay Secure*
• Reset Passcode, retrieve Online ID
• Use SafePass® for additional security during sensitive transactions (you'll receive a code to verify your identity)
• If we suspect fraudulent activity on your debit or credit card, we'll notify you in the app so you can verify your transactions and unblock your card

Contact Us Easily
• Schedule an appointment at a banking center or call us with any questions
• Find ATMs and banking centers

*Please visit Online Banking for these banking needs:
Wire transfers; transfers to external bank accounts; transfers from credit cards; ordering new checks; setting up/canceling recurring transfers and payments; enrolling in Bill Pay/managing eBill information; changing Online IDs; stopping checks; activating new debit cards; using ShopSafe®; going paperless; viewing mortgage and loan account details; enrolling in SafePass.

±Fee may apply.
1Enrollment and Bank of America checking/savings account required. No fee for this service; dollar/frequency limits apply. Transfer permitted only to U.S.-based accounts. See Online Banking Service Agreement for details.
2You must grant permission for the app to access your device contacts.
3Deposits subject to verification and not available for immediate withdrawal. See Terms for other restrictions.
4Earned cash back credited the month following redemption. See Terms for other restrictions.

Having general app issues?
• If you're on your home WiFi network and have a problem connecting, try resetting your modem/router
• For optimal performance, make sure you're running the latest OS
• Note that third-party keyboards are blocked by our app due to their potential to track your password and other keystrokes you may enter; the native keyboard for your device will be used
• Visit our in-app Help to learn more

Terms/Service Agreement: www.bankofamerica.com/serviceagreement

iPhone is a registered trademark of Apple Inc.

Bank of America and related trademarks are trademarks of Bank of America Corporation
Bank of America, N.A. Member FDIC
© 2015 Bank of America Corporation
Lo nuevo en la versión 6.3.0
Thanks to your feedback, we've made several improvements and fixes to the app.

•If we suspect fraudulent activity on your debit or credit card, we'll notify you in the app so you can verify your transactions and unblock your card
•A new "Open an Account" option has been added to the main menu
•You can now see the total amount of all of your scheduled bill payments
•Small Business customers can view their credit card transactions and additional account details

There's more to come in future releases. Please keep your feedback coming—it helps us make your mobile experience better.
Captura de pantalla del iPhone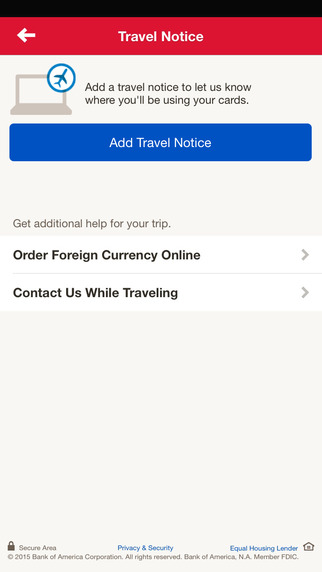 Reseñas de clientes
Does what it is intended to do, nothing more and nothing less
This app is okay at best. Although, Bank of America could make some more improvements if they spent more time and money on hiring a designer for the app. One thing that really bothers me about this app is that it lacks Touch ID capabilities. Considering the iPhone 5s has been out for over a year now and we are soon expecting an iPhone 6s in the fall, there is really no excuse as to why Bank of America has not added this feature in their app yet. The Apple long as you out for security purposes after a set amount of time for inactivity. My password is very long and it is really annoying to have to type in all the time. Bank of America is one of the largest banks, competing with others such as Chase, Discover, Capital One, and more. I have credit cards from other banks so I have their apps on my phone and all them have touch ID and have added iOS 8 designs. I think that adding touch ID and making the Apple look better would keep Bank of America up to par with the banks it competes with.
Smooth running
I don't know where all the negative reviews are coming from, simply people who love to complain about the smallest things in life to give their lives meaning. The app works amazing, I've never had a crash or any other issue with it. It displays all information immediately, shows you your account number and routing number for easy access, and even allows you to rename your transactions for any reason. One thing I wish it would come out with is Touch ID. My local bank app has this ability, I would expect my national bank to have this as well.
Good app, once logged in.
The app is good. You can easily pay bills, check your balances, etc. And the instant notifications for stuff like credit card charges is very helpful. The biggest drawback however is the lack of support for touch id. Because banking apps rightfully timeout relatively quickly, logging in is a necessary step every time you use the app. And because you should be using a strong password, logging in is therefore a cumbersome process without touch id. This makes accessing the app a real drag, which is not a good place to be since apps should be easy to use. They really need to add it. With it, the app would be much better.
Ver en iTunes
Gratis

Categoría:

Finanzas

Actualizado:

11/06/2015

Versión:

6.3.0

Tamaño:

36.0 MB

Idioma:

Inglés

Vendedor:

Bank of America
Compatibilidad: Requiere iOS 6.0 o posterior. Compatible con iPhone, iPad y iPod touch. Esta app está optimizada para iPhone 5, iPhone 6 y iPhone 6 Plus.
Más Apps para iPhone de Bank of America