Bank Millennium
Por Millennium bcp
Abre iTunes para comprar y descargar Apps.
Descripción
Aplikacja mobilna Banku Millennium łatwo dopasowuje się do indywidualnych potrzeb użytkowników. Jest prosta w obsłudze, wygodna i oferuje dużo większą swobodę w zarządzaniu finansami.

Rachunki:
• Saldo, historia i szczegóły
• Przelewy własne, krajowe, natychmiastowe, za pomocą QR kodu
• Przelew na numer telefonu oraz e-mail
• Przelew do ZUS oraz podatkowy
• Tworzenie QR kodów do przelewów
• Doładowania telefonów
• Definiowanie i edycja odbiorców
• Zakładanie lub podwyższanie limitu w koncie (w ramach oferty specjalnej)
• Wysyłanie numeru rachunku przez e-mail/SMS
• Pobieranie i wysyłanie plików PDF z potwierdzeniem transakcji
• Powtarzanie wykonanych przelewów
• Przelew zwrotny
• Lista nadchodzących płatności
• Podsumowanie Moje finanse

Karty (debetowe, kredytowe, przedpłacone):
• Historia kart kredytowych i przedpłaconych
• Spłata kart kredytowych
• Przelewy z kart kredytowych
• Zasilanie kart przedpłaconych
• Zwiększanie limitu karty kredytowej (w ramach oferty specjalnej)
• Wygodne raty na karcie kredytowej
• Aktywacja/blokowanie kart
• Nadanie/zmiana kodu PIN
• Blokowanie transakcji poza UE
• Zmiana limitów transakcji

Lokaty:
• Lista i szczegóły lokat
• Zakładanie/zrywanie lokat

Pożyczki:
• Szczegóły, harmonogram i historia
• Zaciąganie nowych pożyczek (w ramach oferty specjalnej)

Płatności mobilne BLIK:
• Płatności kodem BLIK w sklepach stacjonarnych i internetowych
• Wypłata kodem BLIK z bankomatów
• Wystawianie czeków BLIK

Funkcje dodatkowe:
• Apple Watch
• Logowanie za pomocą usługi Touch ID
• Obsługa 3D Touch
• Rozszerzona rzeczywistość – zdobywaj najlepsze oferty
• 3D Secure
• Widgety z saldem rachunków, kart, kodem BLIK i dostępem do kart lojalnościowych
• Mapa oddziałów i bankomatów
• Lista telefonów do kontaktu z Bankiem
• Kursy walut
• Wybór tła aplikacji
• Menedżer finansów
• Obsługa kart lojalnościowych
• Powiadomienia push
• Obsługa w języku polskim i angielskim

Dostęp do aplikacji chroniony jest indywidualnym kodem PIN (lub usługą Touch ID), a niektóre transakcje wymagają potwierdzenia Hasłem Mobilnym.
---
Bank Millennium Application easily adapts to individual needs. It is convenient, easy to use and offers a far wider freedom when it comes to managing finances your way.
Accounts:
• Balance account, history and details
• Transfers between own accounts, domestic, instant, transfers from QR codes
• Transfer to phone number and email
• Transfer to ZUS and tax
• Generating QR codes for transfers
• Phone top-ups
• Defining and editing beneficiaries
• Applying for overdraft and overdraft increase (available as a special offer)
• Sending account number via e-mail/SMS
• Downloading and sending PDF files with transaction confirmation
• Repeating transfer
• Return transfer
• Upcoming payments list
• My finances summary
Cards (debit, credit, prepaid):
• Credit and prepaid cards history
• Instalment loan on credit cards
• Repaying credit cards
• Transfers from credit cards
• Topping up prepaid cards
• Increasing credit card limit (available as a special offer)
• Activation/blocking cards
• Defining/changing PIN code
• Blocking cards outside EU
• Changing transaction limits
Deposits:
• Viewing deposit details
• Opening a deposit
• Deposit redemption
Loans:
• Details, repayment plan and credit history
• Taking new loans (available as a special offer)
BLIK mobile payments:
• Payments in traditional and online shops
• Withdrawals from ATMs
• Checks
Other:
• Apple Watch
• Touch ID login
• 3D Touch feature support
• Augmented reality – grab the best offers
• 3D Secure
• Widgets with account and card balance, BLIK codes, access to loyalty cards
• Bank branches and ATMs map
• Bank contact list
• Exchange rates
• App desktop customization
• Finance Manager
• Loyalty cards service
• Push notifications
• Available in both Polish and English
Access to the application is protected with an individual PIN code (or Touch ID), some operations have to be additionally confirmed with a Mobile Password.
Novedades de la versión 4.9.0
Zyskaj większą swobodę korzystania z karty kredytowej. Teraz przez aplikację mobilną możesz rozłożyć transakcje kartą powyżej 300 PLN na korzystnie oprocentowane raty. Szybko i bez podpisywania umowy.
Ta wersja zawiera również drobne poprawki i usprawnienia.
Dziękujemy za wybór aplikacji mobilnej Banku Millennium. Dokładamy wszelkich starań, by korzystanie z niej było dla Ciebie jak najlepszym doświadczeniem. Jeśli masz jakieś uwagi lub komentarze, oceń nas!

---

Enjoy greater freedom with our new credit card feature. Now, your mobile app allows you to divide all card transactions of more than PLN 300 into instalments with attractive interest rates. Quickly and with no paperwork.
This version includes also minor bug fixes and performance improvements.
Thank you for choosing Bank Millennium mobile app. We do our best to offer you the most convenient mobile banking experience possible. If you have any comments, review our app!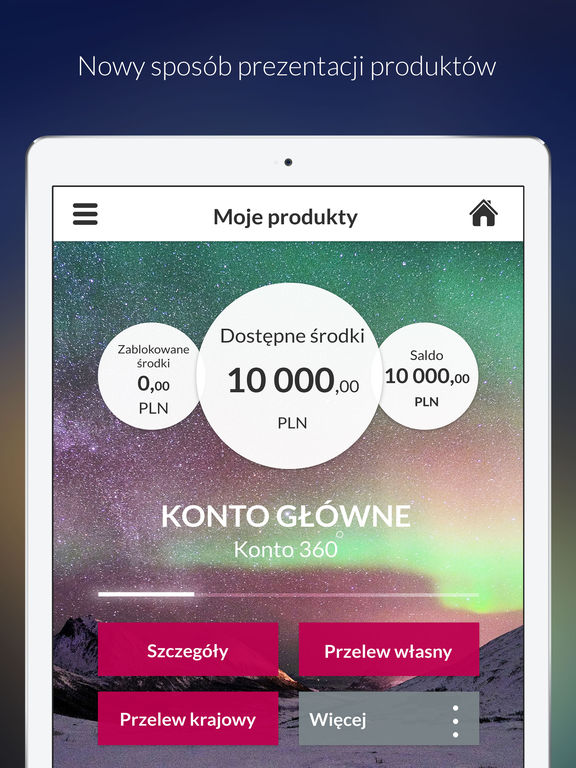 Ver en iTunes
Esta App esta diseñada para el iPhone y el iPad
Ofrece la app para Apple Watch para iPhone
Gratis

Categoría:

Finanzas

Actualizado :

24/10/2016

Versión:

4.9.0

Tamaño:

109 MB

Apple Watch:

Sí

Idiomas:

Inglés, Polaco

Vendedor:

Banco Comercial Portugues, SA
Compatibilidad: Requiere iOS 7.0 o posterior. Compatible con iPhone, iPad y iPod touch.