Banktivity 6
By IGG Holdings, LLC
Open the Mac App Store to buy and download apps.
Description
*** Featured in Apple's "New apps and games we love" ***
Banktivity 6 ushers in a new level personal finance management software for macOS. Whether you're taking your first steps in getting your financial house in order, or you're a seasoned veteran of financial software, Banktivity 6 helps you take complete control of your money.

"Over the years I have used Quicken, Mvelopes, YNAB and Mint. Recently switched to Banktivity and love it. Nicely engineered." – Rich, New Jersey

World-class technical support via live chat and email with US-based representatives.

√ GET ORGANIZED

The first step in money management is to get all your finances in one place. If you've used software like Quicken (for Mac or PC), Banktivity's set-up assistant will import your old data. Next — or if you're just starting out — download current transactions from your accounts online, at no cost, via direct connection to your bank or by using Banktivity's built-in browser to view your accounts and download your data for free.

Banktivity's optional Direct Access* service makes this even easier by connecting to over 10,000 banks worldwide, automatically delivering the latest transaction data to your Mac.

√ SEE WHERE THE MONEY GOES

Banktivity has the tools you need to set up checking accounts, savings, credit cards, mortgages, investments and more. Then track each and every transaction: fine-tune them by categorizing, tagging, splitting or making custom edits — or let transaction templates do the work for you. Attach receipts or any file to transactions; reconcile to paper statements; search; track payments or transfers in any currency; and manage repeating events with scheduled transactions.

Banktivity 6 also lets you pay bills online! Set up payees, send checks, track their progress and see them appear in your register. You can print checks, too.

Update your accounts at once with Banktivity's Update Everything button, syncing devices and fetching Direct Access data and securities prices.

√ BUILD SAVINGS

Banktivity's budgeting tools help you to set saving and spending goals, track expenses, cut debt and build a more secure future. By giving your available cash specific purposes, envelope budgeting lets you assign money to different categories and carry over savings.

Banktivity automatically budgets scheduled transactions like paychecks and bills, so by categorizing each expense and editing the budget itself, you can see where your money goes — and how to make it go further! Banktivity does this visually so that you can see your daily progress; compare past, current or projected budgets; and view it all in a Budget vs. Actual report.

√ SECURE YOUR FUTURE

Banktivity's investment features manage stocks, bonds, mutual funds, IRAs, 401Ks, CDs and other assets. You can track buys, sells, splits, dividends, options, etc.; categorize investment transactions; retrieve quotes from Yahoo! Finance or foreign exchanges; analyze ROI and more.

Built-in report templates (Income & Expense, Net Worth, Payee Summary and more) dynamically analyze your finances. Assign tax codes to transactions to generate a Tax Summary report (or export data to TurboTax); or view your holdings in the Portfolio or Investment Summary reports.

Banktivity's reports instantly generate graphs and charts. You can drill down for detail with a click, export table data to spreadsheets, and print reports or save them as PDFs.

√ WE'RE THERE FOR YOU

No matter where you are, you can enter transactions on the go with Banktivity for iPhone, or sync accounts, budgets and investments to Banktivity for iPad for mobile money management (apps sold separately).

If you need help, get unlimited email support or Live Chat for answers in minutes. Banktivity offers built-in Help files, plus a downloadable user manual, a searchable Knowledge Base and video tutorials at our site.

*Direct Access subscriptions via In-App Purchase.
What's New in Version 6.2.4
- More improvements to downloading stock quotes
Screenshots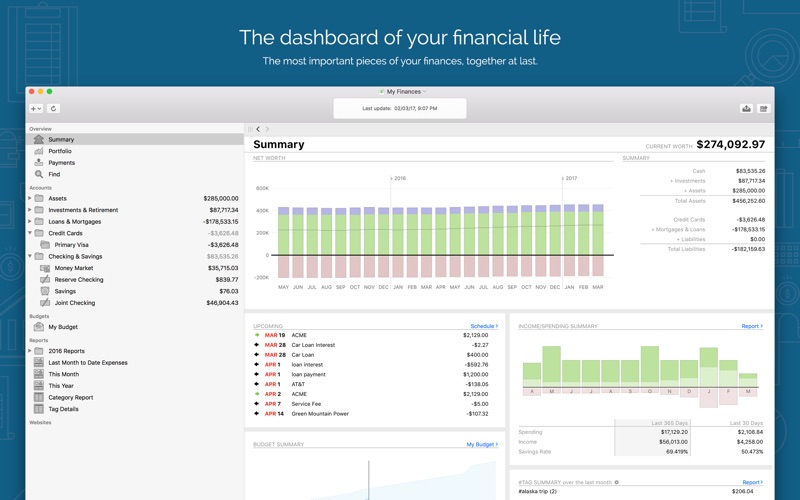 Customer Reviews
Routinely hanging/crashing, and losing data
I have been using Banktivity for a couple of years and until recently it more or less worked fine. The last few weeks it has routinely hung and required a force-quit, and when I start back up, it has lost the ability to load my .bank6 documents. Trying to open them just hangs. If it happened once, fine, but this is about the third or fourth time (as of this morning) it's happened. Once I was able to get an old copy from Time Machine... another time I was able to re-sync from the cloud, though it seems like random past transactions had vanished and my balances were wrong. It has become extremely frustrating and cumbersome.

UPDATE: I was storing my Banktivity in iCloud (Documents folder). I turned iCloud Documents off, so now it is only local. I have not had this hanging crash since cleaning that up. I am raising my 1 star to 3 stars. I do like the application but this was a real problem and the app had no way to deal with it, such as keeping several backup versions that I could revert to easily. I recall an earlier version like iBank 4 or 5 had something like that? But I only see the one document at this point. If the application could notice you were using Dropbox/iCloud/whatever and warn you to maybe not do that, that would be a big improvement IMO.
Best Mac Personal Finance Software
Extremely useful application for managing finances, especially if you have a business or forms of income outside of a simple salary. However, you can't sync to the iOS app unless you create a Banktivity acocunt and have your information routed through their servers; that's a big black mark. iCloud integration as the way to sync would be much nicer as it wouldn't requiring creating another account for a service and iCloud is already quite secure and private. Also, while you can make a watchlist of sorts which pulls quote information, it's not very intuitive to create it as you have to go through the securities section under settings. It would be much nicer if there was a dedicated watchlist that could be easily toggled and managed as a tab or something right in the portfolio overview, especially since securities you don't hold don't show up in the portfolio overview, so you have to go back into settings every time you want to see the securities you're tracking but don't own. This is definitely a better product than Quicken and it continues to get better.
Don't do it. Don't upgrade from 5.
What a hot mess. Every time I open the application it wants to start fresh (reimport the data or start a whole new file). I have to "cancel" and go to the manual menu in order to work with "finance (migrated)." It doesn't automatically update anything—keeps telling me my Banktivity ID doesn't work (tried to reset that, but no go). When I try to manually import data from banking sites, it gets locked on the import and I have to force quit. The result? I'm typing in every dang transaction every day—HUGE waste of time. Oh! And if you look at the ICG help page, you'll see that your money-back guarantee only applies if you buy from the site, not from 3rd party retailers (like, you know, Apple.) I'm going to stumble along with this $70 time waster for a little while, then go look for something completely different.
View in Mac App Store
$64.99

Category:

Finance

Updated:

Nov 16, 2017

Version:

6.2.4

Size:

20.6 MB

Language:

English

Seller:

IGG Holdings, LLC
Compatibility: macOS 10.12 or later, 64-bit processor
Top In-App Purchases
365 Days Direct Access (best value)$44.99
30 Days Direct Access$5.99
90 Days Direct Access$13.99