Battery Minder
By Michael Rapadas
Open the Mac App Store to buy and download apps.
Description
Never worry about your battery again.

Monitors battery in the background.
Reminds when to plug & unplug.
All automagically!

Why is it awesome?
- Plenty of battery all the time!
- Prevents over-charging
- Improves battery health & longevity
- Sleek & Simple
- Adjustable reminder setting

New Feature:
- "Start At Login" to make life easier

---

Say Hello!
Twitter: @the_mrap
http://mrap.me
What's New in Version 1.3
+ Remembers previous percentage
+ Leaner memory usage
Screenshots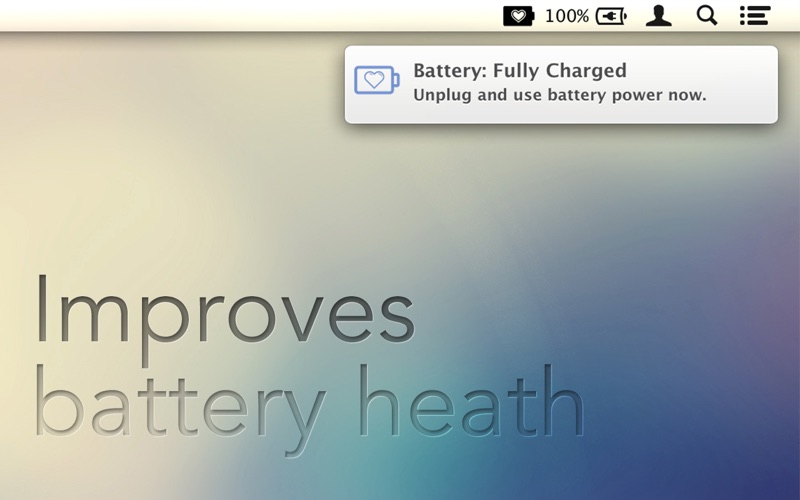 Customer Reviews
What a great app! But seriously, how do I turn off the sound?
Very useful and helpful, but the alert sound is much too loud. While the banners can be changed and are useful, it doesn't seem to respect the Notification Center preferences to disable sound effects completely. :(
This is one of my favorite apps~ helps me conserve my battery capacity- BIG TIME!
I used to erroneously "save" my Li-Ion battery by not using it- UGH! Using a brand new computer as little as possible with the plan of running the old one to the ground first ~Like keeping a fancy car wrapped up in the garage only taking it out on weekends. I was surprised, though, to see how much mileage I was still getting out of the old computer's battery for a long time. And then I was taken aback to find that after after two years of babying the new Mac, so that the battery only had nine cycles of use on it, it had somehow lost nine percent of charge capacity, down to 91%! Since then I've educated myself about how Li-Ion batteries don't like to sit around stewing in their own juices, but need good, exhausting workouts on a regular basis. (Same as me.)
If it weren't for Battery Minder, this would be just one more niggly thing I'd need to remember to do. In fact, I can see myself just forgetting to take it off the charger for stretches of time. But Battery Minder relieves me from having to think about this, so I just follow the alerts as they come. The unobtrusively small pop-up notification is perfect. I also like the melodic and friendly audio notification saying it's time to recharge again. (It's a different audio that alerts one to let the battery run on its own power. I'm not crazy about that particular sound- a little loud and harsh in the classroom when sharing a video with students. ~I haven't figured out how to change the tone or to set the volume without changing the system volume.) Fortunately, the audio alert sounds even when the display is sleeping, which has many times saved me from accidentally allowing a deep discharge. So, my everyday experience with this product has been very positive. And, from my battery's point of view, here is the result: After using it for another year now, in which time Battery Minder has helped me curb my charging habit, and going from only nine cycles of use to now 140 cycles charged, the battery capacity remains amazingly steady~ exactly where it was when the battery was a year younger and had 131 less cycles on it. It hovers around 91%, and in fact, more often I find it has actually gone UP to 92% charge capacity. Thank you Battery Minder.
Too bad I had wrong Ideas about preserving battery health three years ago when I first got my computer. If I'd had my information right, I'd have been using Battery Minder from the start, and kept the charge capacity close to 100% for as long as possible. But I'm grateful to have found this userful app when there is still a lot of life to be had in this battery …When the day eventually comes that I do have to replace it, I'll know how to start off on the right foot with a new one. Thank you to the developer(s) for this product, and for continuing to update. The current updates are great. Saving my percentage and reducing memory needs make Battery Minder even MORE convenient to use!
Does not work as described
this app does not work as indicated on my macbook pro 2013 running 10.10.5. The setting depicted in the pictures do not all exist in the new app (Jan 10, 2016). The only setting allowed are 1) start at startup.

You can not set the Charge Me Alert. There are no audible settings. Currently I rate this a zero but had to give it a star. apple does not allow a -1, or a zero (zed).

I have sent the developer an email.
View in Mac App Store
$1.99

Category:

Utilities

Updated:

Jun 13, 2014

Version:

1.3

Size:

0.5 MB

Language:

English

Seller:

Michael Rapadas
Compatibility: OS X 10.8 or later, 64-bit processor