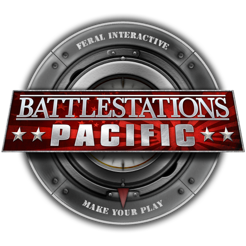 Battlestations: Pacific
12+
Description
Battle your way to victory in the air, on the water, and underwater in this unique combination of action and strategy.

Please check the system requirements below before you buy.

One War, Two Epic Sagas. Relive the key battles of the Pacific by leading the US forces from the Battle of Midway to Okinawa, or else take command on the Imperial Japanese forces and change the course of World War II. Battlestations Pacific strikes a fine balance between the advanced tactics required to command entire battles and the adrenaline-pumping action of air and naval combat.

• Twice the size – Lead the US and Japanese forces in two massive campaigns to relive or rewrite history, with up to 28 missions to play through!

• Master your fleet – Command and take direct control of over 100 authentic and prototype air, sea and undersea units including fighters, bombers, kamikaze planes, cruisers, destroyers, aircraft carriers, submarines and lots more.

• Immerse yourself – Put yourself in the middle of the action with the all new cockpit view and fight the enemy at day, night and in different weather conditions.

• New level of realism – Experience a new level of visual realism where the Pacific Ocean and its chains of islands truly come to life.

• Bigger online battles – Challenge your friends in 5 completely new and engaging multiplayer modes and take part in massive online battles.


Important information regarding Battlestations Pacific:

• If you require assistance, please contact our support team at support@feralinteractive.com

• Battlestations Pacific does not support the following graphics cards: ATI X1xxx series, NVIDIA 7xxx series and Intel GMA series.

• In order to run the game with satisfactory performance, your Mac must meet these minimum system requirements: 1.4GHz CPU / 2GB RAM / 256MB Graphics Card (not Intel GMA, ATI X1xxx series, or NVIDIA 7xxx series).

• This game is not currently supported on volumes formatted as Mac OS Extended (Case Sensitive).

• Full system requirements are available on the Battlestations Pacific mini-site at feralinteractive.com/bsp


Battlestations: Pacific © Square Enix Ltd. 2010. Published by Square Enix Ltd. 2010. Developed by Eidos Hungary KFT. Battlestations, Battlestations: Pacific, Eidos Hungary KFT and the Eidos Hungary KFT logo, Eidos and the Eidos logo are trademarks of Square Enix Ltd. Uses FMOD Ex Sound System. Firelight Technologies. All other trademarks are the property of their respective owners. All rights reserved. Mac and the Mac logo are trademarks of Apple Inc., registered in the U.S. and other countries. Feral and the Feral logo are trademarks of Feral Interactive Ltd.
• Improves compatibility with Mac OS X 10.7 (Lion):
- Fixes missing (black) graphics
- Improves performance
• Adds support for additional game controllers:
- Macally iShockX
- Logitech Attack 3 Joystick
• Fixes a number of minor issues.
Ratings and Reviews
New Game CRAZY complicated graphics but overall AWESOME
Seriously, this is CRAZY complicated, for the map and the flight menu. What happened to the simple map that even a preschooler could understand how to use? Please make another game with a mesh of the simple form but awesome look. Also, remove the torp crosshairs as it makes it harder to drop them at the right angle. Overall, the arsenal of planes and bombers is much more impressive than the previous game, and the Japanese sub-carrier is AWESOME!!! Just make it MUCH bigger, as the original was HUGE in proportion to other subs. Another thing… howabout another flight-ship game that's on WW2 in Europe? I would pay 25 bucks for that one too!!!
Awesome on my macbook air
I had Battlestations Midway on my ancient Dell inspiron b130. that was a good game with hardly any levels but i still played it a lot even tho it didn't run too well on my old comp. now with my new 13" 1.7ghz i5 processor and the new battlestation pacific, I can't stop playing it. this game is amazing and it runs flawlessly on my MBA. im so gald they made soo many more levels and this game is absolutly awesome. if your thinking about getting it, get it. and i can't wait to see what other games they will come out with. hopefully there will be more.
Stuck at start screen, does nothing
From looking at pictures and reading positive reviews for this game, I would think I would be able to rate this game higher.

But I can't.
I don't know whether it's the software, or my machine (MBP 13 W/retina) but I launch the game, everything seems to load correctly, but when the start screen pops up that says "press enter" I press enter and nothing happens. I press other keys, I click the mouse, nothing.
Then, it goes into a cutscene that I escaped by clicking the mouse, which took me right back to the menu screen I mentioned above.
Information
Seller

Feral Interactive Ltd

Size

6.5 GB

Category

Compatibility

OS X 10.6.6 or later

Languages

English, French, German, Italian, Spanish

Age Rating

Rated 12+ for the following:

Infrequent/Mild Alcohol, Tobacco, or Drug Use or References

Infrequent/Mild Profanity or Crude Humor

Infrequent/Mild Realistic Violence

Copyright

Battlestations Pacific © Square Enix Ltd. 2010. Published by Square Enix Ltd. 2010. Developed by Eidos Hungary KFT. Feral and the Feral logo are trademarks of Feral Interactive Ltd.

Price

$9.99
Supports
Family Sharing

With Family Sharing set up, up to six family members can use this app.