Beesy - Meeting notes with To-Do list and Projects
By BeesApps
This app is only available on the App Store for iOS devices.
Description
"it's an all-in-one app geared toward the business-savvy types among us" - AppAdvice

- Quickly take your business notes with your iPad.
- Save time with easy professional meeting minutes.
- Automatically Follow-up on meeting notes tasks in Beesy's To-Do manager.
- Easily Manage Collaborative Projects.

This app is designed for people who handle tasks, who don't want to spend time to generate To-Do lists but need to follow-up on them to achieve their goals or for customers:
- managers
- project managers
- sales people
- any other position where using information from meeting notes is a time saver.

How does it work ?
Beesy is a structured note taking app with an automated ToDo organizer, in sync with your calendars and address book.
Beesy understands your notes, automatically generates To-Do lists and keep track of tasks in every meeting you attend.

Beesy aims at making meeting notes easier and reuse 100% of your iPad notes afterwards, be it for:
- meeting minutes
- ToDo List
- Team To-do reviews
- project reviews

And it also aims at easily maintaining the information up-to-date: if during a people review, tasks are updated, it will show as well in every other view accessing these tasks.

"Evernote pick" - Evernote
"iOS App of the Year nominee" - Macworld UK
"...highly impressed by its range of features, ease-of-use and sheer "wow" factor" - iPadStorm
"...making it an essential application to modern day life" - TechHunter
"Beesy is a killer-App for planning " - MacWorld.fr

Aside from that, Beesy adds a number of features to help you be more efficient taking notes with iPad and with your To-Do:
- Retina version
- add audio records to your notes
- import photo and take picture in your notes
- EverNote export / update for notes, including audio, pictures, drawings, maps and web pages.
- Evernote sharing for your notes
- Add bullet points to your note
- Actions summary
- Enhanced Map itinerary + iOS 6 GPS driving directions
- added Notification & Support system
- change language per Note
- autocomplete iPad note feature that learns from your lexical content, contacts or projects
- on-demand To-Do per meeting, per type of task, per contact, per project
- on-demand Task sub-filtering in any of the previous view with another angle. For example, for a given project, sort your tasks per contact.
- two-finger drag&drop to assign tasks to different context: drag a task on a project, it will reassign itself to this project ... Works on people, meeting, topic, project.
- CSV export for external analysis
- Integrated To-Do reports: urgent/important matrix, graph reports
- Taking note on iPad is now contextual: everything you type in your note is automatically tied to the current context: contact / due date / project / meeting so that you can focus on the meeting itself. No need to set-up 20 different menus.
- template based task: every note can be a task and derive from a template: action, send a document, call someone, idea ... For every type of task, pre-defined values for task configuration ensure that you don't have to worry about setting everything up during the meeting.
- you can draw, access a web page or log a location.
- Access your iPad calendar in the app and create a note from calendar, iCal, Outlook and exchange supported. It will automatically try to find meeting participants and link your notes to your calendar.
- import contacts from your iPad address book
- draw / write / annotate on web pages screenshots and maps
- rewritten draw engine with nicer curves and pen velocity
- integrated in-App help at launch and in-App tutorials
- pincode protection
- hardware keyboard compatible


If you enjoy the app, recommend it !

If you have an issue with Beesy, please contact us using our support site as we have no possibility to answer your comments on the AppStore.
What's New in Version 2.148
Hello Beesy users, while some of you are enjoying holidays, here some bugs fixed and optimizations for the one who work hard even during summer

New
* New sign-up to directly integrate your teams and better configure your account

Optimizations
* Synchronization Improved (faster, smarter)
* Data are filtered by default by Projects in People view
* New types of documents supported
* Coherence on contact initial between iPad and Web
* Enhanced Rights Management
* Performance improvement

Bugs fixed
* Reports stability
* Change contact email = actions re-assign
* Delete a Goal = delete all attached data
* Slow down or crash when people picker in the Dashboard

Nice summer to all of you!
iPad Screenshots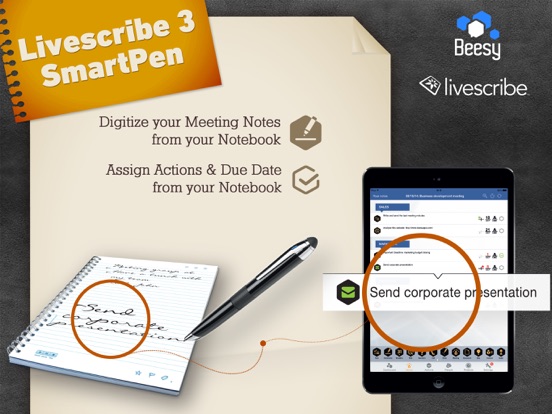 Customer Reviews
Yes No Stars!
This is the absolute worst program ever allowed on the App Store. I made the mistake of thinking if I paid more that it would actually work! Needless to say, that money drain goes even deeper and I spent a few weeks trying to get a refund for $23 wasted. I assume he project management system this company is known for is operable but it is not for use as an app
An Excellent Tool
Back to 5 stars.

This software has a significant learning curve (and a few bugs) but once you gain enlightenment on how it functions, it is the best note-taking, meeting-planning and project management software out there. You need enlightenment because Beesy is full of functionality but the value of those functions is not what makes it 5 stars.

The core is NOTES. These can be actual notes or, more often, MEETINGS. The meetings/notes can be easily generated by clicking on a calendar entry. Everything can be shared with others so that people can make inputs to the meeting/notes to add comments, agenda topics, things needed, etc.

During the meeting you can add notes on the addenda topics, tasks for yourself and others, drawings, ideas, etc. then Beesy will produce a comprehensive set of notes on the meeting.

If that were all Beesy did, it would still be worth the money but it does more. Each of those meeting tools can also be used alone. You can build and manage projects, assign tasks to yourself and others, add comments to people/projects/tasks. Beesy is a comprehensive tool for managing all your activities and information.

I doubt that tutorials can completely explain Beesy's value. Understanding the functions then applying them to what you do brings the enlightenment as to Beesy's value. I, for example, am now retired but do volunteer work with children that requires meticulous notes and careful follow up. I also need to report my activities regularly- Beesy fills the need. With the Livescribe pen, I can take notes in court or during visits, set actions for myself and others, record ideas, etc.

Invest the time in understanding Beesy. If you buy it for a stand-alone task manager or note-keeping-software or project manager, it will work well but there are better individual software programs out there for each of these functions. It's when you use Beesy in your individual circumstances that the power of having all these in one piece of collaborative software.

Also, I might mention, the Livescribe link is better than others. The transcription is highly-accurate.
———
I am modifying my review to cover the new link with Livescribe.

Notes in Livescribe can be stored in any Beesy function using the three buttons on the top of the Livescribe 3 notebook page. So pressing button 1 stores a note, 2 a task and 3 and idea (for me, the assignments can be changed). Thats good but the handwriting recognition software used is beyond bad, it's useless! It would be quicker to read handwritten notes and type them into Beesy than to correct the constant errors from the recognition software. Even printing in block letters yields dozens of errors in a paragraph.

Also, I have been using Beesy for awhile and never had trouble mapping Beesy tasks to IOs reminders until this release; they no longer work. Plus, if I leave the web-based app linked, I now get constant errors from that.

Complete frustration. I hope these things will be fixed soon, especially the handwriting recognition, as the idea is great.
-------
I have been using this for the last two weeks to plan and "note" meetings and to keep track of my business projects.

All in all, this is one of the more effective tools I have found. The only problem is that it crashes constantly. This normally occurs on the second or third attempt to select text... perhaps a text editor is crashing?

Anyway I am going to continue to use it. With Beesy for meetings and business projects and Pocket Informant for tasks and personal projects, I have finally found a working combination.

I use Beesy to build agendas and take notes and record actions for my meetings. Once the meeting is complete, I can save to Evernote (in Beesy) which then appears in my Pocket Informant notes. I have tried everything - Opus Domini, 2Do, Simpleology, SmartDay, Todoist, ChaosControl, Gneo, Organize-Pro, PlanAndNote, Things, and many others - and this combo is the only one that works for me.
View in iTunes
Free

Category:

Productivity

Updated:

Aug 09, 2017

Version:

2.148

Size:

194 MB

Languages:

English, Dutch, French, German, Greek, Italian, Japanese, Portuguese, Russian, Simplified Chinese, Spanish, Swedish, Thai, Turkish

Seller:

BeesApps
Compatibility: Requires iOS 8.2 or later. Compatible with iPad.
Top In-App Purchases
Reminders full synchronization$1.99
Import Documents$1.99
Export Reports to PDF$1.99
Livescribe handwriting recognition$21.99
Beesy.me Sync - Yearly Subscription$69.99
Beesy.me Pro - Yearly Subscription$69.99