BeforeNow - Personal Timeline Creator and Journal
By BEFORENOW, LLC
This app is only available on the App Store for iOS devices.
Description
BeforeNow is a personal timeline creator to help you catalog your life events in a visual timeline.

Simply enter life experiences like you would a journal, you can enter events that happened to you in the past or add an event that is planned in the next year.
This diary software will really help your memory recall the great details that happened in your life.

BeforeNow isn't like any other timeline software available.
Most Timeline software focuses on the milestones in your life and treat each event in your life as a single point in time.
BeforeNow will show all events from start to finish.
By using a nonlinear timeline, you can look back and clearly see overlapping events in your life.
i.e. You can scroll to 1996, and clearly see who you were dating, what car you were driving, where you lived, where you went on family vacation, where you were working, etc.
No other software can give you this functionality, and it's all FREE with BeforeNow.

Once your timeline is established you can export a PDF of your events.
BeforeNow gives you the ability to AirPrint, Email or open the File in a PDF reader app such as evernote, dropbox, or iBooks.

When you create an event, you can;
-Add Photos from your camera roll, photostream or Facebook profile 
-Create Maps
-Rate the Event
-Write a note or a little story about the details
-Select the date of the event from start to finish
-Name the event
-Name the location
-List friends that were with you easily from your contacts of Facebook account

Create as many tracks (categories) as you need.
You can even create your own custom tracks, to make the software more personal to you.
To start you off, we've included these default tracks.
-Address
-Books
-Business trip
-Car
-Cell Phone
-Children
-Church
-City
-Concert
-Diet
-Education
-Employment
-Firsts
-Game Console
-Height
-Health
-Income
-Job Title
-Medication
-Military
-Movie
-Pet
-Phone Number
-Plane Flights
-Significant other
-Sporting Event
-Tax Return
-Tattoo
-Vacation
-Wedding
-Weight

BeforeNow is completely private, nothing is posted online or to social media.
So Jump in and track any type of information that you'd like.
Try to recall as much as you can, and then add events as they happen in the future.

What did you do, BeforeNow?
Watch the video trailer - http://youtu.be/yZUAUIiGB2M
What's New in Version 1.4.0
NEW FEATURES:
-Now you can select a color for any event to help it stand out in your timeline
-Each track can have two overlapping events, the number one requested feature!
-Updated graphics for iOS 8
-Upgraded to 64 bit libraries for increased performance on newer iPads
-Random bug fixes

We listen to our users, Please send us your requests for the next Update.
iPad Screenshots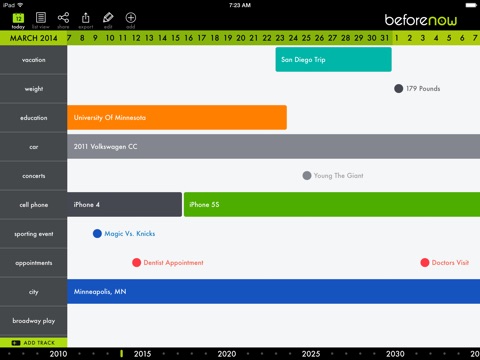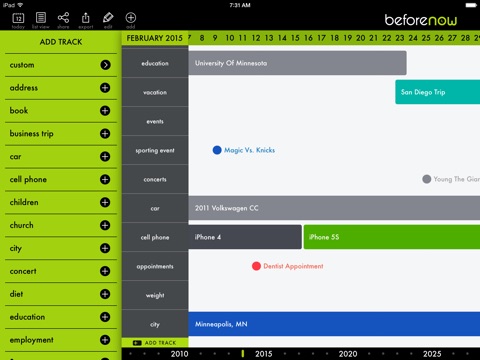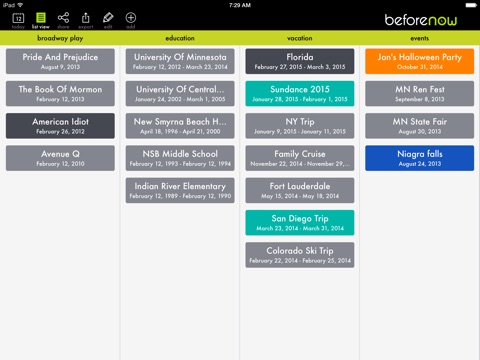 Customer Reviews
Nice program but too many crashes and lost events
Update:
Since my first review I discovered that some of the problems I described were caused by the adds running along the bottom. Even though I had issues with the quality of the app, I paid the 0.99 to ditch the adds and discovered that the app ran better. It still crashes when you try to add a map and doesn't handle screen text and graphics very well but, anyway, I'm finding it of some use and increased my rating to 3 stars. The developers would do well to drop the ads, charge 0.99 for a stable app and then work out the bugs to get a really useful and graphically clear app.

Original review:
This program offers a potentially useful way to record and visualize events in your life. But, until they fix the bugs that cause it to lose events you've previously saved and that cause it to open in 'Frozen' mode, this potential will remain unrealized.

It gets 2 stars for the concept. When they get it to save the things you've entered, I'll give it 3 stars. When they get it to not freeze up on most of my attempts to open the app, I'll give it 4 stars. When they get it to zoom in and out on the timeline, it gets 5 stars from me along with some applause!
Great concept; poor execution but improving
Update: out of frustration I had stopped using this app for several months. I recently tried it again to see if anything has improved - indeed it has. The tracks are loading in a reasonable amount of time and scrolling is much better. This app has great potential I hope the developers weed out the remaining performance problems.

At first, I loved this app - very simple to use, has multiple views, easy to add new tracks. After a couple of weeks not so much - with just a few dozen events it has slowed down to the point where scrolling is unresponsive and the app spends much of its time "loading".
Brilliant idea for an app, but needs further development to make it great
The app has great potential as the underlying idea for the app is great. The app works well on the iPad, but doesn't have a cloud connection, which means you can't easily backup the data. It would also be great if it had an iPhone version to allow keeping the database when the iPad is not around. It would also be great to add the ability to add more pictures to a particular entry. Last thing would be to improve the scrolling (days Venus months versus years). I hope the team behind this app will keep working on it as I think this app has great potential.
View in iTunes
Free

Category:

Lifestyle

Updated:

Feb 23, 2015

Version:

1.4.0

Size:

7.0 MB

Language:

English

Seller:

BEFORENOW, LLC
Compatibility: Requires iOS 6.0 or later. Compatible with iPad.
Top In-App Purchases
Ad Free Version$0.99