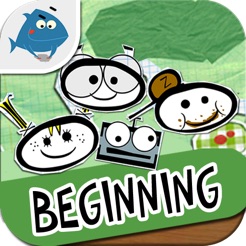 Beginning (The Deskplorers - Try-It Chapter - for 7 to 11 yo kids)
4+
Description
★★★★ Discover with this try-it chapter a new series of games for 7 to 11 years old girls and boys, blending storytelling, gaming and learning. With The Deskplorers, your kids will read, play, think, discover foreign languages and learn, all with lots of fun! ★★★★

"The Deskplorers series is very unique." (app-lyspeaking.com)
"Deskplorers is made with kids in mind!" (gamingupdate.com)
"I was charmed by this app." (kids-apps.mobi)
"The Deskplorers franchise continues to develop, mature, and grow." (familyfriendlygaming.com)
"Doodles Do More Than Just Jump" (touchmyapps.com)
"The Deskplorers: History Meets Fun And Games" (appadvice.com)

★ Episode Zero "The Beginning" ★
Discover in this one-chapter episode the beginning of The Deskplorers' incredible "Jump in a book" adventures. Learn about the "Magic Compass" and its fabulous power!
Meet the "nice ones": Tom, Lea, Spoon and Scrabot, and the "not so nice" ones: Bratty, Brutus and Moody!
This Episode Zero "The Beginning" contains 1 original chapter (6 chapters in the regular episodes) and the 4 mini-games in "easy" mode.

About The Deskplorers "Jump in a Book!"

★ 5 full episodes are available now (Season 1) ★
In the first Season "Jump in Time", the Deskplorers will jump in a History Book!
This season contains 5 episodes: Knights, Pirates, Egyptians, Cavemen and Jump in Time.

★ A fun and innovative gameplay ★
It's very easy!
- Read the story. At the end of a Chapter, The Deskplorers need an object to continue their adventure!
- Find the right object in the Catalog to unlock the Chapters. To use an object, you need points!
- If you don't have enough points, go to the mini-games, play, and win more points!

★ Made for girls and boys from 7 to 11! ★
- Fun stories that your kids will love to read (5 episodes for Season One "Jump in Time").
- The storyline encourages Strong values (friendship, trust, respect, helping people, respect of nature…)
- More than 200 images, 6 animations, original musics and sound effects in each episode.
- A real instructional added-value: great method of reinforcing reading skills, develop the imagination and creative problem solving.
- A great way to discover French (dialogs are available in French when a chapter is unlocked).
- 4 Fun mini-games available at any time.
- 2 difficulty levels in each mini-game to suit all kids.

★ More features ★
- Up to 3 profiles are saved
- A dictionary useful to learn more about each episode's context
- An album to replay all the videos included in the episode
- A clue system to help you solve the puzzles
- A parents corner : manage profiles, advice from us, publish on Facebook, send us an email...

All this with :
- Awesome graphic designs
- A very pleasant and original music theme
- Great ease of use for kids
** User-interface improvements so your Kid can grasp easily the game.
Ratings and Reviews
Easy and Fun
My daughter loves playing this game … it is easy and enjoyable - a true treat
awesome!
this is great for people who want to learn
lots. It is a truly good game.I learned a real lot.
Great game packed with activities!
Reading, comprehension, finger dexterity, keeping a beat, hand eye coordination, and there are different activities so children don't get bored. I am a teacher for children with disabilities. This holds their attention, however, I would LOVE it if it had an option to read words from the book to them if they can't decode them.

No problem closing the app on my mac. When it didn't esc, it Command -Q and shut down right away.
Information
Seller

Happy Blue Fish Studio

Size

114.8 MB

Category

Age Rating

Rated 4+

Copyright

© Happy Blue Fish

Price

Free
Supports
Family Sharing

With Family Sharing set up, up to six family members can use this app.