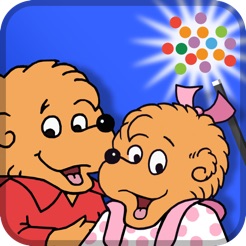 Berenstain Bears In the Dark
4+
Description
• Winner of a 2013 PARENTS' CHOICE Gold Honor Award
• An interactive animated storybook originally published by the award-winning Living Books
• A tale of taking charge of one's imagination, especially when it makes you afraid of the dark
• Educational Volume Discount now available

Review:
"Parents for two generations are familiar with the late Stan and Jan Berenstain's Bears and their over 200 books. Wanderful enlivens those classic stories, creating a rich resource for developing reading skills in an animated interactive app. Our child testers laughed at comic elements and groaned at others, such as a dancing book piping in to say "Hey! Check me out!" All ages intuitively grasped navigation of the app, although teacher/parent familiarization with the content rich resource options and customizable settings will go a long way toward optimizing skill development and individualized interface.

All words are "active" in the 'Let Me Play" mode so a child can tap on an individual word which is then highlighted and pronounced. We had fun making silly sentences with chosen words and word recognition was mastered in child-driven play.

Wanderful offers a superb level of interaction with a well-designed app loaded with varying levels of skill development and simple fun appropriate for eager 2 year olds up to age 8."

- Parents' Choice ©2013 Parents' Choice

Have you ever wished you could play inside a story and really interact with all the characters and words? Now you can! The Berenstain Bears In the Dark is an imaginative interactive reading experience with fully animated content featuring the popular Bear Family - Mama Bear, Papa Bear, Brother Bear, and Sister Bear.

This timeless Stan and Jan Berenstain story springs to life on every page. Read and play along as a spooky story Brother Bear reads to Sister Bear keeps her - and eventually the entire family - up all night long. The next day Papa shows Sister how to take charge of her imagination and in the end it's Brother who is a little afraid in the dark.

KEY FEATURES:
• App and all story content is in English
• 12 fully animated pages
• Virtually every item on each page comes to life when clicked
• All words are "active" for extended word play and language learning - click on any word to hear it spoken
• A hidden surprise is on each page - can you find all the lightning bugs?
• Move between pages with the new scrolling page navigation
• Two modes: "Read to Me" and the fully interactive "Let Me Play"
• Multiple settings to further customize the App for your child's reading experience
• Special "About the Authors" video profiling Jan and Stan Berenstain available from within the App
• Parental tips to help you get the most out of this Wanderful interactive storybook
• Teacher resources include a 32 page overview of Wanderful interactive storybooks Classroom Activities and the full 65 page In The Dark Classroom Activities guide (English)

Wanderful's goal is to help children discover a lasting love of language through story exploration. We hope The Berenstain Bears In The Dark provides your family, children and students with hours of delightful story play.

The Berenstain Bears In The Dark is by Stan and Jan Berenstain, authors of over 200 books starring the Bear family: Mama, Papa, Brother and Sister.

Privacy Disclosure
Wanderful creates engaging interactive storybooks for children that are educational, fun, and above all safe and appropriate. This app:
• does not collect any information
• does not contain ads
• does not contain in-app purchases, but has links to other Wanderful Apps
• includes active links to websites or social networks, but ONLY from the PARENTS and TEACHERS pages, not from the storybook pages
Corrected issue that users running Mac OS X 10.6 encountered. Users running Mac OS X 10.7 or later were not affected.
Ratings and Reviews
great
this is my second download from the seller, it is a great product. It keeps my 4 year old occupied for hours, he loves to have the story read to him.
Information
Seller

Wanderful, Inc.

Size

141.7 MB

Category

Compatibility

OS X 10.6 or later

Age Rating

Rated 4+

Copyright

© 2013 Wanderful, Inc.

Price

$9.99
Supports
Family Sharing

With Family Sharing set up, up to six family members can use this app.