Cloud Baby Monitor ~ Video, Audio, Unlimited Range
By Martin Man
Open iTunes to buy and download apps.
Description
High Quality Video + Audio Baby Monitor with Unlimited Range (Wi-Fi, 3G, LTE, Bluetooth) used by tens of thousands of satisfied customers every day. Excellent choice for secure home and travel baby monitoring. Easy to use, works on any iPhone, iPad, iPod touch or a Mac with no configuration.

Recommended by Cnet (www.cnet.com).
Featured in Good Morning America by ABC News (www.abcnews.com).
Featured in USA Today (www.usatoday.com).
Selected by App Advice as an essential app for baby monitoring (www.appadvice.com).
Recommended by Mashable among the best "Parenting Apps for Baby's First Year" (www.mashable.com).
Selected by TUAW for the "Holiday Gift Guide: iPad apps for the home" (www.tuaw.com).
Awarded 3rd place by Babble.com on the "Top 25 Travel Apps for Parents" (www.babble.com).


FEATURES

• SECURE, RELIABLE, AND EASY TO USE
• LIVE VIDEO ANYWHERE
• SUPER SENSITIVE AUDIO
• NOISE AND MOTION ALERTS
• POPULAR WHITE NOISES AND LULLABIES INCLUDED
• CREATE YOUR OWN PLAYLISTS
• NIGHT LIGHT WITH REMOTE BRIGHTNESS CONTROL
• TALK TO BABY REMOTELY
• APPLE WATCH APP
• MULTI-PARENT AND MULTI-CHILD FEATURE
• CONNECTION QUALITY INDICATOR
• BATERY STATUS MONITORING AND ALERT
• MULTITASKING SUPPORT AND AIRPLAY MIRRORING
• MAC VERSION AVAILABLE


Now with Cloud Baby Monitor you can keep an eye on your little one everywhere and at all times.
Start using Cloud Baby Monitor app today and see why it is the best in class!


SECURE , RELIABLE, AND EASY TO USE VIDEO BABY MONITOR
Use your iPhone, iPad, iPod touch or a Mac as a child unit, place it in your baby's room and enjoy live full screen video and clear audio on your second device working as a parent unit. Both devices will be connected automatically, without any configuration. All communication is secure, protected by industry standard encryption to make sure that only you have the access to your baby video stream.

LIVE VIDEO ANYWHERE
With this unique feature you can watch a live full screen video of your baby with no distance limitation. Cloud Baby Monitor works on any Wi-Fi network, over 3G, LTE or via Bluetooth.

SUPER SENSITIVE AUDIO
Hear your baby breathing as if he or she was sleeping next to you.

NOISE AND MOTION ALERTS
Get notified about all child's activities with noise and motion alerts.

POPULAR WHITE NOISES AND LULLABIES INCLUDED
Enjoy the set of the most popular lullabies and white noises for the babies included in the app. Remotely control volume, playback, and auto stop timer.

CREATE YOUR OWN PLAYLISTS
Create custom playlists with songs, white noises, or fairy tales from your iTunes library.

NIGHT LIGHT WITH REMOTE BRIGHTNESS CONTROL
Use remotely controlled night light to watch your baby sleeping through the night. Brightness control allows you to adjust light intensity to get a nice picture and not disturb the baby.

TALK TO BABY REMOTELY
Easily soothe the baby with your voice from the parent unit.

APPLE WATCH APP
Get live video, motion and noise alerts on your wrist.

MULTI-PARENT AND MULTI-CHILD FEATURE
Use Multi-Child feature to monitor two children sleeping in different rooms.
Use Multi-Parent feature to watch your baby from two different parent devices.

MAC VERSION
Works as a child or parent unit and is available on the Mac App Store as a separate purchase.


REQUIREMENTS

iOS version requires devices running iOS 7 or newer. Works on iPhone 4 or newer, iPod touch 5th generation or newer, and iPad 2 or newer.


CUSTOMER SUPPORT

Happy customers are our highest priority and your feedback is always welcome. We are reading all AppStore reviews very carefully. If you have any issue or suggestion, please contact us directly at support@cloudbabymonitor.com.

Thank you for using Cloud Baby Monitor.
What's New in Version 4.0.2
• Noise and Motion alerts received on your iPad, iPhone, or Watch now include image snapshot from child unit camera.
• Turn off or mute the alerts right from the notification, tap the notification to start live video.
• Increased sensitivity of noise alerts.
• Search for your child unit name in Spotlight to quickly start live monitoring.
• Updated for iOS 10, watchOS 3, iPhone 7, iPhone 7 Plus, and Apple Watch Series 1 and 2.
• Stability improvements.

Please contact support@cloudbabymonitor.com with any questions, issues, or suggestions. Your feedback is always welcome.

Thank you for using Cloud Baby Monitor.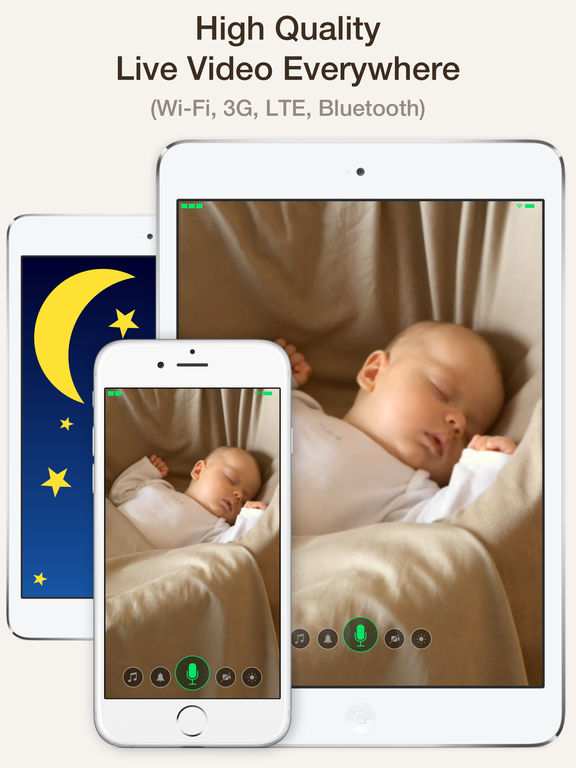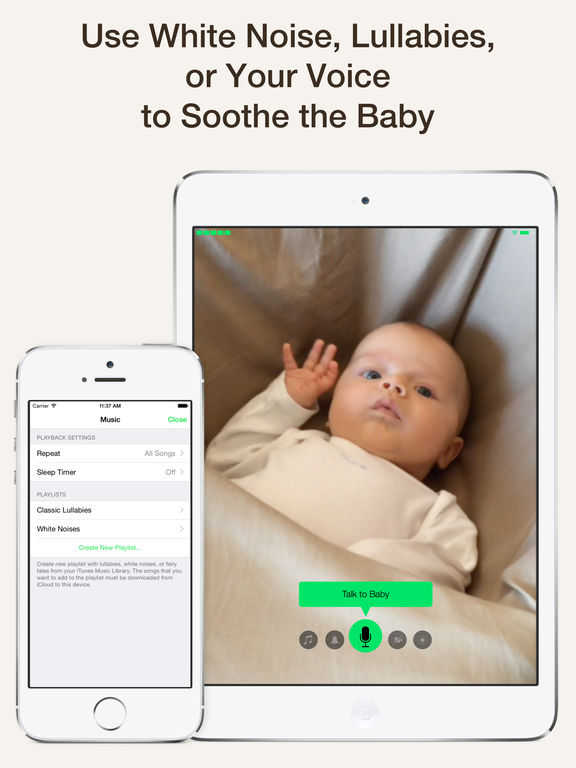 Customer Reviews
Money well spent
Reading the other reviews, I don't hear any white noise after updating to iOS 10. Perhaps it's the old device you're using. We're using a somewhat broken iPhone 5 to monitor our son & sometimes using one or the other (iPad 2 [can't update to iOS 10]/iPad 2 air/iPhone 6 plus/iPhone 6S) to watch & listen. However, before the updates (2nd to last update via app) I was getting some white noises. On the scary side, my wife said she heard someone breathing on our devices when our son is asleep in his room during those white noises?!? True story! That only happened one time. Now the white noises are gone. Other than the white noise, sometimes now & then I get a red screen with a beeping saying, "lost connection" to my iPhone 5. It used to do that A LOT before the iOS 10 update & before the last app update. All app is never 100% perfect & we all know that. But this app is way better than paying over/around $200 for those other baby monitors. And you can also use it as a security cam within your home & turn on the noise & motion alert to get the notifications!!
Way Worth It
I had a $100 gifted baby monitor that was supposed to hook up to an iPhone which never worked. Didn't even think to use my iPad and iPhone as the monitor instead. I tried a free app which was just covered in adds 😑 so decided the $3.99 for this seemed fair. App works great, I keep both my devices plugged in so haven't tested battery drainage but the video hasn't dropped, notifications are useful and the sounds loud enough to hear. My ipads mounted on the wall across the room of where my baby sleeps so I can hear and see him great (no need to have it in their face like the pics). Well worth $3.99 if you already have the devices! Only thing, don't turn the apps on the devices on right next to each other, wicked feedback but the same thing happens face timing so it not the apps fault.
Can't thank you enough for making this!!
Over all this app is a great!
Thanks to this app I'm writing this as I'm watching our baby from our laptop in the living room while my wife gets some sleep.

I had gotten an 50$ IP camera idea from a DIY article online and it seemed promising.
After getting it all hooked up the lag due to our wifi was so bad that we could not trust our images on our phones. It even froze up a couple times. My wife and I were so disappointed and we couldn't really spend a lot on something from the store- baby monitors are so pricey!
A brother in law told me about Baby Monitor and we couldn't be happier!
I bought the app on an old IPhone 4s and ran to the store and bought Velcro. I took the Velcro and did one strip around the outside of crib and now I'm able to position the iPhone anywhere around the crib.
The picture is great! And the lag is maybe .5 secs.
I went ahead and bought it for my laptop too.



I think total this set up came out to ~$10? (1 $3.99 purchase for our phones and 1 purchase for my MacBook $5.99?)

One thing to note... there's no night vision, but that can be fixed by light adjustment in your room or a little night light.
View in iTunes
This app is designed for both iPhone and iPad
Offers Apple Watch App for iPhone
$3.99

Category:

Lifestyle

Updated:

Oct 05, 2016

Version:

4.0.2

Size:

62.9 MB

Apple Watch:

Yes

Language:

English

Seller:

Martin Man
Compatibility: Requires iOS 7.1 or later. Compatible with iPhone, iPad, and iPod touch.
Apple TV:
Yes