Better Rename 9
By publicspace.net
Open the Mac App Store to buy and download apps.
Description
Better Rename 9 is the most complete renaming solution available on the market today. That's why, since 1996, tens of thousands of hobbyists, professionals and businesses depend on Better Rename to organize and maintain files.

Better Rename's user interface supports complex renaming tasks without sacrificing ease and speed of use. Simply drag the files you want to rename straight from the Finder into the large preview table or the application icon.. or use our Finder context menu and hot key.

INSTANT PREVIEW

The Instant Preview feature eliminates guesswork and costly errors and helps you find the right settings quickly and accurately by providing as-you-type feedback.

MOST COMPLETE FEATURE SET AVAILABLE

Better Rename offers a complete set of renaming actions that are organized into 15 categories covering all the text, character, position, conversion and truncation features that you would expect, but it does not stop there.

MADE FOR DIGITAL PHOTOGRAPHERS

Photographers use the advanced sequence number and date & time features to clean up their portfolios or prepare photos for delivery to their client. Better Rename knows how to extract EXIF shooting date and time information from digital camera images and exploit them in creating sequence numbers or adding time and date information to the file name. Support for all major RAW formats (including JPEG, CRW, CR2, THM, NEF, TIFF, RAJ, ORF , MRW, DNG, PEF, SRF, etc.) extends this to professional photographers. Even multiple shots captured in the same second are dealt with reliably.

Version 9 adds powerful tag-based renaming allowing access to image, color, camera, lens and other meta-data. In addition it is now possible to manually reorder sequence numbers directly by dragging and dropping files in the preview.

POWER USERS WELCOME

System administrators, web masters and other power users will appreciate the presence of advanced features, such as regular expression support, conversion to Windows NTFS/SMB compatible names, the ability to import file names from a database, a spreadsheet or any other source that can produce plain or tab-delimited text files. The ability to save a record of the current and new file names greatly facilitates tracking your files.

LOVES YOUR MUSIC

Music lovers can use the built-in MP3/AAC support to exploit the ID3 meta-data tags embedded in most music files to create their own naming schemes for their music collection. Meta-data information from MP3, AAC, FLAC, OGG, APE, M4V and iTunes music store files are supported.

COMBINE MULTIPLE RENAMING STEPS

The multi-step renaming feature allows multiple renaming steps to be combined to deal with complex renaming jobs in a single operation. Unlike other tools, Better Rename allows any number of renaming actions to be combined, re-ordered, copied and deleted.

INDUSTRIAL STRENGTH ENGINE

Better Rename takes file renaming to a new level of sophistication by introducing an advanced 64-bit multi-threaded renaming engine that solves many problems that other file renamers simply leave unaddressed. The database-backed renaming engine automatically resolves file name conflicts using a range of configurable parameters and prevents deadlocks. We care about such things so that you don't have to.

OTHERS LOVE BETTER RENAME TOO

"Arguably the best file renaming utility on the market" - Mac OS X Power Tools

"Man! This is such a great renaming tool. It is really, really well put together." - Mac Break Weekly, 2010
What's New in Version 9.45
- fixes a rare crash related to the "show invisibles" option
Screenshots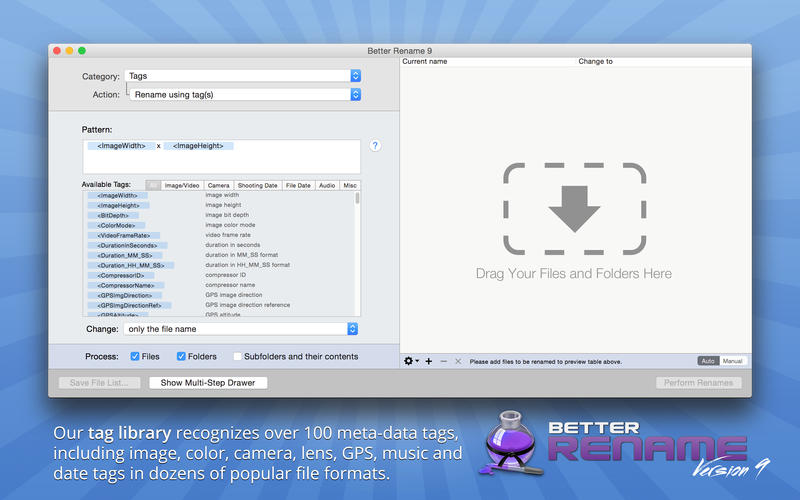 Customer Reviews
Great App! If This Won't Do It…It Can't Be Done!!!
I've owned Better Rename for a couple of years now, and it is totally worth the price! The dev is a great guy and responsive to emails, and the licensing is very fair…I've not had to pay for any "upgrades"…you buy it, you got it. Period.
As far as functionality goes…don't believe the other reviews stating that it's "limited" and so forth...it has a bazillion built-in options, but if you've got some esoteric thing and it's not already there then you can build it using Regular Expressions. There are no limits, that I've run into, on how many changes you can make to the file names. You can change files to some name you want, remove text, add text, re-sequence, just keep piling on the "steps" until you've got what you want. I've renamed hundreds of thousands of files and it has never let me down. The "change to" panel shows you what you're going to get, in real-time, so you see the changes as you apply the various options which allows you get exactly what you need, and the confidence that it's going to do what you want so you don't end up with a bunch of mis-named files.

Check the other programs out, buy the bundle with the Folder Machine and you can mass manipulate files and folders to your hearts content.

As far as I'm concerned, one of the best utilities I've purchased.
-Rob
Good, but overpriced
I've been looking for a Mac version of the Windows program "Advanced File Renamer" and settled on this as it has most (though not all) of the functionality of that program. Overall, it works well and gives you plenty of options for batch renaming files. In particular, I use this program frequently to rename batches of digital photos to the date/time taken for better sorting. There are ways to accomplish this same task using Script Editor, but I'm not interested in the hassle, so this program is nice as it makes the work easy. Stil…$20 seems a bit steep given that similar programs for Windows are free and have greater functionality.
A must have app
I often have to rename numerous files and this app makes it very easy. The rules based approach is very flexible and provides all sorts of ways to rename files, including changing a specifc location in a name, wildcard replacements, file numbering, etc. You can also specify the order the repalcements are performed so if, for example, you wanted to replace all X's in filenames but not any thet ar XY you can first replace XY with say ZZ, then replace all teh X's then replace ZZ with XY.

I have been using this app through several versions and it just gets better in every incarnation; well worth teh $20 if you need to do a lot of file renaming.
View in Mac App Store
$19.99

Category:

Utilities

Updated:

Feb 19, 2015

Version:

9.45

Size:

6.3 MB

Language:

English

Seller:

Frank Reiff
Compatibility: OS X 10.7 or later, 64-bit processor