Bible Study
By HarperCollins Christian Publishing, Inc.
Open the Mac App Store to buy and download apps.
Description
Designed for deeper Bible study, join over 4 million users on "The Bible Study App." Learn from great scholars through thousands of resources including commentaries, maps, and dictionaries all available off-line. If you like to highlight Bible verses, take notes, bookmark passages and have everything sync to all your devices, then this is your Bible Study App.

OVER 4 MILLION HAPPY BIBLE+ USERS
"I highly recommend you give Bible+ a try." - ZDNet.com
"I feel confident investing in Bible+." - About.com
"I love this app! The direct linking to reference material, notes, bookmarks, etc. makes this even better than my favorite printed bible." - iPad user

CLOUD SYNC
Sync your Bible study resources, bookmarks, notes, Scripture verse highlights, and book ribbons between any device with Bible+.
POWERFUL RESOURCE GUIDE
With our one-of-a-kind Resource Guide, you can perform powerful searches through your entire Library of Bibles, Bible commentaries, Bible dictionaries, and more.

OFF-LINE BIBLE STUDY
Your library, notes, highlights and all of the app features are stored on your device so that you have full functionality when you are offline or in airplane mode.

FAST VERSE NAVIGATION
With our unique 3-touch Verse Chooser, you can navigate quickly and easily to the exact Bible verse you want.

SPLIT-SCREEN BIBLE STUDY
The split-screen view allows you to open two books at once to compare Bible translations, view your study notes while you read the Bible, or follow along with a commentary while you study Scripture.

PERSONAL BIBLE STUDY
* Bookmark verses
* Highlight words and passages
* Take notes that can be tied to Bible verses (like margin notes in your paper Bible)
* Organize your Library of Bible resources
* Tag anything to find it quickly later
* Leave a book ribbon on a page in order to pick up where you left off
* Select and copy text from any Bible or book in your Library

HUNDREDS OF BIBLE STUDY RESOURCES
The Olive Tree collection of Bible study resources is constantly growing and offers over a hundred FREE resources and over a thousand titles available for purchase.

POPULAR BIBLE VERSIONS
* NIV, NKJV, ESV, NLT, NASB, The Message, Amplified, HCSB, NCV, Complete Jewish Bible, JPS Tanakh
* Best-selling study Bibles: ESV Study Bible, NLT Study Bible, NIV Study Notes, and more
* Bibles with deuterocanonical books: NABre, NRSV and RSV
* Non-English Bibles: Reina-Valera, Traduccion en lenguaje actual, Dios Habla Hoy , Luther Bibel 1984,
Schlachter, and Elberfelder, Louis Segond, and more.
* Original language Bibles: Biblia Hebraica Stuttgartensia (Hebrew Old Testament), Greek New
Testament (NA27), UBS-4, Septuaginta
* Strong's Dictionaries, and KJV and NASB with Strong's Numbers
* Commentaries and Study Tools: Dake's Study Notes, Jamieson, Fausset and Brown (FREE); Matthew
Henry's Concise Commentary (FREE); Expositor's Bible Commentary; Vine's Expository Dictionary
What's New in Version 6.0.13
Fixed a crash when using certain reading plans.

If you enjoy using the app please leave us a review.
Screenshots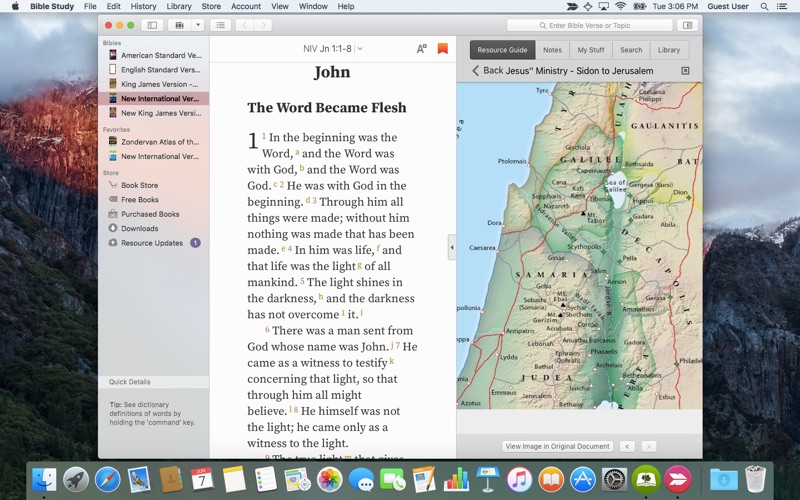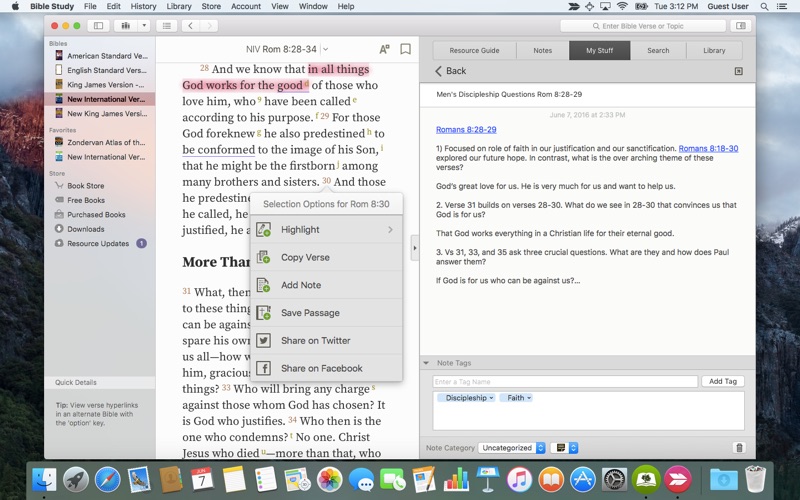 Customer Reviews
Great, but lacks one basic function
This is my favorite Bible reading app (and I've tried a bunch). The only thing this app is missing is the function to compare a single Bible passage side by side to its equivalent in other Bible versions/translations (like e-Sword does). As of now, you can only compare two, one verse the main window the other on the split view window. I own a bunch of Bibles with Olive Tree and I would love to see how the same passage appears in all the different Bibles I own side by side, just that specific passage. I suggest you add a new section and call it Compare Passage or something of the sort, and just implement this verse comparison functionality for multiple Bible versions simultaneously. I don't think it will be too hard for the developers, as the verse location pointers are already there for all the Bibles they offer.

Also, a button to swtich to dark mode switch the desktop app like you have on the mobile app would be really nice.

If this app had those two basic functions, it would be perfect and I would give it 5 stars. All that said, I still love this app.
LOVE IT!
I'm a Catholic priest, and I love this Bible app. I use it across my devices - laptop, iPad, and iPhone - so it's always available to me. I appreciate its extensive library - it's amazing how many Bible programs do not offer access to Catholic Bibles, as though only Protestants read the Bible! This app gives access to multiple Bibles in multiple languages. I use English, Spanish, and Greek on a regular basis. I love that I can have different languages in split windows, so that I can compare them side-by-side. It's amazing how much comes through when you read the Bible in different languages!

I also appreciate the study resources that can be synced with the Bible, so that I can view commentary and notes, right alongside the biblical text. I use the app when I'm teaching Bible study at church - highlighting text I want to discuss, adding my own notes that I can call up as I need them, and supplementing my teachings with the commentary, study notes, and maps provided by the app.

It's truly amazing!
The Most Important App EVER!!!
"The Bible Study App" at first took some time to get used too. I went from having hard copies of an Amplified/KJV Bible, Concordance, and a Vines to using an iPhone, iPad, or MacBook. The best part of the app is that your account seemlesly syncs thru the various devices you use. I recommend ensuring your most frequently used Bible(s) and study guides are downloaded into the app first. Then take some time to go thru the varioius setup options to make the sure the App looks, feels, and operates the way you like it. When I need help making a decision at work, I quickly utilize this App. During my personal study time, I use this App. I'm not a preacher, I am simply someone who tries to do my best to make decisions as our Heavenly Father (and Jesus Christ) would; and this App assists me with the leadings of the Holy Spirit and has conviently manifested Christ into my everyday life in a more profound way. It is truly, the best App I have ever purchased!
View in Mac App Store
Free

Category:

Reference

Updated:

Sep 11, 2017

Version:

6.0.13

Size:

63.9 MB

Languages:

English, German, Portuguese, Spanish

Seller:

HarperCollins Christian Publishing, Inc.
Compatibility: OS X 10.10 or later, 64-bit processor
Top In-App Purchases
New International Version (NIV) - 17562Free
The Message - MSG$9.99
New Living Translation - NLT$9.99
New King James Version - NKJV - 16633$9.99
New American Standard Bible -$4.99
Olive Tree Bible Maps$13.99
New Revised Standard Version$9.99
Amplified Bible Classic$19.99
King James Version with Strong$9.99
NIV Study Bible Notes$14.99