Bible
By LifeChurch.tv
Open iTunes to buy and download apps.
Description
On more than 180 million devices around the world, people are reading, listening to, watching, and sharing the Bible using the #1 rated Bible App—completely free. Over 1,000 Bible versions, in hundreds of languages. Hundreds of Reading Plans, in over 40 languages. Add your own Verse Images, highlights, bookmarks, and public or private notes.

Customize your reading experience. Access everything when you're connected, or download specific versions for offline use.

The Bible App lets you explore the Bible with your closest friends. Share honest conversations about Scripture with a community of people you know and trust. Learn along with them as you see what they're discovering.

READ THE BIBLE
* Set your Bible App's interface for your choice of more than 30 languages.
* Easily select from hundreds of Bible versions, in over 775 languages.
* Choose from popular versions like the NIV, NASB, ESV, NKJV, NLT, KJV, The Message, and more.
* Offline Bibles: Read even without network access (available for select versions).
* Listen to audio Bibles and enjoy all-new skip, playback speed, and timer controls. (Audio Bibles available for select versions and are not downloadable).

USE THE BIBLE WITH YOUR FRIENDS
* Put the Bible at the center of your closest relationships with mutual friendships in the Bible App
* See a stream of Bible activity that shows what you and your friends are noting, bookmarking, and highlighting
* Comment to share your thoughts, ask questions, and have meaningful conversations in the app as you study God's Word together

STUDY THE BIBLE
* Hundreds of Plans: you'll find devotionals, as well as Plans that lead you through specific topics, portions of the Bible, or even the entire Bible in a year.
* Watch and share clips from 'The Bible' TV miniseries, the world-changing 'JESUS' film, and 'The Lumo Project.'
* Search the Bible using keywords.

CUSTOMIZE YOUR BIBLE
* All-new Themes let you select a color palette for your entire Bible App experience.
* Verse Images: Turn Bible verses into shareable art.
* Highlight with custom colors—just like a paper Bible.
* Bookmark passages: Share, memorize, or just keep track of your favorites.
* Share verses with friends using social networks, email, or SMS (text).
* Add notes to passages: Keep them private so only you can see them, or make them public to share with friends.
* With a free YouVersion account, see all of your notes, highlights, bookmarks, and reading plans on any supported device through cloud syncing.
* Read easier with settings like fonts, text size, and contrast for bright or low-light conditions.

CONNECT WITH YOUVERSION
* Contact support from directly inside the Bible App.
* Like us on Facebook: http://facebook.com/youversion
* Follow us on Twitter: http://twitter.com/youversion
* Catch up on the latest on our blog: http://blog.youversion.com
* Use YouVersion online: http://bible.com

Download the world's #1 Bible App now and enjoy the Bible reading experience loved by millions!
What's New in Version 6.3
iOS 9 Support & Save Bible Plans to Read Later!
● Search for text INSIDE your offline Bible versions with Spotlight on iOS 9!
● Spotlight on iOS 9 now includes Bible App content you've visited previously (Plans, Videos, Live Events, and more)!
● On iOS 9, the Bible App can recognize links from bible.com and open them directly inside the app (rather than in your browser).
Even without iOS 9, you'll still get:
● Save For Later - Never miss a great Bible Plan! Save it for later, and start it whenever you want.
● Find Friends - Finding, adding, and inviting Bible App Friends is now simpler — and faster — than ever.
● Seamless switching - The Bible App and bible.com can tell when you're already signed in, letting you move smoothly between them.
Apple Watch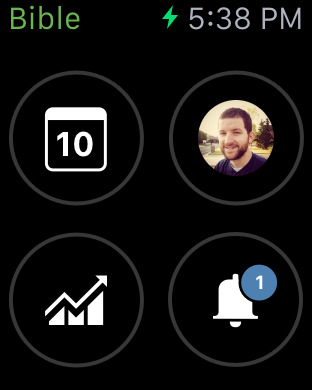 Customer Reviews
Love the digital format of the Bible
First of the title describe how I feel about the digital format. To add to this, I'm not savvy when it comes to the order of the books of the Bible but I'm working on it. With that being said, I love being able to get to a book quickly when the preacher or teacher asks for the congregation to turn to a book, chapter and verse. I always preferred the King James version. I love the fact that you are able to highlight, bookmark and leave comments so you can remember what's important you, so you won't forget whats being taught. I also love that your friends can see what's important to you. I love the fact that this app also translate certain words as it pertains to modern day verbiage. The last thing I love about this app is it allows you to focus on certain topics. There is different books, chapters and verses that concentrate only on that topic, for example, like having faith or marriage etc. I only have one thing that would make this app even better. I would like to see references to other verses, to help the reader understand the point of different authors, which is confirming whats being said. Five stars and I would like to say thank to whomever thought of a digital Bible! 😇
Appreciated app, but a couple of issues
I am thankful to the creators of this app for the time they've put into it to make it available. It does help me to be more accountable to read on a daily basis. We too are working through a chronological reading of the Bible in a year. We have not had the problem others seem to be having and I think it may be more the plan that is chosen rather than the app. We get whole chapters with no breakdowns of them and it is keeping up with what we read.
My biggest critiques are that the app is crashing more after this latest update. Once I finish a plan, I can't get back into it to review something I might want to review without having to choose the plan again. I would prefer easier access to completed plans. Also, it would be preferable for verses to come before devotional content.
There is not the freedom to copy/highlight a particular section of a devotional or verse. You have to copy a whole devo and paste it into notes or highlight a whole verse rather than a section of it.
Even though I have these critiques of this app, I am not dissatisfied with it. On the contrary, I like it very much. Just would like the creators to address the little things before they create something bigger.
Thank you.
Keeps me close with God.
I try my best to read the bible everyday. Sometimes that plan doesn't always carry out but I've been reading my bible a lot more lately because of this app. I'm the kind of person who can just read the bible and understand but I prefer if I have someone preaching it to me so I can better understand what God is saying. The bible app helps me so much because it has these incredible reading plans that are tailored to your needs. For example, I have dealt with some depression lately. Nothing life threatening but it was hard for me to stay positive. I browsed the plans on my bible app and I came across one entitled "depression" I started that plan and asked God to help me and I instantly became more positive. I love how you can bookmark and highlight verses. Another great thing is you can add friends. Being 14, it's hard sometimes to get though these teenage years and not talk to someone. My best friend and I both have the app and it's comforting to know that I can talk to her about God and the bible whenever I need to in a safe environment. I go to a Christian school and even going there it's hard for me to stay in the Word. Luckily, this app has made it a lot easier.
View In iTunes
This app is designed for both iPhone and iPad
Offers Apple Watch App for iPhone
Free

Category:

Reference

Updated:

Sep 21, 2015

Version:

6.3

Size:

41.9 MB

Apple Watch:

Yes

Languages:

English, Afrikaans, Albanian, Arabic, Bokmål, Norwegian, Bulgarian, Catalan, Croatian, Czech, Danish, Dutch, Finnish, French, German, Greek, Hebrew, Hungarian, Indonesian, Italian, Japanese, Korean, Latvian, Macedonian, Malay, Mongolian, Persian, Polish, Portuguese, Romanian, Russian, Simplified Chinese, Slovak, Spanish, Swedish, Tamil, Thai, Traditional Chinese, Turkish, Ukrainian, Vietnamese

Seller:

LifeChurch.tv
Compatibility: Requires iOS 7.0 or later. Compatible with iPhone, iPad, and iPod touch.