Bible
By Life.Church
Open iTunes to buy and download apps.
Description
On more than 180 million devices around the world, people are reading, listening to, watching, and sharing the Bible using the #1 rated Bible App—completely free. Over 1,000 Bible versions, in hundreds of languages. Hundreds of Reading Plans, in over 40 languages. Add your own Verse Images, highlights, bookmarks, and public or private notes.

Customize your reading experience. Access everything when you're connected, or download specific versions for offline use.

The Bible App lets you explore the Bible with your closest friends. Share honest conversations about Scripture with a community of people you know and trust. Learn along with them as you see what they're discovering.

READ THE BIBLE
* Set your Bible App's interface for your choice of more than 30 languages.
* Easily select from hundreds of Bible versions, in over 775 languages.
* Choose from popular versions like the NIV, NASB, ESV, NKJV, NLT, KJV, The Message, and more.
* Offline Bibles: Read even without network access (available for select versions).
* Listen to audio Bibles and enjoy all-new skip, playback speed, and timer controls. (Audio Bibles available for select versions and are not downloadable).

USE THE BIBLE WITH YOUR FRIENDS
* Put the Bible at the center of your closest relationships with mutual friendships in the Bible App
* See a stream of Bible activity that shows what you and your friends are noting, bookmarking, and highlighting
* Comment to share your thoughts, ask questions, and have meaningful conversations in the app as you study God's Word together

STUDY THE BIBLE
* Hundreds of Plans: you'll find devotionals, as well as Plans that lead you through specific topics, portions of the Bible, or even the entire Bible in a year.
* Watch and share clips from 'The Bible' TV miniseries, the world-changing 'JESUS' film, and 'The Lumo Project.'
* Search the Bible using keywords.

CUSTOMIZE YOUR BIBLE
* All-new Themes let you select a color palette for your entire Bible App experience.
* Verse Images: Turn Bible verses into shareable art.
* Highlight with custom colors—just like a paper Bible.
* Bookmark passages: Share, memorize, or just keep track of your favorites.
* Share verses with friends using social networks, email, or SMS (text).
* Add notes to passages: Keep them private so only you can see them, or make them public to share with friends.
* With a free YouVersion account, see all of your notes, highlights, bookmarks, and reading plans on any supported device through cloud syncing.
* Read easier with settings like fonts, text size, and contrast for bright or low-light conditions.

CONNECT WITH YOUVERSION
* Contact support from directly inside the Bible App.
* Like us on Facebook: http://facebook.com/youversion
* Follow us on Twitter: http://twitter.com/youversion
* Catch up on the latest on our blog: http://blog.youversion.com
* Use YouVersion online: http://bible.com

Download the world's #1 Bible App now and enjoy the Bible reading experience loved by millions!
What's New in Version 6.9
● When you switch Versions, it's now much easier to find Bibles in your language.
● The Bible Versions you've used most recently now sync across devices.
● Fixed issue where completed Plan days were showing as incomplete.
● Additional bug fixes.
Apple Watch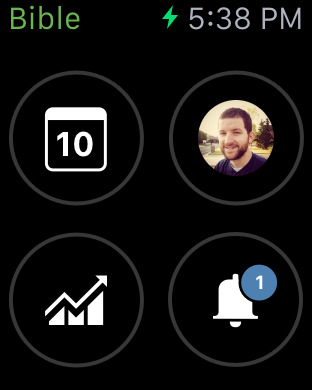 Customer Reviews
Most Wonderful Bible App There Is!!!!!
I have used a lot of different bible apps, but this YouVersion Bible App tops them all by far!! The one thing I was really looking for was an app that would read TO me as I was reading so I could find out how to pronounce the difficult names and places and read quicker since I didn't have to stop to try and figure them out. It bugs me if I can't lol. But not only that, it has MANY translations that you can not only download for offline reading, but there are also a lot that have the audio as well. There are many reading plans which is awesome in itself, but you can highlight, bookmark, and put the same subject under titles you create, just to mention a few awesome perks. You can invite friends, share on Social media and like or comment on your friends' bookmarks as well. The list goes on and on! Please try this app, as you really will get the best reading experience on your walk with our Lord Jesus Christ, and a much better understanding of what it was like when he was on earth with us in human form. Yes, there are maps and pictures and videos too, a lot of which are free, and a store where you can purchase books and all kinds of media about all kinds of things as well. Did I mention the bibles and different translations are free? Try this app even if you use a different one. I really believe you will be very pleased.
In a word.... LIFE CHANGING!
This Bible app has changed my life!! It's so convenient, my teenager uses it as well. We use the plans, highlights and audio features. Aside from reading daily, I find that I read it during waits, take notes, use the highlights, and share a lot of verses with others as well as send inspiring verses to my email and text to review again. GOD, - GOD'S WORD And the SPIRIT OF GOD, clearly has the power to literally change your life, the convenience of having it with you at all Times makes it that much sweeter . I love the Audio versions!! It has been like HEARING THE MESSAGES FROM THE MOUTH OF KING JESUS - OR the APOSTLE PAUL, ... I Prayed for this.. Thank you LORD... THe WORD OF GOD SPEAKs! Thanks so much for your commitment to promoting the GOSPEL .. GOD BLESS you all! One of my prayers was for strength to manage how we use technology. The constant texting and using the phone. While I don't use social media- having a phone with access to the Internet requires discipline and prayer to ensure that the enemy doesn't rob / steal valuable time from your life. This app is a Great solution - instead of surfing the Internet - it's so convenient to just review a verse and meditate on it or review notes etc.. Having the bible app on my phone has been one of the ways I've used in facilitating an awareness of GOD's holy presence. Home run for the Kingdom!! Thank you, thank you!

Zina Stevenson
Please Read, Bible App Developers and Volunteers
I really like the Bible app and its many features; however, currently I'm having an issue concerning the app. I tried using the "More" > "Help" > "Support Website" tab, then looking through the "Troubleshooting" topic under the "iOS" option, but couldn't find anything addressing my issue. I tried going back to the main "Help" tab to request email support, but that button is faded out, suggesting email support is unavailable at this time. So I thought I'd request assistance through my review.

I receive many notifications from the Bible app--friends liking and commenting on my highlights, verse images, and plans. These all appear in the main drop down banner for notifications on my iPhone. But whenever I enter the Bible app and tap on the little bell in the upper left corner to view the notifications, I cannot see them. All I see is a blank white page and a message that pops up saying "Sorry, the Bible App is unable to communicate with the server. Please check your data connection and/or try again." Everything else in the Bible App works just fine--the home page, plans, and "Read" tab--but I keep running into this problem with the notifications. So may you please give me some suggestions for this please? Thanks.
View In iTunes
This app is designed for both iPhone and iPad
Offers Apple Watch App for iPhone
Free

Category:

Reference

Updated:

Jul 06, 2016

Version:

6.9

Size:

42.1 MB

Apple Watch:

Yes

Languages:

English, Afrikaans, Albanian, Arabic, Bulgarian, Burmese, Catalan, Croatian, Czech, Danish, Dutch, Filipino, Finnish, French, German, Greek, Hebrew, Hindi, Hungarian, Indonesian, Italian, Japanese, Korean, Latvian, Macedonian, Malay, Mongolian, Norwegian Bokmål, Persian, Polish, Portuguese, Romanian, Russian, Simplified Chinese, Slovak, Spanish, Swahili, Swedish, Tamil, Thai, Traditional Chinese, Turkish, Ukrainian, Vietnamese, Welsh

Seller:

Life.Church
Compatibility: Requires iOS 8.0 or later. Compatible with iPhone, iPad, and iPod touch.
Apple TV:
Yes