BioDefense: Zombie Outbreak
By Dohi Sweden
Open iTunes to buy and download apps.
Description
Explore the wastelands of BioDefense in this unique release from Dohi Entertainment that will revolutionize strategy games on the iPhone/iPod Touch platform.


BioDefense is a real-time strategy game where you're defending your base against waves of relentless zombies. Build your defenses well and expand your base into the pitch-black wastelands in the hunt for more resources. Beware of different enemy behavior and adapt your tactics or be overrun in the mayhem.


How long will you survive the zombie outbreak?



Key Features:

- Unique Mix of RTS and TD
- Play endless Survival Mode to unlock more content
- 10 Missions provides fast challenges
- 6 Unique Enemy Types with different behavior
- Large waves of attacking enemies
- Research Tech and upgrade your buildings
- Unlock Missions and Enemy info
- 25 OpenFeint Achievements
- Compete on OpenFeint Leaderboards


[TRANSMISSION START]

Entry 1124. A comet hits earth.

Entry 2345. Debris clouds blocks sunlight.

Entry 3638. Meteors rains down everywhere.

Entry 4563. Toxium is discovered in impact pools.

Entry 5342. Toxium is collected and used as energy source.

Entry 6125. Toxium exposure leads to zombification and mutation.

Entry 7354. Zombie outbreak containment has failed.

Entry 8832. Hostiles detected at base perimeter.

Entry 9002. Connection lost...

[TRANSMISSION END]


=====================================

Touch Arcade: "Redefining Survival Gameplay" - "You'll discover a frantic exercise in survival unlike anything you've ever played before"

Appolicious: "An RTS iPhone game that's tough to put down" - "It hadn't occurred to me until playing the BioDefense: Zombie Outbreak iPhone game for the first time, but real-time strategy games are perfect as iPhone games"

Pocket Gamer: "BioDefense: Zombie Outbreak remains an engrossing addition to the bulging tower defence genre" - "It emerges feeling simultaneously familiar and new"

CharacterArcade: "The vibrant sprites may get overlooked do to the larger playing area in this TD game, but you'll be too busy delighting in the massacre of hundreds of zombies to care"

AppSpy: "Striking a balance between simplicity and strategy isn't easy, but BioDefense is well considered" - "There's enough fun and replay value for even a hardened tower defense fan to enjoy"

PhoneBlog: "BioDefense: Zombie Outbreak has possibly the most addictive tower defense survival mode I've ever played on any mobile platform. You can't help but love it."

Appmodo: "Overall, the game is very addicting" - "BioDefense has definitely taken over my favorite game and has been moved to the first page of apps."

TouchGen: "A great game combining a user friendly interface, precise touch controls, frantic battles and great presentation." It caters both to the casual RTS gamer, and the hardcore TD fanatic. It gets my total recommendation."

=====================================
Follow us on Facebook
Support, Promo Codes, Press Releases and Game Updates

http://www.facebook.com/pages/Bio-Defense/117832521625063

For all our games, see:
http://www.dohi.se/entertainment
=====================================
What's New in Version 3.1
- iPhone 5 display compatibility.
- Positional audio.
iPhone Screenshots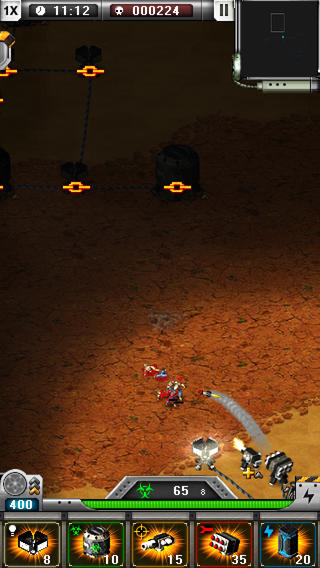 Customer Reviews
Great game, EXCEPT😧
Have you guys abandoned this game???? TWO YEARS and NO updates!?!?!?🙄😳🙄😳🙄😳🙄😳SAD!!!
This game is a gem guys. So many ways to improve it...

Ok,, I think the remarks on this latest update said "massive" or "major" update,,, where is it??? So you can zoom in and out, is that what you consider "major"😱😱😱😱😱?????
If you had truly read the previous reviews you may have seen things like "ADD MORE LEVELS ", "ADD DIFFERENT TERRAINS", "ADD ADDITIONAL BAD GUYS", "ADD ADDITIONAL WEAPONS", "ADD ADDITIONAL SCENERY".
As I said below, how about new games with the same concept. This is a great game that can be easily improved by doing some of the above mentioned things. Lets see some REAL updates!!!!!! KEEP THE FANS INTERESTED 😠😠😠😠!!!
Had to take a star away from previous review due to very disappointing 😞(and ridiculously long awaited) update.

Previous review::::

I've had this game for some time. I come back to it ever now and again and it's still great!!!! Would still like to see some updates though..... It's been brought up several times in the past, things like weapon variety/change and terrain change are just some of the basic changes that could liven up this game. This is an excellent game that could be easily updated with minor changes/additions to make it all the more appealing. Keep the fans interested !!!!! LET'S SEE SOME UPDATES!!!!! Better still..... Let's see some new games with the same basic concept!!!!!
More updates!
I'm with a lot of the reviews here saying to give more game modes and add more things.

This is one of my favorite games and I would love to see some improvement for the community.

Some suggestions: Give a mode with 10,000 resources to start. Give a game mode with only walker zombies. Or a game mode with only dogs, lots and lots of dogs. Give us some more interesting zombies. More zombies! Give us perhaps another defense turret type. Like a laser or something? Give a game mode in endless where you already have a base built up with resources. Add stuff! Pleassse!

Us fans request it!

Blessings,
Good Game But Needs Updating
Just upgraded to another iDevice and this is the first game I usually transfer over. This game is great but definitely needs an update. There are dozens of suggestions in other reviews. You only need to implement a few of them.
View in iTunes
$0.99

Category:

Games

Updated:

Dec 12, 2013

Version:

3.1

Size:

22.3 MB

Languages:

English, French, German, Italian, Spanish

Seller:

Dohi Sweden AB
Compatibility: Requires iOS 4.3 or later. Compatible with iPhone, iPad, and iPod touch.
More iPhone Apps by Dohi Sweden