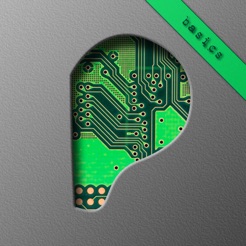 Description
Finally, serious ear training for serious music students.

If you've ever been frustrated that hours of ear training with a computer doesn't translate to results on the bandstand, this app is for you.

Stick your iPhone, iPod touch or iPad on your music stand, grab your instrument and open your ears. Bionic Ears plays intervals and phrases for you to imitate on your instrument, meaning that you're strengthening a direct connection between what your ears hear and what your fingers play. This is, after all, the real goal of ear training.

You can practice with your eyes closed and focus all your attention on the task at hand. More focus means faster improvement.

Bionic Ears listens to what you play in response to its calls. If you imitate correctly, you'll get a new question. If not, the same question will be repeated until you get it right. More importantly, Bionic Ears keeps track of your strengths and weaknesses and works you hardest in the areas where you need it.

With modern technology, we can get back to the traditional way of learning music - by call and response. Download Bionic Ears and check it out!

Bionic Ears Basics covers the initial elements of a full ear-training programming, including perfect fourths and fifths, major and minor thirds and major seventh chords.

The Basics version of the app includes introductory lesson material. Note that if you have an iPod touch 3rd Generation or earlier, you will also need an external microphone to use this app.
Sound Level Increased

On iPhone, sound was coming out of the earpiece rather than the external speaker, which meant the sound level was very low. This problem has been fixed.

Lesson Navigation

You can now navigate to any exercise that you'd like to work on. Within each lesson, Bionic Ears still tracks your strengths and weaknesses and presents material accordingly, but you're now free to move around without having to progress through material that you already know.

Progress and Scores

You can now see how many questions are remaining in a lesson and what proportion of answers you've got correct.
Ratings and Reviews
From amateurs to pros, this app will make you better
No matter how good you are, you could be better and ear training is something that nobody is perfect at. However, it will help beginners and intermediates much more than it will help the extremely advanced, but it will help even the extremely advanced, one reason is that if anybody stopped performing or practicing at all for a year, they wouldn't be as good. This app helps the highly advanced to keep their ears sharp. BTW at this time, every vote is a 5 except for 1 who gave v1.0 1 star, the current version v1.2 doesn't have the one thing he didn't like. There are only like 5 or 6 reviews as of now, but I think most would consider it a five plus it's free!!
Amazing
Great app. I had downloaded an app like this with a keyboard but now I can use my trumpet instead, which is great.
Awesome for ear training
This is awesome! You will have a more productive experience if you learn the shapes/ and relationship of each sound (fifths forths)first. And then you won't hunt for each note- it will be one if the predetermined shapes (example A is required and they are wanting a fifth you then play E ABCDEFG. E is five(or a fifth) away from A
Information
Seller

Lindsay Winkler

Size

4.9 MB

Category

Compatibility

Requires iOS 4.2 or later. Compatible with iPhone, iPad, and iPod touch.

Age Rating

Rated 4+

Copyright

© 2011 Morphops Software

Price

Free
Supports
Family Sharing

With Family Sharing set up, up to six family members can use this app.