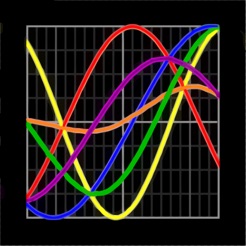 Description
My take on a biorhythm calculator/plotter.

I wanted one for my own personal use, and couldn't find one that I liked. There are a couple of different biorhythm programs out in the store. Some are more "ornate". Others are more "verbose". Most are definitely more expensive!

But I'm a "less is more" kind of guy. This particular app is for those who are share a similar bent. What it lacks in garish color - it tries to make up in functionality.

I think it has a rather distinctive look and feel that sets it apart from the others (for better or worse). No multi-step wizard-like interface. You interact with the application through the tab bar at the bottom and by tapping on the main graph. Simple, clean, direct.

Here's a quick synopsis on the theory. When numbers are positive (above the horizontal line in the middle of the graph) - a particular attribute is working for you. When they're negative (below the horizontal line in the middle of the graph) - a particular attribute is not working for you. When the line is hanging around the middle of the chart be careful - these are transition days. Transitions are messy.

You either believe such things carry some weight or you don't. If you don't - don't download the app - you're just setting yourself up for disappointment. Life's too short.

• It support multiple users.
• There's no pseudo-prose - I'm a visual and numbers kind of guy.
• It supports 3 different scales - pinch and un-pinch.
• You can target a selected date way into the future or way into the past - it's not locked on to the current day.

There are some other features - download the app and try it out if your curious - you can always delete it afterwards :) - although, of course, I'd rather you didn't.

I'd like to thank Glyphish for the icons - saved me a lot of effort and they're very nicely done.
3.5



• Second attempt to fix issues with iOS 3.1.2.

• Changed code that was serving ads.



Please address any and all problems to help@491X2.com.



Thanks for all those souls who offered kind words of feedback and encouragement. I'm grateful for your understanding and patience.



3.4



• Attempt to fix issues with iOS 3.1.2.

• Updated ad SDK to latest version. Please address any and all problems to help@491X2.com.



3.3



• New large and program icons. Woo-hoo! It only took a year plus! That's what happens when you have no artistic ability at all :). Maybe now our little app will get some more respect from all the other biorhythm apps :).



3.2



• Added the Intuitive cycle.



3.1



• Re-layed out the User List screen to increase the font size and allow for more space between the Add, Delete and Chart buttons.



3.0



• Somebody requested the ability to "save maybe up to 4 birth dates, so that I don't have to keep resetting all the dials".


Customer Reviews
Pretty good
I like its the only one I could find with both sets every other one just give emotional physical and intelligent but is it normal for all of the line to combine my birthday was a couple weeks ago and they were all on zero and then a week later they were all in the high 90s now they all really low but I check ahead and the are starting to split apart
Frustrating
Very difficult to get the app touched just right to select a different person.

I dont believe the original theory included all these categories. It makes one wonder how the app creator came up with the formulas for these new categories.

Ads on the bottom way to big and evasive. I'm all for free apps with ads so long as the ad isn't popping up and/ or covering 1/3 if the screen. With small ads I have quite often followed the links to find a new great app. With big obnoxious ads I just delete the app they are being shown on. This app is gone.
Not bad, suggestion
I like the extra lines of data. A good improvement would be a "forecaster" that would report "good days" and "bad days" that are coming up. When all or most are cresting at the top or bottom, showing those dates, rather than having to search for them, would set this apart. (others may have this but I haven't researched it.) However, as of late, the app send me to the App Store WITHOUT ME EVEN CLICKING ON AN ADD...OR THE SCREEN. This is the worst thing an app can do and I will be deleting it momentarily.
Information
Seller

491X2 LLC

Size

682.2 KB

Category

Compatibility

Requires iOS 3.0 or later. Compatible with iPhone, iPad, and iPod touch.

Age Rating

Rated 4+

Copyright

© 2009 491X2 LLC

Price

Free
Supports
Family Sharing

With Family Sharing set up, up to six family members can use this app.