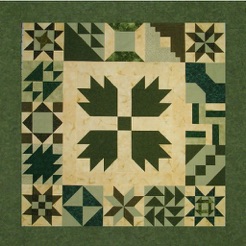 Description
"How much fabric will I need to make these quilt blocks?" "What would they look like in a quilt layout?" BlockFab for the iPad will help you answer these questions for some traditional blocks in a variety of well-known quilt layouts. Choose from a small library of grid-based blocks, or from a library of patches frequently used by quilters. Then choose the number and size of blocks or patches. BlockFab will determine the amount of fabric you need to buy, and will give you some hints on cutting the blocks or patches from strips, based on the cutting assumptions used for calculating the fabric needed. Both English and metric units of measure are supported.

Not ready to make those blocks, but just want to dream and plan? You can play around with the blocks in sample layouts while varying colorways, layout styles, number of blocks, and pairing of blocks. With just a flick, tap, pinch, or twist, you can view thousands of possible variations. Or let the Slideshow cycle through the variations automatically.

BlockFab is not a quilt design app. However, it will let you quickly see the results of various design, color, and layout possibilities. And if you already have a pattern you like but you want to customize it by changing the size or number of blocks or by adding a pieced border, BlockFab will calculate the fabric required.

Features:

- Choose a block from a library of about 70 traditional, grid-based quilt blocks.

- Use the Layout Mode to view some sample quilt layouts using any of the blocks in the library.

- Instead of blocks, you can work with individual patch shapes. This is useful if you are making pieced borders, or if the block you are interested in is not in the block library.

- Use pickers to choose the number of blocks and the finished size of the blocks. You can enter the size in either inches or centimeters.

- BlockFab determines the fabric needed for each color in the chosen block, as well as for each piece in the block.

- See strip cutting guidelines for the blocks and patches you have chosen, for either right- or left-handed users.

- Choose a colorway for viewing the blocks, and vary the transparency for softer or bolder effects.

- Set fabric characteristics including usable width, shrinkage, and straightening allowance.

- Email a copy of the yardage needs so you will have a record of the fabric for this set of blocks.

- When you leave the application, your latest block and fabric choices will be saved, and this information will appear the next time you use the application. Thus you can customize BlockFab to use your own preferred fabric and quilting methods.

Photo Tip: You can save screenshots at any time. Press and hold the "Home" button followed by pressing the "Sleep/Wake button" once. When the screen flashes and a camera shutter sound plays, release the "Home" button. Locate the screenshot in your iPad's saved photos and send the image through email.

Pinch Tip: If you have long nails, try pinching with the sides of your fingers.

Ratings and Reviews
Great app!!
This is a great free app!! It gives you ideas for quilting blocks and even lets you see them in quilt form!! I gave it four stars because I feel like it should at least have a favorites option.

It is pretty basic but it looks like it will easily help you make your squares. Just make sure that if you are only making one square, you enter that into the settings. It defaults to 12 squares because it assumes you are making the whole quilt with the single square pattern.

These things would be nice to have (even as an upgrade):
-Would like to be able to save squares as favorites so I can easily find them again.
-Would like to make a list of squares with saved information so I can have a total amount of fabric needed.
-Would like to be able to customize the colors.
-Would like to be able to customize my own quilt and save it.
Fun for quilters!
Yes, you can use your books, magazines, or drafting tools do your quilt designs, but this app is a quick, fun, no effort way to play with blocks, colors, and settings. Handy to have at the quilt shop (for those impulse buys we sometimes do)! When you feel like doing some creative play, this app is a winner. And you sure can't beat the price!
Awesome
This app is great! I love how you can combine blocks and see what they would look like with different color choices. I am always wondering if I like the design or if it is really more that I am attracted to the color in magazines. I can really get a good look at it in different colors & make a more informed choice of both blocks & color! I love it!
Information
Seller

Mary Kay Podlecki

Size

1.3 MB

Category

Compatibility

Requires iOS 3.2 or later. Compatible with iPad.

Age Rating

Rated 4+

Copyright

© 2010 Mary Kay Podlecki

Price

Free
Supports
Family Sharing

With Family Sharing set up, up to six family members can use this app.