Bloqueo de la Pantalla - fondos de pantalla animados y temas animados para iPhone gratis.
De Julien Curro
Esta app solo está disponible en App Store para dispositivos iOS.
Descripción
Completamente compatible con iOS 10, iPhone 7 y 7 Plus

¡Colección única de modernos diseños de pantalla de bloqueo y papeles tapiz! Diseñe la apariencia completa de su pantalla de bloqueo.

Características:
- Docenas de categorías temáticas
- Contenido en HD
- Los diseños de pantalla de bloqueo más modernos y populares
- Uso de calendarios de pantalla de bloqueo personalizados
- Creación de pantallas de bloqueo a partir de fotos
- Posibilidad de superposición superior e inferior para la pantalla de bloqueo
- Incorporación de atractivos marcos de diseñadores para el centro de la pantalla
- Actualizaciones periódicas.

Nota:

La aplicación le permite solamente cambiar el papel tapiz de su pantalla de bloqueo, todos los elementos de la IU y la funcionalidad de la pantalla se conservan.

Asegúrese de que desactivar el zoom en perspectiva para lograr un buen ajuste del papel tapiz.
Novedades de la versión 1.2
¡Estimados amigos, gracias por su apoyo!

Qué hay de nuevo en esta versión:
- ¡Nuevas pantallas de bloqueo con citas y diseños agregados y mucho más!
- Se repararon errores menores
- Mejoras a la interfaz y usabilidad

¡Disfrute y no olvide evaluarnos y comentar!
Capturas de pantalla del iPhone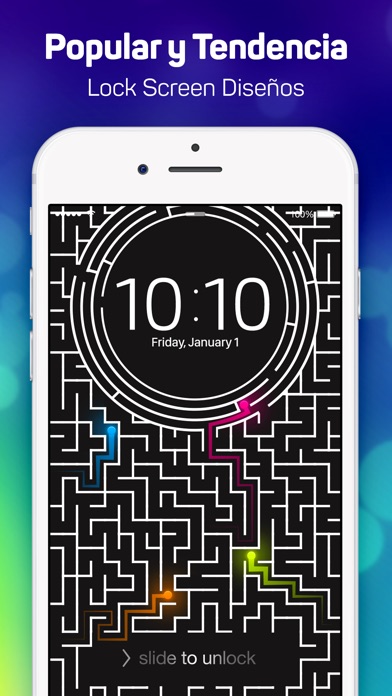 Reseñas de usuarios
Not better
App developers that bug you for review are not very smart. The review they get is not necessarily going to be favorable. I don't care for this update. When you select a category, it gives you very few wallpaper choices. When the circle at the bottom that says "save," changes to "get," it takes you to the App Store to install another one of their apps. No thank you, I have other wallpaper apps that are much better.
Update: if you choose "lock screen maker," you can select from all the backgrounds, as well as an assortment of clock and slider frames, and center designs. It's pretty good.
Great app ( as long as u sign there rating contract)
Totally a great app. On one condition. As long as you give them 5 stars you can unlock the full app. But wait it get better. Even after that it bombards u with adds. Oh no not just one add every 10/15 pics. But one add per swipe!!! Isn't that awesome. So if you love watching adds every 3-5 sec let me tell you folks this is the app for you.
IDC ABOUT THE TITLE
oh m goodness....this app is amazing i love it it has the best wallpapers ever...my mom will come up too me like "What are u doing on ur phone, AGAIN!!?!?!" and im always like "Changing the wallpaper theres so many choices!!!and there all so good...i cant chose..." i get on my phone so much changing the wallpaper my mom gets so tired of it she puts a passcode on my phone that i dont know...hehe
Ver en iTunes
Gratis

Categoría:

Utilidades

Actualizado :

12/05/2016

Versión:

1.2

Tamaño:

39.9 MB

Idiomas:

Español, Alemán, Coreano, Francés, Inglés, Italiano, Japonés, Neerlandés, Portugués, Ruso, Sueco

Vendedor:

Julien Curro
Compatibilidad: Requiere iOS 7.0 o posterior. Compatible con iPhone, iPad y iPod touch.