Body Workouts Pro
By Feel Free Apps
This app is only available on the App Store for iOS devices.
Description
"WANT TO KNOW THE NUMBER 1 REASON PEOPLE FAIL TO GET THE BODY OF THEIR DREAMS?"

Tap "More" to find out ===>

ANSWER: LACK OF MOTIVATION.

Seems too simple right? Well put it this way. You know you need to stop eating junk and exercise regularly. Then why can't you do it? Why is it so hard? Why do you always fail?

No motivation. Motivation is the secret ingredient. Motivation is the SINGLE thing that will make you stick to your diet & workouts when you feel like giving in, when your world is falling down. If you want to lose fat or gain muscle - you NEED motivation.

That's what this app is for.

As well as showing you the RIGHT exercises and how to do them, it gives you something WAY more important.

It gives you MOTIVATION.

"This app talks to you. It's like having your own Personal Trainer in your pocket - making you sure you get fit, stay fit & never quit."

Join the MILLIONS of users of my Fitness apps and get RESULTS with the #1 Health & Fitness app in several countries.

WOMEN: You will lose that stubborn tummy fat and get a tight sexy stomach. Tighten & tone your arms, thighs, butt and legs FAST. Gain loads of energy, feel super confident, and HAVE FUN doing it.

MEN: You'll lose your belly fat and carve out ripped six pack abs FAST. Pack muscle on your shoulders, chest, back, biceps, triceps, forearms, quads and calves. Look and feel like a boss.

Don't pay over $50 / hour for a Personal Trainer. That would quickly add up to THOUSANDS of dollars. You don't need to pay that much. This app works. Our users are seeing REAL results and you can too.

IF YOU ARE LAZY...

If you are not going to do the workouts - DON'T download this app. If you think it's too expensive - DON'T download this app. Go and download a game.

But if you're serious about making some BIG changes, if the body of your dreams is worth it, if you're willing to DO THE WORK - then let's get started right now!

I'm not going to lie to you. This is NOT a free ticket to getting the body of a god/goddess. BUT If you're consistent with the workouts found in THIS app, AND you eat right...

You will achieve success beyond your dreams.

HERE'S WHAT YOU GET:

- 700 fat burning exercises with steps & animations
- 320 body-shaping workouts for all fitness levels
- Gorgeous illustrations & step-by-steps
- Design your OWN custom workouts
- A Personal Trainer in your pocket
- The most comprehensive Fitness app in the App Store
- MOTIVATION to get fit, and STAY fit

This app actually TALKS you through your workouts, showing you what to do, counting out your reps and motivating you along the way! It's so easy and fun to use.

HOW YOU USE THIS APP TO DO YOUR WORKOUTS:

1) Open up Body Workouts Pro daily

2) Choose a workout depending on your experience

3) Press the 'Play' button (top-right) & the app will TALK you through the workout - giving you encouragement and motivation as you go!

"When workouts are this fun, you'll actually do them. That's the key difference. That's why this app is working so well."

Download Body Workouts Pro now and make the decision to get your dream body - no matter what.

See you on the inside! - Mike
What's New in Version 1.2
Fixed a nasty little bug that caused the app to crash when editing workouts.

Thanks so much to all our loyal users who've waited so patiently for this update!
iPhone Screenshots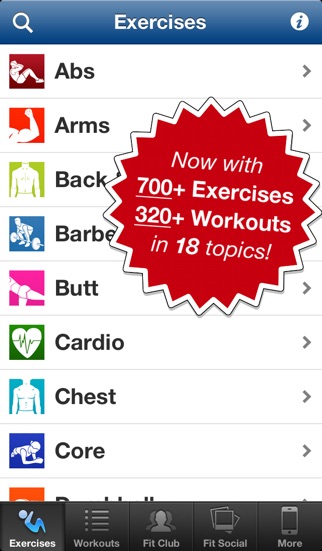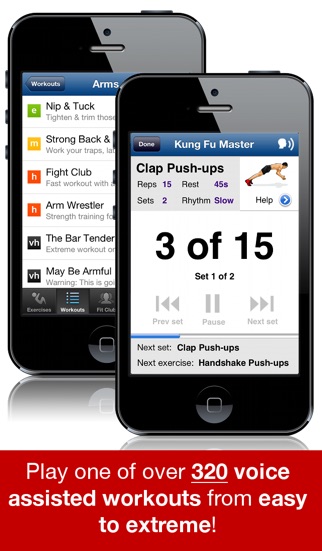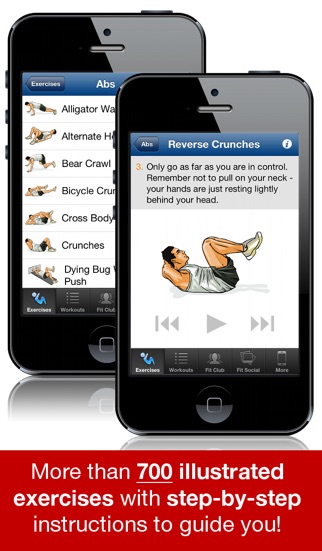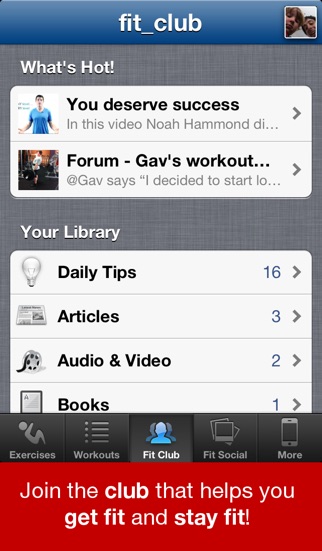 Customer Reviews
Great App!
I love this app! I used the stand alone workouts but now have this one! The only situation I have is I'm in the middle of a workout and the app seems to freeze up and then closes out. It's kind of annoying to go back in try finish.

The one thing I've noticed that is annoying on certain exercises, the voice trainer on the app doesn't always say the right way the exercise should go. For example: when you do a curtsy lung and some other exercise, the voice will say "up then down" and the voice should say "down then up" like the description should for those exercises. It works for most exercises for up then down but when you should go down the voice say up. It would be greatly appreciated if this is able to fix!
Custom Rhythm never adjusts in workout
Can we get an update that fixes the custom rhythm to update with work out. When I change the rhythm to slowest or fastest it doesn't change in workout, please ....thank u
Shouting down?
I love this app it really is great and helps me keep my mind on my form and not my reps!!!! But recently it has randomly closed on me in the middle of workouts :/. Once it is fixed it'll be the best
View in iTunes
$9.99

Category:

Health & Fitness

Updated:

May 30, 2013

Version:

1.2

Size:

107 MB

Language:

English

Seller:

Feel Free Apps Pty Ltd
Compatibility: Requires iOS 4.3 or later. Compatible with iPhone, iPad, and iPod touch.
Top In-App Purchases
Fit Club!$2.99