BodyFate Workout
By BodyFate LLC
This app is only available on the App Store for iOS devices.
Description
LIMITED TIME SALE!

***NEW YORK TIMES "While a number of exercise apps tell you how to sculpt and tone in the gym, a new app from celebrity trainer Christine Hazelton does that as well as telling you how to work out when you don't have a gym... – you can count on your quaking muscles to tell you how much of a workout you've had."

***Listed as one of the best fitness apps of 2011 by SHAPE

***Named as one of Apple's "2010 Hot Trends Personal Trainer iPhone apps".

***Featured in MEN'S FITNESS

***MSN Listed BODYFATE as a "MUST HAVE" digital download.

***"Coolest workout app period." DANE COOK

***"Nothing kicks my ass more than BODYFATE! I'm leaner than ever. BF keeps the workouts entertaining and challenging because you never know what the hell is going to happen next! Christine is -bar-none- the most knowledgeable/innovative trainer I've ever trained with." THOMAS JANE (The Punisher, HBO's Hung)

***"This game is awesome! Like having Christine Hazelton (the best trainer I have ever worked with) in your pocket. It's foolproof, ingenious, fun to use and kicks my ass every time. I cannot recommend it highly enough." SONYA WALGER (Lost's Penny,Flash Forward)

***ABC NEWS "Many fitness applications have great visuals and they'll show you how to do the move as well as count the number of sets and repetitions. But this one is different because it challenges you to a game and dares you to get in shape."

BODYFATE is a full-body, fat-burning, circuit workout that entertains and challenges you, while getting you into the best shape of your life! Stop agonizing over what exercise to do next. Let the universe decide and step up to the challenge! Can You Handle Your Fate?

BODYFATE is designed to help you:

• MAXIMIZE FAT-BURNING
• GAIN MUSCLE
• INCREASE ENDURANCE
• INCREASE STRENGTH
• ELEVATE CARDIO-RESPIRATOY FITNESS
• IMPROVE BALANCE
• INCREASE CORE STRENGTH
• ENHANCE ATHLETIC PERFORMANCE
• BREAK PLATEAUS
• BOOST NUTRITIONAL KNOWLEDGE
• STAY MOTIVATED AND INSPIRED!

WANT TO LOSE EXCESS BODY FAT? Evidence proves that high-intensity, circuit or interval training not only results in tremendous caloric expenditure DURING the workout period, but raises your metabolic rate AFTERWARDS as well. This process is known as EPOC - excess post-exercise oxygen consumption and is essentially passive income for your body. During EPOC your system primarily uses fat and lactic acid as fuel. Because of BODYFATE's intense metabolic training system, you will reap the benefits of EPOC's fat-burning aftermath! No expensive trainer required.

Features:
• Beginner, intermediate & advanced levels
• Challenging and fun
• Never the same workout
• Intense, full-body circuit training
• Functional, multi-plane, non-machine based exercises
• Strong emphasis on core strength and multi-joint movements
• Moving snap shots instead of video for quick loading and less MB
• Simple directions and easier/harder options
• Entertaining nutritional education
• Customized equipment settings
• No gym required
• Expert tips
• Goal setting tools
• Inspirational sayings, quotes and affirmations
• Comedic cast of characters

IMORTANT NOTE:
BODYFATE LLC program is meant for healthy individuals with no pre-existing structural limitations or medical issues. It is highly recommended that you consult with your physician as well as a qualified fitness professional to conduct a full-body assessment/movement screen before beginning this or any new fitness program.
What's New in Version 1.0.10
Bug Fixes
iPhone Screenshots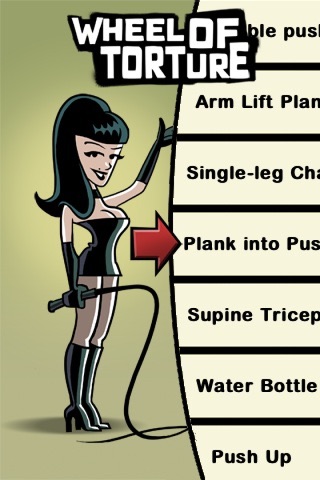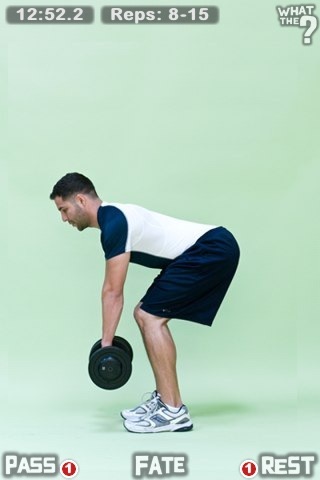 Customer Reviews
Great workout App!!
If I could give 6 stars I would! Let me start by saying that I am not in shape but after using this app for two weeks I feel like I am getting there.. The workouts are amazing, I am never bored, and 20 minutes on easy level and I feel like I was in the gym working out for an hour and dripping sweat!! Can't wait to get up to 45 min -an hour and increase the difficulty. I am not sure what else the developer is thinking of adding but I would hope more exercises, and tracking workout feature, and background music...but I Love it!! I also have not had to use my weight bench and barbells yet so not sure if that is part of the equipment list or not. It should be!!
It's my favorite workout App (I own at least 15)
Please keep updating features and if you have to raise the price.. it's worth $5 easy!!!
Lovely little gem of an app
The first time I tried it, my muscles were literally shaking to the point I could hear them crying. Kidding aside, it's a wonderful, fun personal fitness application to bring. My 2 cents worth for the first timers or to those who haven't exercised in the longest while, you do have the option to alter the timing not unless you fancy doing crunches for 15 minutes. For someone who runs 10km a week that was torture but the fact that I managed despite my bodily protests, twas worth it. My only complaint is that i noticed it keeps repeating the same exercises I've already done that it becomes monotonous. I wish the shuffling had some 'internal artificial intelligence' that senses the user's progress otherwise one will be doing crunches and side crunches ALL day.
Worth it!!
I've bought my share of workout apps so I was a little skeptical with this one. Body Fate is quite simple. You input your Fitness Level, The Workout Equipment you have availble, and then how much time you want to workout. You Immediately start by numerous simple random games such as 'Pick your Trainer' and 'Fate is in your Hands' to name a couple. It will give you an excercise to do and the amount of reps or a time to complete that excercise. I was very suprised on how much of a sweat I was able to get out in just 20 mins. Great APP!
View in iTunes
$1.99

Category:

Health & Fitness

Updated:

Aug 25, 2012

Version:

1.0.10

Size:

27.5 MB

Language:

English

Seller:

BODYFATE LLC
Compatibility: Requires iOS 3.0 or later. Compatible with iPhone, iPad, and iPod touch.