Borderlands Granular
By Chris Carlson
Open iTunes to buy and download apps.
Description
Borderlands Granular is a new musical instrument that enables people of all ages to touch, transform, and explore sound. Simply double tap to begin!

"The best app for exploring sound just got better... This is 'go out and buy an iPad to run it' good stuff." -Peter Kirn, Create Digital Music

"When I first saw the demo video for Borderlands Granular in 2012, my jaw hit the floor. My first thought was 'THIS is what making music on an iPad should be.'"
Sean Garland, iOSMars.com

"Borderlands has floored us. It is very rare that we find an app that is not only fun to use, but extremely useful. It is truly inspiring. The interface is stunning, the sounds are so evocative: they're a film composer's dream."
Paul Hepker and Mark Kilian, Film Composers (Tsotsi, Eye in the Sky)

"It's beautiful, it's absolutely great. It goes in a completely new direction."
Christian Fennesz, Experimental Musician. Interview from Tiny Mix Tapes, May 2014


Recognition
--------------
2013 Prix Ars Electronica - Award of Distinction in Digital Music and Sound Art
2015 ZKM | Center for Art and Media App Art Awards - Special Prize for Sound Art


About
------------
Borderlands Granular uses a technique called granular synthesis, which involves the superposition of tiny fragments of sound, or "grains," to create complex, evolving timbres and textures. The app is designed to be easy to use, emphasizing gestural interaction over knobs and sliders. Create, drag, and throw pulsing clouds of grains over a landscape of audio files, or use the built-in accelerometer to sculpt sound with gravity. Simply double tap to begin!

Borderlands comes ready to play with default sample content included, but you can also load and export your own sounds via Audiobus, Audioshare, and real time input from the mic or external audio interfaces. Re-sample recordings made within the app on-the-fly for layers-upon-layers of granulation.

You can also improvise alongside the app - touches and parameters may be recorded, looped, stored, and duplicated. Entire configurations of clouds, sounds, and automation can be saved into presets, or "scenes," that may be recalled at a later time, allowing Borderlands to seamlessly transition between the studio and the stage.

www.borderlands-granular.com

Twitter: @BorderlandsiPad
Instagram: borderlands_granular
Facebook: BorderlandsGranular
What's New in Version 2.0
New Features:
-----------------
Audiobus Sender, Filter, and Receiver support
AudioShare import and export
Real time audio input recording and granulation
Gesture recording and looping for cloud parameters and positions
Save and load "scenes" - presets of clouds, sounds, and automation
Resonant filters for each grain cloud with per grain randomization
...and much more!

Bugfixes:
-----------------
Fixed common sources of crashes on launch.
Better sample import options
Better performance, hardware accelerated audio
Support for external audio interfaces
Improved memory handling
Multiple sample rates and buffer sizes supported
Interface rotation supported
File sharing enabled
iPad Screenshots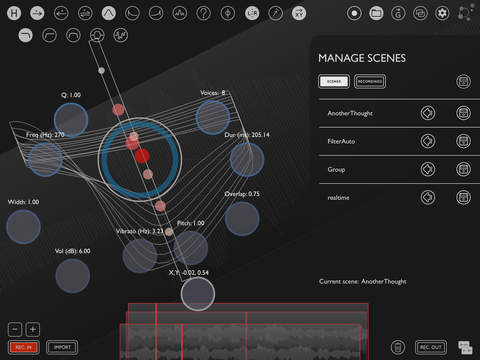 Customer Reviews
Great app but with frustrating file management
Borderlands is a great granular synthesizer.
But given that it's entire purpose is to work with samples, the sample management options are frustratingly limited.
In order to load a sample or save a recording from within Borderlands, one must use AudioShare, an additional $5 app.
Thankfully Borderlands does support AudioBus, but that's quite a roundabout approach, because it requires a sample playback app, routed into borderlands for recording, then yet another app for recording the output from borderlands yet again. This is not ideal when working with long samples, nor is it ideal given notoriously unstable iOS app reliability when working with large samples in small device memory capacities, nor is it ideal when there may be any number of different sample rates or bit-depths between apps, resulting in questionable audio quality.
Supporting an industry standard file management solution like Dropbox or even the freely available (and industry standard to a lesser extent) AudioCopy would cure a major headache.
One of the coolest sonic exploration tools on iOS or anywhere for that matter...
Borderlands Granular has a reputation amongst the iOS music production community for being one of those 'must buy' apps like Samplr and the utility apps AudioShare & Audiobus. Just a piece of essential kit that you hear nothing but good things about. Granular is that in spades and it has become a favorite of mine to just experiment with, with no project or sound I'm chasing in mind. How would a Wurli sound? How about a bongo loop? There's just so much you can throw at Borderlands Granular and it will continue to amaze and surprise. I recommend it big time.
One of the best things this year for iOS IMHO
It's like iOS music Christmas right now, Borderlands Granular audio import has been on my most anticipated features for this update.... and has gone far past that expectation. Audiobus and AudioShare really did it for me, but the filters were and record features make Borderlands something truly unique. I will be spending a lot of time with Borderlands in the days 2 come.
View in iTunes
$9.99

Category:

Music

Updated:

Mar 29, 2015

Version:

2.0

Size:

17.4 MB

Language:

English

Seller:

Christopher Carlson
Compatibility: Requires iOS 7.0 or later. Compatible with iPad.