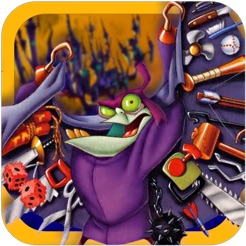 Description
Here's what reviewers have to say about BrainDead 13:



"If you enjoyed Dragon's Lair or Space Ace then BrainDead 13 should be the next game on your list." - AppGamer.net



"...the game has a high quality story, high quality animation and superb voice acting here, all ported to the iPhone brilliantly." - TouchGen.net



"Fans of cinematic interactive movie titles in the style of the Don Bluth classics Dragon's Lair and Space Ace might just sit up and smile at Digital Leisure's recent iPhone release, a port of ReadySoft's 1995 action adventure BrainDead 13" - TouchArcade.com



-----------------------------------------



Following in the footsteps of Don Bluth's classic Dragon's Lair and Space Ace, BrainDead 13 adds the ability to fully control where you'll take Lance throughout this fully animated interactive adventure.



You are Lance, a young computer expert who is called to fix a computer at a bizarre and dilapidated castle. After repairing the large super-computer within the castle, you learn of Dr. Nero Neurosis' diabolical plan to take over the world! Once you discover the secret plan you find yourself being chased around the castle by Fritz, a psychotic servant of Dr. Neurosis -- an evil disembodied brain. Guide Lance through the deadly and mysterious castle to defeat Dr. Neurosis and save the world from his evil plans.
- Added Support for iOS 3.0 and 4.2

- Various bug fixes
Customer Reviews
Don't listen to the haters!
This game is not broken! The original was very broken, but only because you didn't have any clue what button to press and when. For this iPhone version, they light up the buttons you can press just before you need to press it.

Yes, they only give you a millisecond to press the correct key, but that's the challenge!!! It is entirely possible to do so if you pay attention.

You WILL die a million times, but it is so rewarding when you do. You get to enjoy a brutally violent and awesomely funny death animation with every mistake you make.
Needs Graphics Update BADLY!
I'm a huge fan of the original laserdisc games and have the Dragon's Lair 1 & 2 apps, as well as Space Ace. Unfortunately this app has not been given the same treatment. The graphics are so woefully low res that they detract from the game and make it unplayable in areas. If you have an iPhone 4 or above wait until they update the graphics or you will be sorely disappointed. Adding the ability to watch the game like a movie once completed (like Dragon's Lair 1 & 2) would be a big plus as well. Please add that feature to Space Ace as well!!!!
Not Dragon's Lair, but still fun.
While it's similar to Dragon's Lair and Space Ace, it does not have any visual cues or flashes in the actual animation. So unlike those games, I have to rely on the virtual pad cheat. Still, if you like 80's laserdisc games, it's a must-have.

Only real complaint: Needs retina support. Animation is really low-res.
Information
Seller

Digital Leisure Inc.

Size

602.8 MB

Category

Compatibility

Requires iOS 3.0 or later. Compatible with iPhone, iPad, and iPod touch.

Age Rating

Rated 12+ for the following:

Frequent/Intense Cartoon or Fantasy Violence

Infrequent/Mild Mature/Suggestive Themes

Infrequent/Mild Horror/Fear Themes

Infrequent/Mild Profanity or Crude Humor

Infrequent/Mild Sexual Content and Nudity

Copyright

© 2010 Digital Leisure Inc.

Price

$4.99
Supports
Family Sharing

With Family Sharing set up, up to six family members can use this app.