Breathe Away High Blood Pressure
By Jun Li
This app is only available on the App Store for iOS devices.
Description
Breathe Away High Blood Pressure is based on evidence, provided by clinical studies, that adult with high blood pressure can lower their blood pressure by slowing their breathing rate and pattern. The evidence provided by these studies also demonstrate that when one engages in daily, 15 minute sessions of slowed and patterned breathing for three weeks, the decrease in blood pressure becomes sustained between sessions.

It guides the user through a 15 minute exercise of slowed and regularized breathing, by providing the user with auditory cues to breathe in and breathe out. The user can select from three types of cues: verbal cues, chimes, and ocean waves. The user can also select from several pleasant music loops to play in the background, or have only the breath cue playing if desired.

You can also choose from a number of relaxing scenes to contemplate at while doing your guided breathing exercise.

Distinguished Features:
• Beautifully designed user interface and background scenes
• Three types of cues: verbal cues, chimes, and ocean waves
• Scientifically proved timed session
• Built-in volume control
• Pleasant background music to choose from
• Support background playback
• Detailed usage instructions for best user experience

Use this app every day as part of your daily routine of maintaining a healthy blood pressure. It is a very good idea to record your blood pressure before and after each session. This will let you monitor your blood pressure, and monitor how this exercise affects your blood pressure. Recording your blood pressure before and after each session will also enable you to provide your health care team with valuable information to help make the best decisions in your health care.

-----------------
Warning:
This application is not a replacement for medical supervision and treatment. Uncontrolled hypertension (high blood pressure) can lead to permanent disability and even death. High blood pressure has often been referred to as the "silent killer". This is because people with high blood pressure usually feel no symptoms. If you believe you may have high blood pressure, consult a licensed and medically qualified health care provider before using this application. If you are receiving medical supervision and treatment for high blood pressure, never make any changes to your medication regimen without consulting the health care provider who prescribed your medication.
iPad Screenshots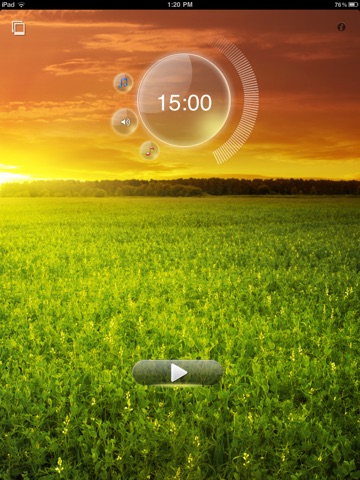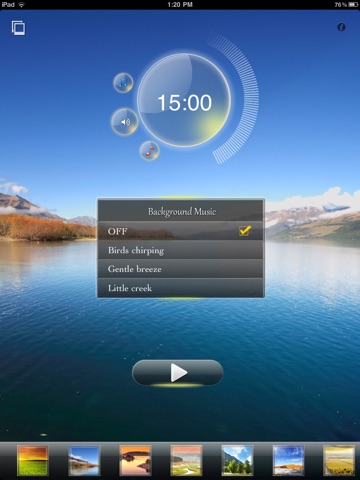 Customer Reviews
You could pay $300 for the same thing - but why would you?
I was about to buy a device that cost around $300 that does the same thing this great app does. Well, there's one difference but a minor one. The device is supposedly set to your own personal breathing patterns. But, in reading their own board and what people say about it, most people are sorry they bought the thing.

I'm very happy with this wonderful app and I highly recommend it. Yes, it does help get your BP down. At least it does for me. Beyond that, however, it helps you to relax and learn how to breathe correctly. People with anxiety problems and high BP generally breathe shallow. This causes more anxiety and that causes higher BP. It's a vicious circle. You can break that circle with this app.

Update: I've used this awhile now and can say without hesitation it has brought my BP down to normal. I would love to see a log in the app that at least keeps track of the time the user uses the app each week. Since a minimum of 45 minutes per week is recommended, it would help the user to track it and a log would allow the user to make comments about his BP and how he feels, etc. Another similar product has this feature and I enjoy using it.

Update. This app no longer works for me. For beginners, it is great. But now I breathe 3.7 bpm and this app ia way too fast. Also, you can not control the time.
Excellent
The simplicity of this app makes it easy to use and understand. I began using it three days ago so it hasn't had time to lower my BP yet. Most studies say it takes at least three weeks to lower blood pressure. Will update at the three week point. So far it works as intended to help the user slow down breathing and breathe deeply.
Find a great app!
I'm a retired teacher. And I have high blood pressure. I was totally attracted by your product when I read its information today. I consulted my doctor if it can really help. He said it is good, I can listen to it. So I bought it. After using your app, I feel so comfortable. I will insist on using it.
View in iTunes
$2.99

Category:

Health & Fitness

Released:

Jun 16, 2011

Version:

1.0

Size:

50.6 MB

Language:

English

Seller:

Jun Li
Compatibility: Requires iOS 4.2 or later. Compatible with iPad.