BreathPacer
By Larva Labs Ltd.
Open iTunes to buy and download apps.
Description
Featured in "Mac Life" as one of their favorite apps to improve health. 12/09

Best Stress Management App! Best 200 iPhone Apps: The Guide for Discriminating Downloaders: (O'Reilly, July 2009)

Rated 9/10 by AppCraver! - "BreathPacer is a great app for anyone looking to relax or to get into the habit of breathing better for increased health." http://www.appcraver.com/breathpacer/

Featured in Men's Journal magazine issue on optimal performance: http://www.mensjournal.com/breathing

Also, see Dr. Muench's interview on breath work and health at http://www.perfectbreath.com/?q=node/100

BreathPacer is a powerful breathing guide that can help you reduce stress and experience deep relaxation. Andrew Weil, a leader in the integrative health field, states, "If I had to limit my advice on healthier living to just one tip, it would be simply to learn how to breathe correctly."

Research has shown that practicing therapeutic breathing creates profound mental and physiological changes in the body.. Breathpacer is especially useful for those people who want to master the breathing techniques used in various forms of Yoga, Meditation, Qigong and other practices. Use BreathPacer for 10-20 minutes a day and see why therapeutic breathing has been shown to be a treatment and/or adjunctive treatment for depression, anxiety, asthma, COPD, hypertension and has also been found to improve cognitive functioning and sports performance!

Practicing slow breathing is not as easy as it seems. BreathPacer helps you practice proper therapeutic breathing with the following features:

- Smoothly animated visual breathing cues.
- Soothing rain sounds direct your in and exhales.
- Flexibility in choosing your own inhale, exhale and hold pace.
- Individualized therapeutic breathing algorithm based on your height.
- Option to gradually reduce your breathing rate over the course of a session to your target therapeutic rate.
- The ability to play your own music while using the program.
- NEW: Breathing Timer. Set how long you want to breath for and the program will stop at the appropriate time.

WARNING: If you have a medical condition which makes it difficult to breathe slowly, have difficulty breathing slowly or hyperventilate easily, consult your physician before purchasing BreathPacer. BreathPacer is a guide. It is not a medical device. The user is responsible for determining whether BreathPacer is right for them. Improper slow breathing can cause temporary dizziness or lightheadedness. If you feel any discomfort, stop using BreathPacer immediately. The company holds no fiscal responsibly for people who do not follow the instructions of BreathPacer.

What's New in Version 1.11
* Fix to return compatibility to OS 3.x devices
iPhone Screenshots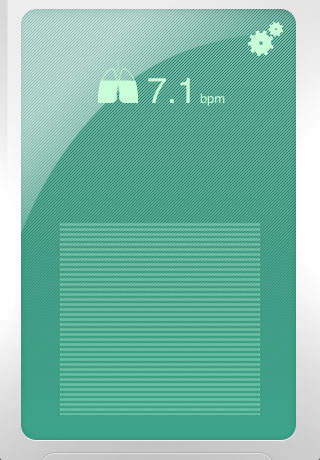 Customer Reviews
A great tool for Raynaud's and other conditions
After a friend of mine was referred for thermal biofeedback training at Mayo for relief of migraines, I "googled" it to see if it would be helpful for Raynaud's (vasoconstriction to my fingers, toes, and ears associated with cold temperatures). In one appointment the doctor explained it to me, and tried a few settings with discussion I between each trial. After a few attempts, he found my"sweet spot" in which a 3-minute session raised my finger temperatures by5 degrees F. He suggested I buy Breath Pacer for my IPAD and wrote the numbers I should start at, working slowly to be able to slow my breathing even more during my sessions. I use it 3 times daily,and not only does it help my D's, but my blood pressure is decreased by it also. I would recommend this for people who have Raynaud's, migraines, hypertension, or who would just like to reduce their stress levels. By practicing with the machine 3 times daily, I find I can slow my breathing similarly when I am hiking I or doing other activities in cold weather, and help to increase the blood flow to my fingers while I am doing what I love.
Looking at the screen IS IMPORTANT!
I just got back from the AAPB conference (American Association for Psychophysiology and Biofeedback) where I learned about this fantastic app. During the presentation where it was mentioned (HRV for treatment of concussion) the researcher mentioned that subjects DID NOT IMPROVE significantly if they DID NOT LOOK AT THE SCREEN while breathing. Go figure. Next, finding your resonant frequency is quite important. This app will start you at a 'best guess' based on your gender and height. But to really know you'd have to measure your heart rate variability (HRV) and find the breathing pace which maximizes your HRV (the amount/range your heart rate goes up with inhalation and down with exhalation). So if you could figure out how to watch this paced breathing app while using something like the Camera Heart Rate Variability app you could objectively determine your resonant breathing rate. Also, you need to have a regular practice (like exercise) to continue to experience the benefits). Go for it, it may just save your life someday - better HRV is associated with increased survival after heart attack.
Fully-configurable but needs sound cues
You can control just about every parameter of the app, which is really handy. Being able to choose your music, the sleep controls, etc. But as others have mentioned, it really needs to have sound cues that follow the currently selected breath timing.

It might be more natural to have the waves follow their own rhythm, but you're glued to the screen otherwise. In fairness to the developers it might be a bad choice between loading the app with a hundred different sound files, or the inability of the iPhone's chip to timestretch sounds .... still a great choice for a breathing app!
View in iTunes
$2.99

Category:

Health & Fitness

Updated:

Oct 25, 2010

Version:

1.11

Size:

3.3 MB

Language:

English

Seller:

Larva Labs Ltd.
Compatibility: Requires iOS 3.0 or later. Compatible with iPhone, iPad, and iPod touch.
More iPhone Apps by Larva Labs Ltd.