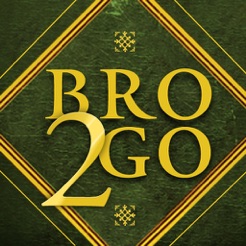 Description
Whether we know it or not, each of us lives a life governed by an internalized code of conduct. Some call it morality. Others call it a religion. I call it "the Bro Code."

For centuries men have attempted to follow this code with no universal understanding of what such an arrangement meant: Is it okay to hug a Bro?* If I'm invited to a Bro's wedding, do I really have to bring a gift?** Can I sleep with a Bro's sister or mother or both?***

Now with Bro 2 Go, I have brought the wisdom of The Bro Code straight to your iPhone. In addition to finding out which Bro Code Article applies to your situation, you can do these other totally awesome things:

•Listen to Barney Stinson (Neil Patrick Harris) read the advice – straight from one bro to another.
•Send a Bro-Mail – sometimes you can't always find the right words for the occasion, so I've taken some of the guesswork out of it. Just fill in the blanks and send an email to let your boss know you're sick, let your girlfriend know that all good things come to an end, or let your friend down easy.
•Calculate the acceptable age difference when pursuing a younger chick – no need to do any math, just select your age and your iPhone will do the calculation for you.
•Get Psyched songs – People often ask me, Barney, how is it that you're so psyched so much of the time? And the answer is right here. My own PERSONAL get psyched mix with handy links to buy the songs.

Use this app to be even more awesome than you thought possible. If you're lucky, you'll almost get close to being as awesome as me. Not AS awesome, you understand, but close.

*Never.
**Nope.
***Dude, come on.

Watch how i met your mother Mondays at 8/7c on CBS and download episodes at iTunes.

Simon & Schuster Digital in partnership with Fireside and Simon & Schuster Audio created this app.

For more information on the books and author, visit www.simonandschuster.com

Read Bro on the Go: http://books.simonandschuster.com/Bro-on-the-Go
Read The Bro Code: http://books.simonandschuster.com/Bro-Code
Listen to the The Bro Code: http://books.simonandschuster.com/Bro-Code/Barney-Stinson/9780743582063

© 2009 Simon & Schuster, Inc. THE BRO CODE™ © 2008 by Twentieth Century Fox Film Corporation. All rights reserved.

About Simon & Schuster:
Simon & Schuster, a part of CBS Corporation, is a global leader in the field of general interest publishing, dedicated to providing the best in fiction and nonfiction for consumers of all ages, across all printed, electronic, and audio formats.
Ratings and Reviews
Barney is awesome, but his app needs serious work
The two stars are the most I could give. The app's only remaining functional part is NPH's voice for the articles. Everything else freezes the app when attempting to use. NPH alone would have made me give this 3 stars, but since the App Support is either non-existent or troll-worthy, it loses a star. The app support link brings you to a self-publishing website, with no sign of support to be had. Fix it, please. This could be Legen-wait for it-dary, if you fix it.
Two things Mr. Barney Sir.
I not dare give this any less then 5 stars Mr. Stinson Sir! Only have two miner requests, well first Sir if you could make an option to have all the articles in order for studying purposes Sir and if it possible to have it multitasking friendly please. Thank you for bringing us the all-awesome Brocode!
Worth it
Has probably 90 articles, 40 brocabulary words, and the bromail creator brings some laughs. My favorite part is the complete list of the "Get Psyched" playlist. Note: the list only names the songs it doesn't play them.

I would like it to include the Playbook In a future update.
Information
Seller

Simon & Schuster

Size

6.2 MB

Category

Compatibility

Requires iOS 3.0 or later. Compatible with iPhone, iPad, and iPod touch.

Age Rating

Rated 12+ for the following:

Infrequent/Mild Profanity or Crude Humor

Infrequent/Mild Sexual Content and Nudity

Infrequent/Mild Mature/Suggestive Themes

Copyright

© 2009 Simon & Schuster, Inc. THE BRO CODE™ © 2008 by Twentieth Century Fox Film Corporation. All rights reserved.

Price

$2.99
Supports
Family Sharing

With Family Sharing set up, up to six family members can use this app.