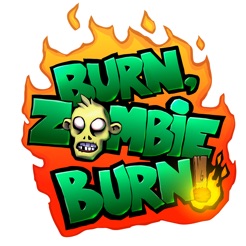 Description
Welcome to the char-grilled world of Burn Zombie Burn, where the best type of undead is barbequed undead.

The goals are simple: keep Bruce alive, as he tries to keep Daisy alive, and get the highest score possible. Standing (well, ambling) in your way is a never ending horde of the rotting, stinking and stupid undead. Fortunately our mild-mannered hero Bruce can get hold of some tasty weaponry. Burn, batter, shoot, maim, blow up, mince, and obliterate as many zombies as possible before they make Bruce their dinner…

Flaming zombies are faster and more dangerous than regular uncooked zombies. But burning zombies drop better pickups and act as a score multiplier – light 'em up, score big, and have fun.

REVIEWS:

MacLife - 4/5 Great
glassyeyed.com - Burn Zombie Burn! Was perfect. But the addition of turning your iOS device into a controller, made a 9 out of 10 a solid 10.
mactrast.com - If you're a zombie fan, you'll certainly be a fan of Burn Zombie Burn 7/10.
enoda.co.uk - be quick, the zombies are coming to get you! 4/5 Stars
Macnotes.de - 7/10

Key features:

•In game Tutorial, prepares you to fight the undead
•A hoard of zombie types – dancers, exploders, armoured, infectious, and fire-farting super zombies
•An arsenal of weaponry – bats, guns of all sizes, chain saw, flamethrower, lawnmower, brain gun and groovy dance gun
•Big red button – use weapon combos to enable the big red button and trigger unique level events
•A healthy range of explosives – upgrade your everyday TNT for increasingly destructive explosives and mines
•A truck load of pick-ups – ammo, defence for daisy, rampage, speed, time, TNT, TNT range and type upgrades, and junk food health boosters
•6 infinite play arenas – The Woods, Graveyard, Suburbia, Drive-in, Army Base, Secret Lab
•3 game modes – Free Play, Defend Daisy and Timed
•10 challenges with alternate styles of play
•Super un-lockable bonuses including multiple game rendering modes
•A coffin full of in-game achievements to complete
•Play Burn Zombie Burn in a window or full screen
•Full configurable Screen resolutions

Game Controls:

•Keyboard and mouse
•BZB Gamepad – Free to download app turns your iPhone or iPod Touch into a fully featured Gamepad, which connects to your Mac via WiFi.
•Burn Zombie Burn has been tested for compatibility with the following Game Pads: PS3 wireless, 360 Wired and Logitech Dual Action.
* BZB is now Retina Display compatible.

* Fixed crash when selecting Full Screen Mode in Mac OS X Lion and later.
Ratings and Reviews
AS FUN AS I REMEMBERED IT!
I bought this game awhile back via PSN and remembered having a lot of fun. Someone posted on IMG's forums that it was available here and I immediately came looking for it– I immediately bought, played, and don't regret buying it again for my Mac! This game is so much fun! I forgot there was a tutorial to get the player acquainted with the gameplay- I hadn't played since my brothers took their PS3 back! lol Even my wife loved this game– I can't wait to tell her when she wakes up!

You control your player's movement with your keyboard and aim direction with your mouse by default- it apprently supports gamepads, too- which I can't wait to try! Depending on your streak and power-ups you raise your score and get better stuff while trying to slaughter and out-maneuver the very cartoony undead! I can't wait to get back to this game...

I don't think it's incredibly taxing on hardware but, nevertheless, it runs smoothly with all bells and whistles at full screen resolution on my setup.

MacPro 2009 Quad-Core 2.66 GHz/4GB RAM/Radeon HD 5870

PREPARE TO GET CLICKIN'!
Number 1 Zombie Game :)
Ive downloaded multiple zombie games for many different game systems, ipod/iphone, psp, xbox, etc. But this is easily the best zombie game ive ever played. The gameplay is phenominal. The game offers an amazing amount of gameplay without getting bored. The controls are the only problem, but, once you get into the game and determine your own controls (which took me about 20 minutes and it turned out very well) the game is a breeze to play and offers an infinite amount of enjoyment. Take this coming from someone who is very, very, VERY picky with deciding what game i would want to buy.
I Love it
The main part is to survive obviously, But there a challenge, Zombies. there are like 10 types of zombies and 10 types of guns. all help you in a unique way. ex. shot gun can hit multiply and raise your multiplier but has terrible range. Also this game is very cartoony and childish. You can scare zombies away with fire(right mouse) but flaming zombies are not scared. how do they get on fire? yep you guessed it a huge zombie farts to loud it catches fire and hits small zombies. All in All it is fun all the time and kills it
Information
Seller

Kavcom Limited

Size

156.6 MB

Category

Age Rating

Rated 12+ for the following:

Frequent/Intense Cartoon or Fantasy Violence

Frequent/Intense Horror/Fear Themes

Copyright

"Burn Zombie, Burn!" is licensed to KAVCOM by Doublesix Digital Publishing. "Burn Zombie, Burn!" and "doublesix" are copyrights of Doublesix Digital Publishing. ©2011 Doublesix Digital Publishing. All rights reserved. doublesix games is wholly owned by Doublesix Digital Publishing. Part of the Catalis SE group company. Doublesix Digital Publishing, Company Registration Number: 06429398 Company registered in England.

Price

$2.99
Supports
Family Sharing

With Family Sharing set up, up to six family members can use this app.