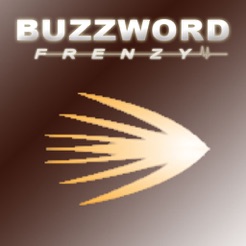 Description
Fans of the game Catch-Phrase, Taboo, and other word games will love Buzzword Frenzy.

Think of your favorite multi-player word games on STEROIDS. Whip out Buzzword Frenzy in any setting and watch a party explode! With 3 game modes, loads of options, and an ever-expanding word list, Buzzword Frenzy is right for any occasion. Come see what the buzz is about!

The game starts with as little as two people. The person with the device must have his teammates guess the word or catch phrase without using rhyming words or spelling.

In Hot Potato mode, two teams compete against the clock and the last team holding loses!

In Sprint mode, race against the clock as you try to clear as many words as possible in the given amount of time.

In Time Trial mode, see how fast your team can clear the set amount of words.

Be the savior of any dull moment by bringing Buzzword Frenzy in your pocket wherever you go!

Check out http://www.buzzwordfrenzy.com for more rules, tips, and tricks!

NEW: Video walkthrough of the game: http://www.buzzwordfrenzy.com/tutorials

---------------------------
Cool new features:
• Review words after a round and see how long each word took
• One click look-up of words you don't know
• Multiple time settings
• Intelligent scoring and timers
• Pause button to rescue a competition during distractions
• Saved game states to continue games if a game is interrupted

Fixed crashing bug from the corrupted word list.
>>>>>>>>>>>>>>>>>>
• Tweaked some interfaces and external links
• Streamlined word list download capability
• Internet connection required message displayed for word list download
• Skipped words display as "skip" instead of 999.0 in review words
• Word selection logic changed to ensure no duplicate words until entire list of words from a category has been displayed once

Ratings and Reviews
Great game
I have played this app quite a bit, it is a blast. Similar to catchphrase in hot potato mode, but with cool new features that really enhance the game play. Word lists are larger. You can even see how long each word took at the end of every round, and google words you aren't familiar with. It also adds 5 seconds on to game play if someone clears a word with less than five seconds left, so you never have to fight about someone getting something right at the buzzer. You can also skip words if you get stuck, and pause the game as necessary which comes in handy.

The other game modes are great also, very different than what you can do with catchphrase. Time trial allows you to play with just two people against the clock, which is perfect when you don't have a big crowd, and you can keep track of your best times to trash talk friends.

Defintely a great game and awesome coversation starter. Get some!
Good but could use more options.
I love Catchphrase so this game automatically appeals to me, but this could use some gameplay options such as setting up more than 2 teams and the ability to change options to do things like making skipped words take away a point. I'd love to see these in an update, and I'd totally give the update a 5 star if these were added. Side note: Make the skip button easier to access!
It's a BLAST!!!
We just played this for a couple of hours with our 3 teenage kids. We had a great time, and ended up laughing so hard! Most of the words and phrases were things we knew. We only had to pass on a couple of things. To pass, you hit pause. The pass button is there.
Information
Seller

Adamant Ventures, LLC

Size

3.2 MB

Category

Compatibility

Requires iOS 2.0 or later. Compatible with iPhone, iPad, and iPod touch.

Age Rating

Rated 4+

Copyright

© 2009 Adamant Ventures, LLC

Price

Free
Supports
Family Sharing

With Family Sharing set up, up to six family members can use this app.