Cachly - Simple and powerful Geocaching for iPhone
By Zed Said Studio LLC
This app is only available on the App Store for iOS devices.
Description
Cachly is a simple and powerful Geocaching app for iOS that includes many advanced features that include the following:

- Geocaching account
Cachly uses the Geocaching Live API so that you can login with your account and see all of your information.

- FTF!
Show available FTFs on the map so you can be the first to grab the find!**

- Find Caches
Current location, coordinates, search for a location, or GC code. *Basic member restrictions apply. Some features only show for Premium users.

- DNF
See all your blue frowns and turn those into smilies!

- Offline Vector Maps
Maps can be saved for offline use using powerful offline capabilities using OpenStreet vector maps.

- Offline caches
Save caches to offline lists for use anywhere!

- Offline filtering
Filter lists of caches by attributes and other cache data

- Bulk log upload
Upload all your pending logs at once!

- Translate
Translate cache descriptions, hints, and logs from any language to any language.

- Map Options
Choose from Apple Maps, Google Maps, Ordnance Survey and OpenStreet Map online or offline vector maps

- Import & Export GPX
Import GPX files from Dropbox, iTunes, email and other apps or export and share a GPX of any caches.

- Advanced Search
Search for user finds, hides, exclude your finds and hides and so much more.

- Advanced Sorting
Sort the found caches by type, container, size, trackables and many other sort types.

- Navigate to Cache
Find the directions and route to the cache using Google Maps, Apple Maps, Waze, Sygic, Navigon, Tom Tom, Gaia and Pocket Earth.

- Log Caches/Trackables now or later
Log them now or save them and send later.

- Log Keywords
Set default text for logs as well as use keyword replacements for common text such as cache code, date, etc.

- Souvenirs
See your user Souvenirs as well as other users.

- Trackables
Drop multiple trackables into a cache

- Multiple Image Upload
Upload multiple photos to logs

- Pocket Queries
Download and view Pocket Queries offline.

- Bookmark Lists
View your bookmark lists and add caches to them. View other users bookmarks as well!

- Waypoints
Create user waypoints as well as set a corrected coordinates.

- User Profiles
View Finds, Hides, Logs, User Gallery and much much more.

- More features
Cachly includes loads of other feature that make it the best Geocaching app out there!

*Basic members of geocaching are limited to returning only Traditional geocaches, Pocket Queries are not available, and Custom Search is limited. Basic members are also limited to loading 3 full caches per 24 hour period. This is not a restriction of Cachly, but of the Geocaching platform.

**Premium feature
What's New in Version 3.0.3
Cachly 3.0.3 includes the following:

Features

- FTF indicator! Shows caches that have not been found and are available for an FTF. - Premium feature
- New Found and DNF icons
- Owned Events can now post an Announcement log
- Export GPX options: include GSAK extensions, not include logs, hide personal info
- Trackable details refresh by pulling down on screen
- Trackables now show distance
- Smily and DNF icons also show corrected coordinate indicator
- New higher resolution log type icons
- Adding event to your calendar also includes coord.info URL
- Offline lists now have Export option under their options menu
- Lab cache GPX files are now supported!
- Pending Logs show more info, including if it is a Draft or is favorited
- Exported GPX includes GSAK corrected coordinate data
- Dropped pin now includes a "Navigate to" option
- Settings option to show current location indicator in front of cache pins

Bug fixes

- Bulk log upload was giving trackables incorrect date
- Importing GPX with images was not saving images or completing import
- Couldn't export and email GPX if name has accents
- Corrected coordinate indicator now shows on corner of map pin
- Coordinate project field needs to allow more characters for decimal places
- Activity indicator was not being hid sometimes when loading offline list
- Pocket Query downloads now keeps screen from locking
- Trackables not being sent in bulk upload if log was a Draft
- Refresh search icon sometimes dissapeared
- GPX imports had incorrect log sort order (requires re-import).
- Not Authorized error is friendlier with the option to wait to logout
- Offline list waypoints need to be sorted in ABC order
- Bulk log upload was not sending updated coordinates
- Export GPX incorrectly includes original coordinate waypoint
- Offline list with clustering now correctly centers on clusters and caches when loading map
- Export GPX sometimes had invalid unicode characters
- Highlight gets removed from offline cache when adding same cache again
- Navigate to Cache screen wasn't letting you tap the cache pin to show options
- Waypoints sometimes don't show coordinates on Waypoints list screen

If you have any questions or comments please contact support@cach.ly.
iPhone Screenshots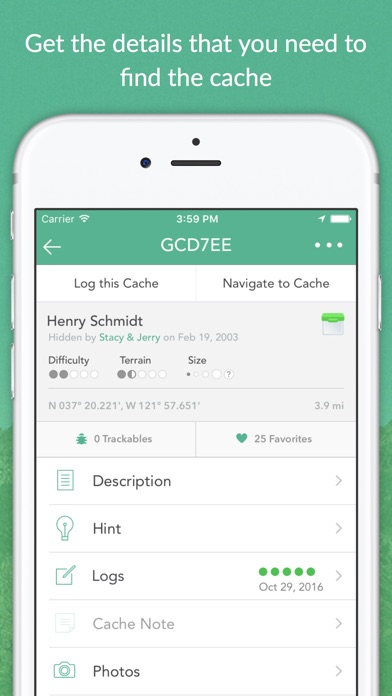 Customer Reviews
The Only App I Use for Geocaching
This app does everything I want a geocaching app to do. Even some extras thrown in. I like the import from Dropbox option. Also like the option to find caches based on a bookmark list. Not a bad price for an app that does everything I want.

Edit to add that the developer has added many many new functions to the app, some I didn't even think I needed. A feature to easily see on the map which caches haven't been found yet, ability to upload many logs at once, advanced filtering of offline lists, and so many more. The developer is great at listening to his users and quickly resolved problems.
What can I say, it's FANTASTIC!
I have been using this app for a couple of months now and this is now my go-to app. I was using my old one for years but then we could no longer use google maps. This app gives us a variety of choices as to which one you want to use. This is a perfect app and it sounds like support is great. I haven't found anything his app needs!

Update. I contacted support while caching and received a reply within the hour. Fantastic!! (It was a case of the idiot user...lol)

Update: this newer version is fantastic!!
The Only App You Need for Geocaching
Simple to use with all the features one needs on-line AND off-line! Quick up and dowloads of maps, logs, pictures. Logical setup. Good graphics. Great maps. It does everything it promises and it does not take over half of my phone.
Developer is quick to respond and is open to improvement ideas.
Every app should be like this! Such a difference compared to the official Groundspeak app - or anything else out there. Thank you for making this for us!
View in iTunes
$4.99

Category:

Navigation

Updated:

Aug 09, 2017

Version:

3.0.3

Size:

25.6 MB

Languages:

English, Dutch, French, German, Icelandic, Italian, Japanese, Polish, Portuguese, Swedish

Seller:

Zed Said Studio LLC
Compatibility: Requires iOS 9.0 or later. Compatible with iPhone, iPad, and iPod touch.