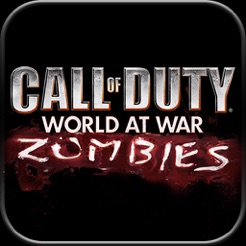 Call of Duty: Zombies
17+
Description
Four Massive Zombie Maps. One Great New Price. Now includes the ALL-NEW fan favorite, Der Riese, the largest, most feature-rich Zombie map to date. This is the ultimate Co-op experience for the iPhone/iPod Touch!

"Der Riese" (Zombie Factory) features:
•The all-new Pack A Punch Machine allows you to upgrade ANY of your weapons: Increased Firepower, More Ammo, and a new Metal Finish.
•New Teleporters allow you and your team to zip around this enormous map and evade the oncoming Zombie Horde.
•The Bowie Knife allows to you take down higher level zombies in one quick blow.
•Favorites such as the Hell Hounds, the Wunderwaffe lightning gun, and the Perks-a-Cola Machines return.
•The online 4-player co-op action you've come to expect returns with even more intensity.

"Shi No Numa" (Zombie Swamp) features:
•Shi No Numa is a hauntingly beautiful environment filled with terrifying zombies, weapons, and zombie traps.
•New weapons featuring the Wunderwaffe DG-2. Fry hordes of zombies with a single blast from this shockingly powerful new weapon.
•Survive the Hellhounds! Ferocious and fast, the Hellhounds will test your reflexes and your team's ability to work together.
•New playable characters! Play as Tank Dempsey (US), Takeo Masaki (Japan), Nikolai Belinski (USSR), and the infamous Dr. Richtofen (Germany).
•New Zombie traps including the Flogger for massive Zombie destruction and the Zipline for quick getaways.

Call of Duty: Zombies also includes:
•"Verrückt" (Zombie Asylum): Dare to enter the insane asylum and fend off the Zombie onslaught alone or with friends. Use electric traps to keep the zombies at bay.
•"Nacht der Untoten": The original zombie map returns in all its glory. Fight to survive in the abandoned bunker that started the zombie phenomenon.

About Call of Duty: Zombies:
Call of Duty: Zombies brings the classic Call of Duty: World at War zombie-slaying game mode to the iPhone™ and iPod® Touch. Featuring ALL 4 Zombie maps, you'll need to bring along your friends to help push back the endless waves of attacking zombies!

Highlights include:

- Call of Duty: Zombies for the iPhone™ supports up to four players via Wi-Fi/Internet and two players via Bluetooth. Play with your friends in the same room, on the other side of town, and even across the globe. With the option of either private or open matchmaking, where there's a Wi-Fi connection, there's a friend to go Zombie-hunting with.*

- This is the Zombie experience from Call of Duty: World at War. All 4 Zombie maps have been fully realized on the iPhone™ in a silky smooth 3D environment, along with the return of your favorite guns and killer power ups.

- Three different control schemes are available to suit your style. Take advantage of the iPhone's unique tilt capabilities or, for Zombie vets, use the virtual analog sticks to fend off the undead.

- Call of Duty: Zombies features a massive list of unique Achievements.
- Leaderboard support awards the best of the best, accessed directly through your iPhone™ or iPod® Touch. Become the top zombie slayer and prove your standings to the world!

So snap to attention, pick up Call of Duty: Zombies, and start fending off the zombie horde!

*Wi-Fi support only at this time, play unavailable on cellular networks.

Note: Call of Duty: Zombies is best played on a 2nd generation iPod® Touch or higher with the latest firmware installed.
•The Der Riese map
•Unlocking of maps Verruckt and Shi No Numa, previous available only as DLC
•New Zombie variants
•Zombies can climb ledges
•Better Zombie AI (for crowd situations in big open rooms)
•Teleporters: power them up and link them
•Monkey Bombs: attract nearby zombies, to give you some breathing space
•The Pack-A-Punch machine, to upgrade your weapons
•Pack-A-Punch upgrade effects to all weapons: more damage, ammo capacity and special abilities
•New achievements
Ratings and Reviews
Great game, but one thing...
This is Nazi Zombies done right. [Almost] Everything about this game matches up with its counterpart on the console version. But, as the title suggests, there's one thing I'd like to bring to attention. That is the fact that you can't switch to your second gun when your first gun runs out of bullets in the clip. Each time, without fail, I'll burn through a clip in the Thompson only to realize that I can't then switch to my other gun (which happens to be fully loaded). This is a major crutch in later rounds as you find yourself needing to perform the faster task of switching to a gun that's loaded. I'm not trying to reload-cancel the gun---I realize that the gun needs to reload---so I'm not trying to avoid it altogether; in trying to postpone it for a more convenient situation that allows for a reload. I'm just saying that I should be able to switch from my clip-emptied gun to the other gun that actually has ammo in its current clip. This is especially seen when using either of the double-barreled shotguns in combination with another gun. You shoot both shells and want to switch to your other gun in order to keep fighting, but you quickly realize that the game is going to force you to wait it out to reload the shotgun (or whatever gun needs to reload).
So to sum it up, for some reason, they don't enable you to double-tap the gun icon (in order to switch to your other gun) during the reload process of the gun currently in use. This should not be.
Great and addicting gameplay!
A wonderful game! It plays much like zombies on World at War, just with slightly less graphics quality. It takes a while to get used to, but after about an hour, you'll find yourself striving to complete the HUGE list of achievements! Very well done to match the original game. Zombies are weaker, though as you progress through the game you'll find them a bit more challenging. A zombie indicator tells you when there are untoten (undead) nearby, and allows you to get out of the way. When a zombie approaches you, they give you more time to move before they swipe. Also, if there is a crowd of zombies, you can run right around most of them, and they will be too slow to harm you. I think the easiness of the game is made up with the controls difficulty. After about a day, you get used to it, but it isn't as easy as the original. You can't crouch, sprint, or go prone, but it's made up for with the movement speed. Hellhounds move very fast, and it is quite difficult to survive a round of them. There are easter eggs on all maps (at least two of which on the console), all unlocking achievements for you. Multiplayer can be quite annoying, as there aren't many people playing maps most of the time, but in my opinion, it was a game made for solo anyway. You may not like the game at first, but personally, I think it's a matter of how much you really like zombies. Worth the money!
Awesome game but you people are ruining it
This is obviously one of the best games for the iPod. I have an iPod 4th generation and i have absolutely no problems with this game. It is designed for the iPod/ iPhone 4 so all you regatta who keep complaining because it crashes need to get a new iPod. And to all of the people who ask for mall maps and new teleporters and no hellhounds, just stop there is absolutely no possibility of treyarch making a map with whatever the hell you want inside of it. Now to all you stupid people who keep asking for BO maps please stop commenting on this game. If you didn't reelize that this game came out years after waw did then you are frickin stupid. Treyarch cant release BO maps for the iPod because they aren't done making them. How do I know this? Because shangri la came out nearly 3 weeks after call of the dead came out for the ps3, plus if you guys didn't realize the map packs will make fear. I know this sounds weird but look at this: F first strike. E escalation. A annihilation R retaliation ( I think) So if you people didn't understand this means there will be one more map pack and when it comes out, shortly afterwards treyarch will release BO maps for the IPod. Thank you.
Information
Seller

Activision Publishing, Inc.

Size

52.8 MB

Category

Compatibility

Requires iOS 3.0 or later. Compatible with iPhone, iPad, and iPod touch.

Age Rating

You must be at least 17 years old to download this app.

Frequent/Intense Horror/Fear Themes

Infrequent/Mild Profanity or Crude Humor

Frequent/Intense Mature/Suggestive Themes

Frequent/Intense Cartoon or Fantasy Violence

Frequent/Intense Realistic Violence

Copyright

© Activision Publishing, Inc.

Price

$4.99
Supports
Family Sharing

With Family Sharing set up, up to six family members can use this app.