car2go
De car2go Group GmbH
Esta app solo está disponible en App Store para dispositivos iOS.
Descripción
¡Súbete y conduce! Los miembros de car2go pueden disponer de un coche siempre que lo necesiten. Incluso puedes circular en cualquier ciudad europea de car2go con tan solo una cuenta. Dispondrás siempre de un coche, ya estés en Roma, Berlín, Madrid o Viena, igual que si estuvieras en casa. car2go ofrece servicios de uso compartido de coches sin estaciones fijas, es decir, puedes llevarte un coche de un punto y dejarlo en tu destino siempre que esté dentro zona establecida de tu ciudad. Esto te permite ser completamente flexible y viajar cómodamente, con un servicio tan espontáneo como tú. Más ventajas: No pagas la carga del coche, el seguro ni el aparcamiento, todo está incluido nuestra tarifa por minuto. Y, además, funciona de una manera muy simple: deja que la aplicación de car2go te conduzca hasta el car2go libre más cercano, abre el coche, conduce y finaliza el alquiler con tu Smartphone. Con car2go disfrutas de todas las ventajas de tener tu propio coche sin que sea tuyo. Además: compartir es vivir, al igual que tú, otros miembros de car2go alrededor del mundo (Europa, Estados Unidos y China) comparten la movilidad de manera inteligente.

Esto es lo que puede hacer la aplicación oficial:

• Mostrar todos los coches disponibles en tu ciudad y en todo el mundo
• Mostrar información importante relacionada con el coche como la ubicación aproximada, el nivel de llenado del depósito y el estado de la carga
• Reserva del vehículo con hasta 20/30 minutos de antelación (según la ciudad)
• Guiarte de forma automática hasta el car2go más cercano
• Abrir el car2go con la ayuda de tu Smartphone
• Mostrar todas las plazas de aparcamiento y zonas car2go dentro de la ciudad
• Mostrar el transcurso del alquiler con datos sobre la dirección de salida/dirección de llegada y los gastos del viaje
• Función de radar con notificaciones de inserción cuando existan vehículos disponibles en los alrededores

¿A ti también te vendría bien? Entonces entra a formar parte de la comunidad internacional de car2go con más de 1 millón de usuarios. Regístrate en la aplicación o entra en www.car2go.com. Por cierto, car2go ya está disponible en todas estas ciudades:

• Europa: Ámsterdam, Berlín, Colonia, Düsseldorf, Florencia, Frankfurt, Hamburgo, Madrid, Milán, Múnich, Roma, Stuttgart, Turín y Viena

• América del Norte: Arlington, Austin, Calgary, Columbus, Denver, Montreal, Nueva York, Portland, Seattle, Toronto, Vancouver y Washington D.C.

• China: Chongqing

Si tienes alguna pregunta o comentario acerca de la aplicación, escríbenos a app@car2go.com.
Novedades de la versión 3.8.1
Ahora, que 2017 toca su fin, nos hemos propuesto hacer un poco de limpieza e introducir mejoras sustanciales. Este año nos hemos dedicado en cuerpo y alma a trabajar por ofrecerte un mejor servicio, gracias por ser uno de los nuestros. Te tenemos un montón de sorpresas preparadas para 2018. ¡Feliz año nuevo!
Capturas de pantalla del iPhone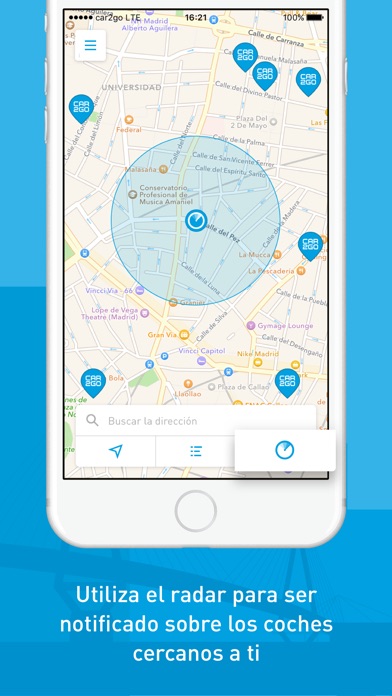 Reseñas de usuarios
Decent and convenient.
So this was my first try with car sharing apps and overall I would say they aren't too bad. The app itself is very easy to navigate. I'm in Ohio, and there are ALOT of cars so you never have to travel too far for use. I would suggest bigger models in this location though, the smaller ones don't do too much assistance with my bigger errands. A few times vehicles have had flat tires and once, the defrost didn't work and I've had to interact with customer service. They seem clueless if you aren't asking questions directly about the car such as navigation and where certain things are inside. But overall it isn't that bad. I'd recommend it to friends.
Garbage customer service and garbage company
Horrible service. Multiple times the trip wouldn't end i ended up waiting on the phone for what seems like forever to talk to someone who didn't even know how to help me.. also made me late to work and there are never any vehicles in my neighborhood which is super annoying since they don't refund the money for the minutes you have to stay on the phone talking to customer service while your rental is running, they give you free driving time.. but good luck finding a vehicle. Also I've found that ReachNow is cheaper it's .41 cents per minute and my 20 min trip is $10 with them, with car 2 go it's $14.
Overcharged by a couple of hours and horrible customer service
Several weeks ago I drove a car for about 10 minutes and ended the trip. I received feedback from the app that my trip ended, and found out hours later that I was charged $63 for a multi-hour trip. Clearly the app did something wrong so I called customer service and they said they would get back shortly. Waited a week and no response so I called them again. Same story. Car2go has lost my business until they can straighten this out. BMW's ReachNow has been much smoother.
Ver en iTunes
Gratis

Categoría:

Viajes

Actualizado :

11/12/2017

Versión:

3.8.1

Tamaño:

79.0 MB

Idiomas:

Español, Alemán, Chino, Chino simplificado, Francés, Inglés, Italiano, Neerlandés, Ruso

Vendedor:

car2go Group GmbH
Compatibilidad: Requiere iOS 8.0 o posterior. Compatible con iPhone, iPad y iPod touch.