Cardiogram - Watch your Heart Rate & Health
By Cardiogram, Inc.
Open iTunes to buy and download apps.
Description
Track sleep, stress, and fitness using your Apple Watch's built-in heart rate sensor.

The Cardiogram native Watch app and complication shows you a graph of your heart rate in real time.

On your iPhone, you can get more details and historical trends:
• The Timeline tab shows your heart rate each day, with a detailed view for workouts and a special interface to track spikes related to stress, diet, or exercise.
• The Metrics tab shows you how your resting heart rate, sleep, and move, exercise, and stand rings are trending over time.
• And the new Habits tab lets you find a new healthy habit you'll love, invite a friend to share metrics, and optimize your overall health and fitness.
• The "Me" tab lets you build a profile and share your health data with medical researchers, to contribute to studies on abnormal heart rhythms like atrial fibrillation, heart failure, and more. Note: Cardiogram is not a medical device and is currently for research purposes only.

Cardiogram displays data from the Health app, including heart rate, steps, Apple Watch activity rings, and sleep, in chart or graph format, and lets you compare to other users.

What's your heart telling you?
What's New in Version 2.6.3
Updates in Cardiogram 2.6.3:
• On the Watch App, we've fixed continuous recording so that it doesn't incorrectly contribute to exercise minutes.
• We'd love to hear your feedback. Email us at hello@cardiogr.am. Thanks!

Updates in Cardiogram 2.6.2:
• More fixes for data sync and refresh.
• If you're still seeing stale data after upgrading to 2.6.2, try restarting the app (double-click home button, find Cardiogram, and swipe up).
• Update graph rendering library.

Updates in Cardiogram 2.6.1:
• Fixed bug where data would not refresh. With this release, your data will be more up-to-date.
• Sorry for the inconvenience if you've been seeing syncing issues in the past few weeks.

Updates in Cardiogram 2.6:
• Sharing Cardiogram charts with your family and doctors is now a little bit better! When you share via iMessage, WhatsApp, or most other messaging/social media platforms like FB, Twitter, the receiving party will now see a preview image directly in the message/post.
• In the Profile tab, you can now add a profile picture. This helps you more easily see your friends when you're working on a Habit together.
• At the end of each week on Sunday mornings, we now show you a new type of Cardiogram: The Week-in-review Cardiogram. This shows you a summary of your workouts this week, as well as comparisons against the previous week.

Updates in Cardiogram 2.5:
• New UI! The Timeline and Metrics panes are now more beautiful than ever!
• We show you the same heart rate data, except with bigger charts that's easier to read and make gestures like pinch-to-zoom easier to use.
• We now have a brand new set of icons for tagging your heart rate spikes. We hope these will let you become more expressive in how you feel and make sharing your Cardiogram cards with friends more engaging and fun!
• As always, we'd love to hear your feedback as we continue to improve the Cardiogram app. Tell us your thoughts at hello@cardiogr.am. Thanks!

Updates in Cardiogram 2.0.3:
• Invited friends to join you on a Habit, and you can now ping your friends after completing the habit each day to help them stay on track!
• Updated Habits invite link. If your friend doesn't already have Cardiogram installed, the invite link will take him/her to the app store, and once Cardiogram opens, your friend will be added to your Habit automatically.

Updates in Cardiogram 2.0:

Habits. We all have health goals we're working towards, but it's hard to keep track and keep up each day when you don't have data to measure progress against. We think Cardiogram can help. The Habits tab is designed to help you improve health in 3 categories: Fitness, Sleep, and Stress. Each category offers a set of evidence-based Habits you can try for 14 days. Each day as you complete a Habit, you'll be rewarded with a checkmark to congratulate your daily progress. Plus, you can monitor how the Habit improves your key biometrics, such as resting heart rate and sleep quality, on a daily basis.

To make Habits more fun, invite your friends to join a Habit with you. Research has shown that one of the best ways to keep yourself on track towards a goal is to publicly announce your commitment and work towards it with a group of people with the same goal. You and your friends can keep each other accountable on a daily basis, and motivate each other by comparing your biometric results! So what are you waiting for? Go on, invite a few friends, and find a new habit you'll love!

Also included in Cardiogram 2.0:
• New sleep quality metrics: a) Sleep Duration, and b) Sleeping BPM.
• New and revamped profiles page.

If you have ideas for new Habits to add, we'd love to hear your thoughts! Email us at: hello@cardiogr.am.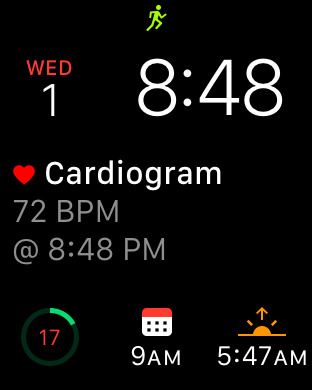 Customer Reviews
Great app
I love this app. If very clearly puts your daily heart rate on a graph, so you can see the highs and lows. If you recall what you were doing when your HR spikes, the app allows you to tag it and name it so that you can easily review it with your doctor. It also keeps track of the hours I've slept (imported from the health app, I use another app that tracks sleep). It tracks my steps.

Even the built in Apple Health app does not show you daily details like this. This app empowers you to make better decisions regarding your health, but it's up to you to implement the change.

Some feedback I have would be to make a way for us to see, in more detail, an zoomed view of the daily graph.

The "habits" features are great but they need to be automatic because nobody wants to put the info in themselves. Or make it so you can mark things off from the lock screen.
Battery pig but worth it!
This app is the single most important and useful one I have. It's the only the that is truly vital. Once I could see my atrial fibrillation BPM spikes a great calmness came over me and I relaxed for the first time in a very long time. The app is a energy wastrel so I bought and attached "mophie" battery expansion to my iPhone. Now all is copacetic. IMHO all my fellow citizens should have this. As a Navy vet, it'd take only the scrapping of one nuclear aircraft carrier task force to pay for it. The Luddite Technotwit
Mediocre app demands users to do work for the app
The app is not updating our HR data fast enough, and the developer must have noticed the issue earlier. Even after several updates, the problem persists. As a walk-around, the developer has come up with a solution: let users reboot the app or watch to fix the data-loading issue.

The FAQs are basically asking users to take several actions as if it's a user issue. Why don't they just fix the darn issue? Why do users need to work for their mediocre app? Do they really believe users will restart watches for the slow app?

How about the data trend feature? It's broken. The algorithm behind the math is not working even after restarting the app. These issues are getting worse with new updates over time.

Hope the next update fixes these obvious and key problems. As of June, 2017 after several iterations, however, no solution but demanding FAQs.
View in iTunes
Offers Apple Watch App for iPhone
Free

Category:

Health & Fitness

Updated:

May 16, 2017

Version:

2.6.3

Size:

46.7 MB

Apple Watch:

Yes

Language:

English

Seller:

Cardiogram Inc.
Compatibility: Requires iOS 9.3 or later. Compatible with iPhone and iPod touch.